Elisabeth Kaltenbach, née Weißenburger
Born on August 27, 1874 in Ulm
Died on November 4, 1958 in Stuttgart
Imprisoned in Weissenstein Castle in August 1942
Elisabeth Weißenburger came from a Jewish family of Israelite faith and was born in Ulm on August 27, 1874. Her parents were Friederike, née Nathan, married to the merchant Rudolf Weißenburger. Elisabeth had six younger siblings. When her father died in 1902, however, the family's financial situation may have remained secure, because at that time Elisabeth was able to continue her artistic education: First she took private lessons with a painter in Ulm, from April 1901 she lived in Munich and probably attended the 'Königliche Kunstgewerbeschule' there, her teacher was 'Paul Müller' (possibly Peter Paul Müller 1853 – 1930, landscape painter).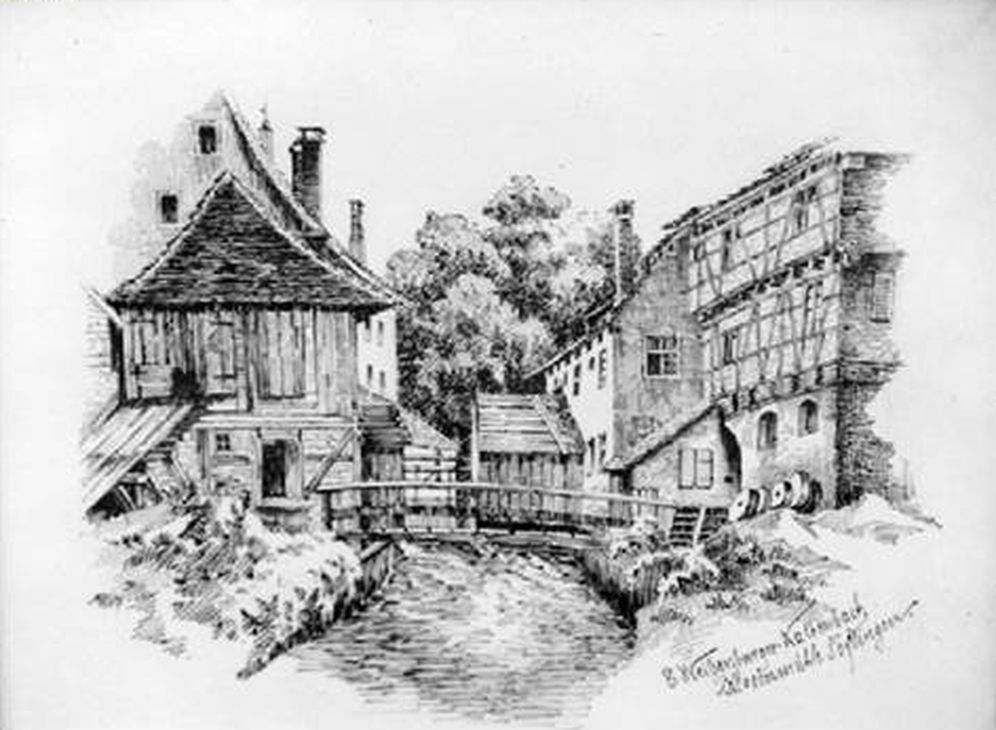 This drawing, a retrospective of 'old Ulm', is the only document so far of Elisabeth Weissenburger's artistic work. Since she signed with 'Weissenburger – Kaltenbach', the drawing must have been made after 1905. Because on April 22, 1905, Elisabeth Weißenburger married at the age of 31 in Ulm the Protestant merchant Emil Friedrich Louis Kaltenbach, born on June 10, 1881 in Altensteig / Nagold district. Elisabeth accepted the Protestant confession of her husband.
The couple first lived in Ulm and had three children here:
Erich, born 08.03.1906 in Ulm
Edith, born 12.01.1907 in Ulm, later married Fischer.
Walter, born 18.09.1908 in Ulm
In the same year the family left Ulm and settled in Frankfurt am Main. The new residence apparently did not bring happiness, because in January 1910 Elisabeth moved with the children to (Markt) Königstein in Bavaria, while her husband Emil went on 'unknown travels'. For the single mother, a period of frequent changes of residence followed: in 1911, she initially stayed in Neckargemünd, and in August of that year, she was briefly registered in Heidelberg, where she lived in Bahnhofstraße for rent. A few weeks later, Elisabeth moved with the children to nearby Mannheim, where she found lodgings with her widowed mother Friederike Weißenburger in Augartenstraße.
The next address was Godesberg, Rüngsdorferstraße 35. Here the uprooted painter finally found her feet, because it took just under a year and a half for her to move again: on May 15, 1913, Elisabeth Kaltenbach settled with her children in nearby Bonn and probably also established herself professionally: On December 12, 1914, her advertisement appeared in the 'Bonner Generalanzeiger': Elisabeth Kaltenbach offered private lessons in 'drawing, painting, lithography and illustration'.
The broken marriage between Elisabeth and Emil Kaltenbach was officially divorced on May 21, 1915. All three children remained with their mother, the divorced husband apparently paid no alimony, yet Elisabeth enabled her children to attend a higher school, an indication that her income from private tuition may have been sufficient. In the 1920s, the sons Walter and Erich became (early) self-employed and moved away from Bonn. With the onset of the Nazi dictatorship, Elisabeth Kaltenbach could no longer practice her profession: As a 'Jew' she was not admitted to the Reich Chamber of Culture and she was also not allowed to purchase art – materials. The art teacher was also denied contact with non-Jews.
On October 31, 1935, Elisabeth Kaltenbach and her daughter Edith moved from Bonn to Stuttgart. There, at least Elisabeth lived in the house of the 'Stuttgart Women's Club' at Alleenstraße 25 in Stuttgart, but around 1938 / 39 she had to move out because of her 'Jewish' origins. To what extent the chairwoman of the club, Laura von Burckhardt, ordered the expulsion or 'only' bowed to a directive of the Nazi administration remains to be seen.
Elisabeth found shelter in the Catholic 'Veronikaheim' at Gänsheidestraße 49 (exact name: Old People's Home of the Veronika Sisters). Elisabeth Kaltenbach can be found under this address in the Stuttgart address books from 1939 to 1941. To what extent did the 'Veronikaheim' offer protection to the Protestant Christian and ensure her care? In 1942 she must have left the Veronikaheim (probably forced to), because the last address before the transfer to Weissenstein Castle in August 1942 was: Stuttgart – Sillenbuch Im Lauch 8. It is noticeable that no 'Jewish' fellow residents are listed under this address.
The survival of Elisbeth Kaltenbach up to this point leaves many questions unanswered: Since she had long been divorced from her 'Aryan' husband, she was no longer safely under the protection of a 'privileged mixed marriage'. Elisabeth Kaltenbach can only have spent a few days in the forced residence Schloss Weißenstein, because on August 20 the remaining inmates had to leave the castle and were deported to the concentration camp Theresienstadt via Stuttgart – but not Elisabeth Kaltenbach. Since with this deportation the forced residence in the castle also came to an end, Elisabeth Kaltenbach needed new accommodation and found it until 20 November 1942 in the house of the Weißenstein deputy mayor Franz Heilig. Heilig, however, was anxious to get rid of the 'Jewess' again, with 'success': on November 21, 1942, Elisabeth had to move to the forced ghetto of Buttenhausen. After the ghetto was dissolved on October 3, 1943, she was sent to Stuttgart again, to Rankestr. 44 in Stuttgart – Sillenbuch, the owner of the house was the non-Jewish Groß family.
From this address Elisabeth Kaltenbach was taken away by an SS commando on November 1, 1944 and deported to the concentration camp Theresienstadt (Transport XIII / 5, deportee – number 18). This 'late' deportation was often suffered by people of Jewish origin who were married to a non-Jew. Elisabeth, now 70 years old, was lucky to survive her imprisonment in the concentration camp. In 1948 she stated: 'The conditions in Theresienstadt were terrible. The food was completely inadequate. I myself weighed 78 pounds at the end.'
After liberation by the Red Army, Mrs. Kaltenbach needed a period of recuperation before she could return to Stuttgart on June 21, 1945. At first she lived at Rankestr. 44, and later, from April 1947, again, as before her transfer to Weißenstein, at the address Im Lauch 8 in Stuttgart – Sillenbuch. This return suggests that she had a close personal relationship with the residents of the house. Here Elisabeth Kaltenbach, now blind, died at the age of 84 on November 4, 1958.
Her children survived the Nazi period, son Walter had probably fled to Brazil, where Elisabeth's grandchild Olavo Kaltenbach was born in May 1947. Elisabeth's daughter Edith married the businessman Alfred Ludwig Fischer in Stuttgart in January 1949. Edith Fischer also sought compensation on behalf of her mother for the suffering she had endured. The restitution proceedings dragged on until September 1957.
Emil Kaltenbach, Elisabeth's divorced husband, who had also lived in Stuttgart from 1940, was arrested in July 1943 because of past "critical statements about the Nazi regime" and imprisoned in the Dachau concentration camp (date of entry: July 23, 1943). He was placed under 'commandant's arrest' several times in 1944. He died at the age of 63 in the concentration camp Dachau on 11.12.1944.
But there were also victims of the NS – dictatorship in Elisabeth Kaltenbach's family: Her cousin Berta Frank, née Weißenburger, who lived in Stuttgart – Degerloch, was deported with her husband Dr. Stefan Salomon Frank to the concentration camp Theresienstadt, where both were murdered.
(22.10.2022 Klaus Maier-Rubner)