Bergstrasse 11/1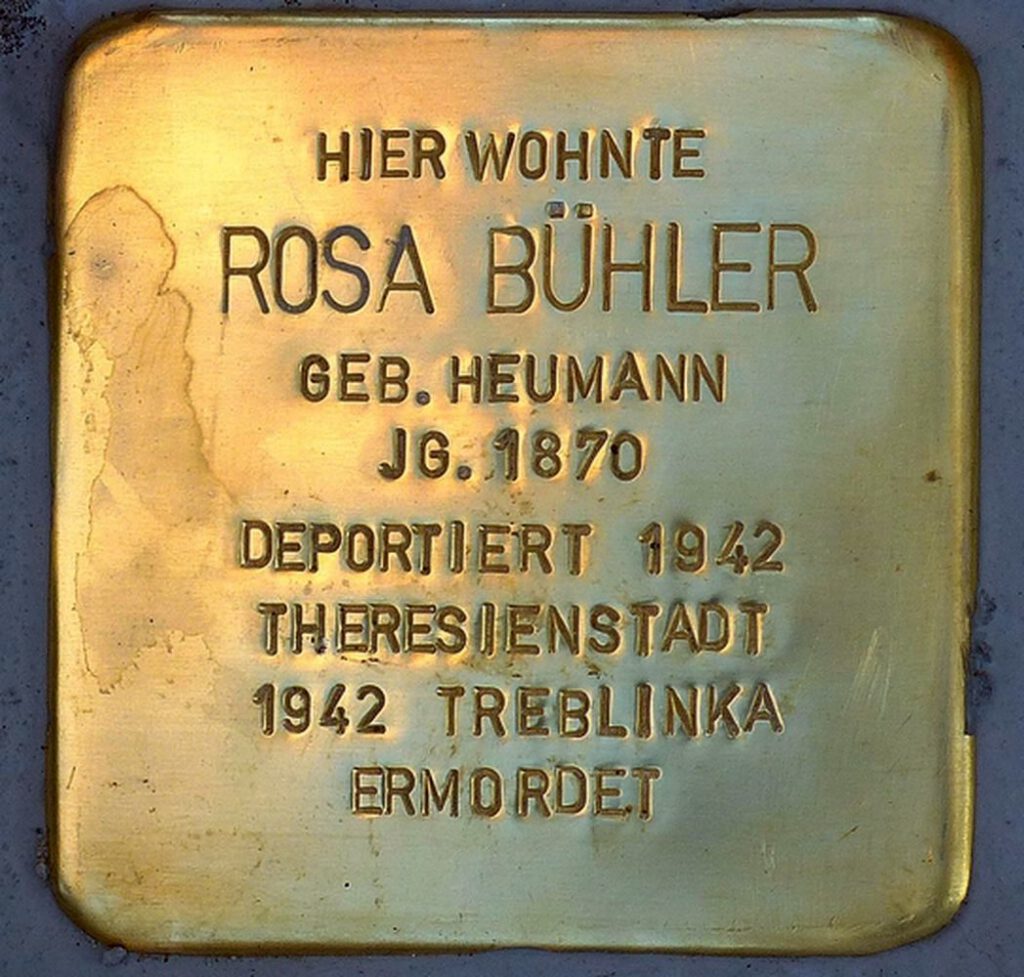 An Old-Established Family
Rosa Bűhler, née Heumann, was born on April 2, 1870, in Gőppingen. Samuel Heumann, her father, was a for rags (paper production) from Laupheim who did not move to Gőppingen until 1866. In Laupheim Samuel had left a great family. Some of uncles played major roles in the social life of the town. Most likely the connection with Gőppingen was established because of his wife Franziska (also Fanny / Fanni), née Lindauer, whom he married in 1864. The wedding did not take place in Jebenhausen, the bride's place of residence, but in Laupheim, which was unusual according to the traditions of that time. And here the Lindauer family had been among the first Jewish settlers there! Rosa's great-grandfather Seligmann Lőb Lindauer had been one of the 'Schutzjuden' [Jews under special protection] who on July 17, 1777, were granted special permission to settle in the territory of the Liebenstein barony. A majority of the Lindauer family emigrated to the USA during the 19th century, including six of the eight siblings of Rosa's mother Franziska. It is not known where the young Heumann family took up residence in Gőppingen when they first arrived there. Probably it was at Querstrasse 14, then in 1900 at Langestrasse 40a, according the the city directory. Rosa was only seven years old when her mother died – which must have been one of the saddest experiences in her life. Samuel Heumann re-married, and hopefully his second wife Karoline Herz was a good stepmother to the small child Rosa. Karoline later had three children of her own; Benno, her first child, was not born until two years after the wedding took place – therefore Karoline should have had enough time to get used to her stepchildren. The New World also attracted this new generation of Lindauer descendants: Rosa's oldest brothers Julius and Hermann emigrated to the USA in 1890 and 1895 respectively.
Only her younger brother Hugo Heumann remained in Gőppingen and carried on the business of his father which was located in the Ulrichstrasse and dealt in cotton goods and rags.
Marriage and Move to Munich
Rosa did not move across the 'Big Lake' [Atlantic Ocean], however, on January 1, 1892, she moved to Munich with Samuel Bűhler, whom she had married in December 1891 in Gőppingen. Samuel came from the village of Kleinerdlingen near Noerdlingen. He was seven years older than Rosa and was a merchant by profession. Additional information about his business activities could not be ascertained, but he might have worked with his brother Rafael who also lived in Munich. According to documents in the Gőppingen archives, Rosa and Samuel Bűhler remained childless. However, the Munich residents registry shows different information: on December 23, 1892, Rosa gave birth to a daughter who was named Franziska after her mother, however the child died soon, on January 12, 1893. Two years later the tragedy repeated itself: on April 10, 1895, Rosa gave birth to a boy who was to be named Justin. It could not be determined exactly when this much hoped-for child died, but it must have been shortly thereafter. How did Rosa's life without children continue in Munich? Did she try to find employment, maybe working in the business of her husband? Unfortunately there are not answers to these questions. On November 26, 1935, her husband Samuel died after 42 years of marriage. Rosa remained in Munich only one more year after that. The Munich documents read as follows: "In April 1936, Mrs. Bűhler received permission to sell the remaining inventory of her deceased husband's business."
Her Own 'Little House' in Gőppingen
On July 30, 1936, Rosa moved back to Gőppingen, her birth place, according to the Munich residents registry records. (According to Gőppingen records, her move already took place on July 1). At that time, her brother Hugo, as well as half-siblings from her father's second marriage, were living in Gőppingen. But Rosa Bűhler did not arrive penniless in Gőppingen because on August 10, 1936, she was able to buy a house at Bergstrasse 11/1, where it was recorded that she lived until August 19, 1941. Why did she leave her own house after that date and move to a house at Burgstrasse 16 which was owned by the Banemann family? Had she become so financially destitute that she had to rent out her house? On July 3, 1942, Gőppingen resident Hedwig Frankfurter wrote to her friend Thilde Gutmann who lived in Switzerland: 'H. Lendt, Fr. Jenny Heimann, Fr. Benzinger, and Fr. Bűhler have to go to Weißenstein.'
The mention of 'Weißenstein' refers to a castle located in the County of Gőppingen which at that time was being misused as a forced residential home for Jewish people. However, at the time this letter was written, Rosa Bűhler was already living in the 'Jewish house' at Metzgerstrasse 16, where she had to exist under depressing conditions for half a year until August 20, 1942. But Rosa never was taken to Weißenstein, which was only a stop-over on the way to be murdered anyway.
Theresienstadt – Treblinka
On August 23, 1942, pensioner Rosa Bűhler was locked into a train which traveled from Stuttgart's Nordbahnhof [northern railway station] to the ghetto concentration camp Theresienstadt. She was one of 13 mainly elderly Jewish Gőppingen residents on this transport. Inge Auerbacher, who was the only child among them, remembers their arrival: "Two days later, loud yelling ended our trip. We had arrived at the railroad station of Bohusovice. 'Throw away everything but your sleeping roll and your eating utensils – hurry up, march, no resistance!' Guards with whips and rifles surrounded us. We all were very tired and scared. A few older people who were not steady on their legs fell down. Their cries for help filled the air. Many died on the way. (…) We had to walk about three kilometers and were driven through an arched entrance into a large barracks area. There we were surrounded by high walls." Rosa Bűhler survived the horrendous scene of the arrival, but she already had to leave Theresienstadt one month later: on September 29, 1942, she was deported to Treblinka, the extermination concentration camp located in German-occupied Poland. Here Rosa Bűhler was murdered at the age of 72. In Treblinka most of the victims were asphyxiated by muffler exhaust gases; whoever was too frail to manage the walk from the railroad track to the gas chamber was shot by the SS guards right by the ditches which had been dug there.
After Rosa Bűhler's deportation, the NS-government (= Reich finance administration) enriched itself by taking possession of her house at Bergstrasse 11/1 so it could be sold to Gőppingen Hitler-Youth-leader Paul Schillo in 1943. During the restitution proceedings, when Mr. Schillo was forced to turn the house over to Rosa Bűhler's heirs, he felt cheated: he had been assured by the official who handled the sale that there would never be any heirs who could make claims for the property.
Many of Rosa's close relatives were also murdered by the Nazis: her cousin Jeanette Oppenheimer, née Heumann, who lived in Munich, died like Rosa at the Treblinka extermination camp. Fanny Nathan, née Heumann, who lived in Ulm and also was a cousin on her father's side lost her life at Theresienstadt, Fanny's daughter Sara Nathan was murdered at Izbica. Four children of Rosa's cousin Heinrich Heumann as well as a child of her cousin Josef Heumann died during the holocaust. The siblings of Rosa's sister-in-law Frieda Bühler, née Rosenau, who was the wife of her brother Hugo, were also murdered.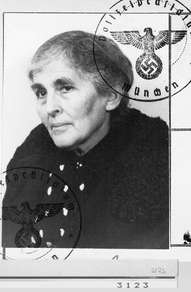 On October 2, 2013, a Stumbling Stone was laid in memory of Rosa Bűhler in front of her house at Bergstrasse 11/1.
(19th of December 2016 kmr/ir)
[osm_map_v3 map_center="48.6991,9.6496″ zoom="19″ width="100%" height="450″ post_markers="1″]