Gartenstr. 2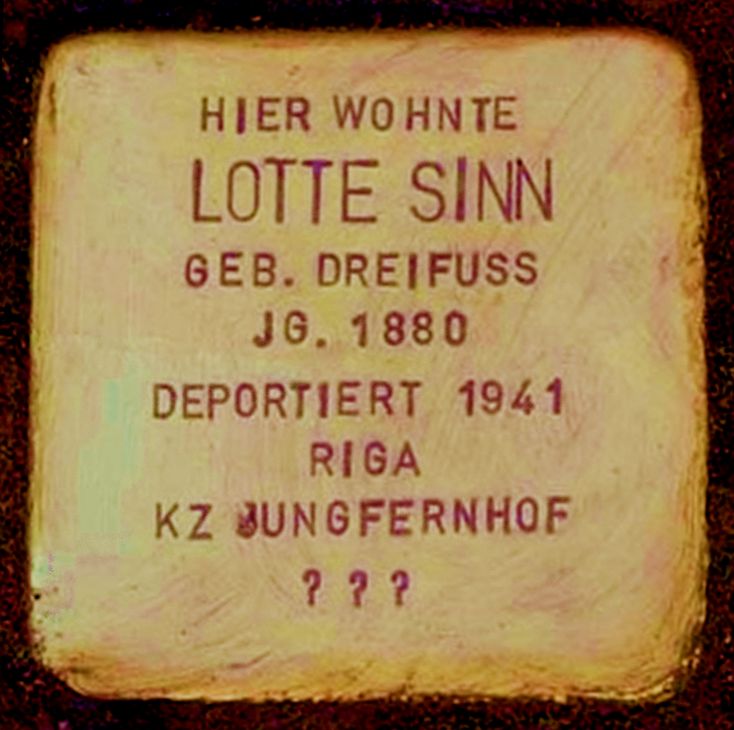 The Horse Dealership at Gartenstraße
Unfortunately we do not know how Lotte Sinn looked like. Until now we were unable to get a photo of her, and the only witness from that time, late Lilo Guggenheim-Levine, could only remember her as a somewhat heavyset, smaller woman.
Lotte was the second child of Liebmann Dreifuss and his wife Bertha, née Hirschfeld, and was born on May 13, 1880, in Königsbach–Stein in county Enz. The profession of her father is listed as 'merchant', and her family house still stands today. It is not known when Lotte moved to Göppingen, but it was most likely the time when she married Theodor Sinn in May 1903. Theodor was nine years older than his bride and was a Heilbronn native. 1900 Theodor started a horse trading business together with his brother Julius in Göppingen. This location in Gartenstraße 2 had been purchased by the Sinns in February 1902. It lasted until at least 1927. The move to Göppingen might have been initiated by a third brother, Jakob, who was partner in the cattle dealership of Fellheimer and Sinn, located in Göppingen since 1887.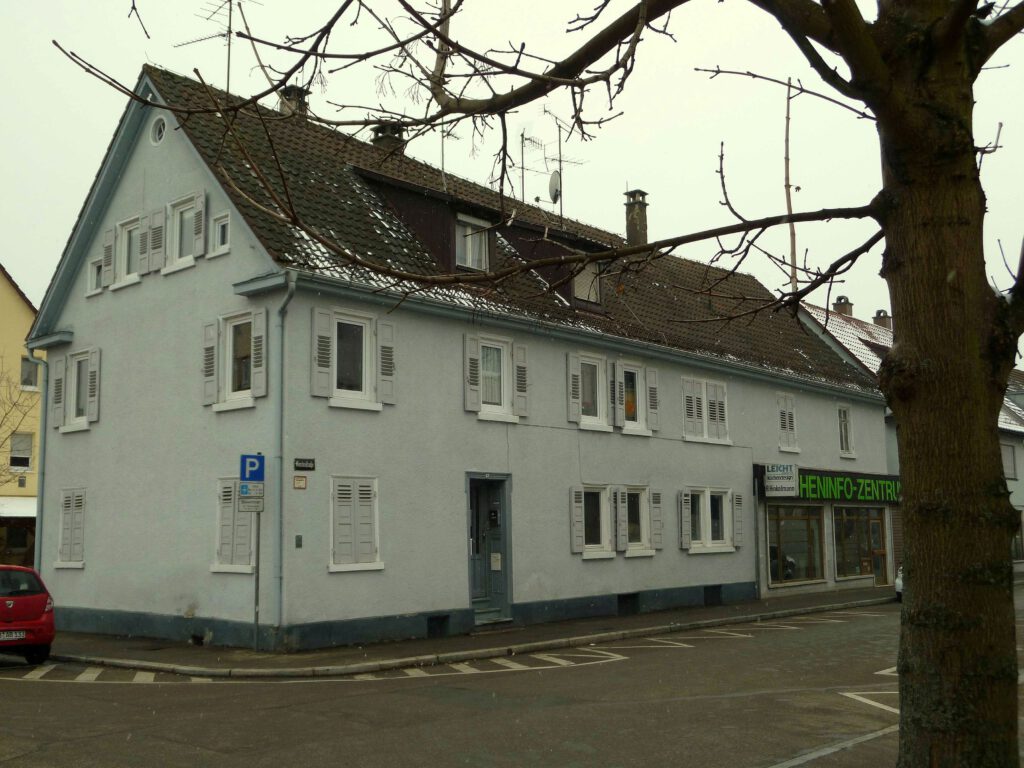 Lotte's husband Theodor died at the young age of 52, and at the time of his death, the couple had two children: a daughter, Elsa (Else) Sophie, born in 1904, which is shown on the Bat Mizwa photo below, as well as a son, Albert, born in 1912.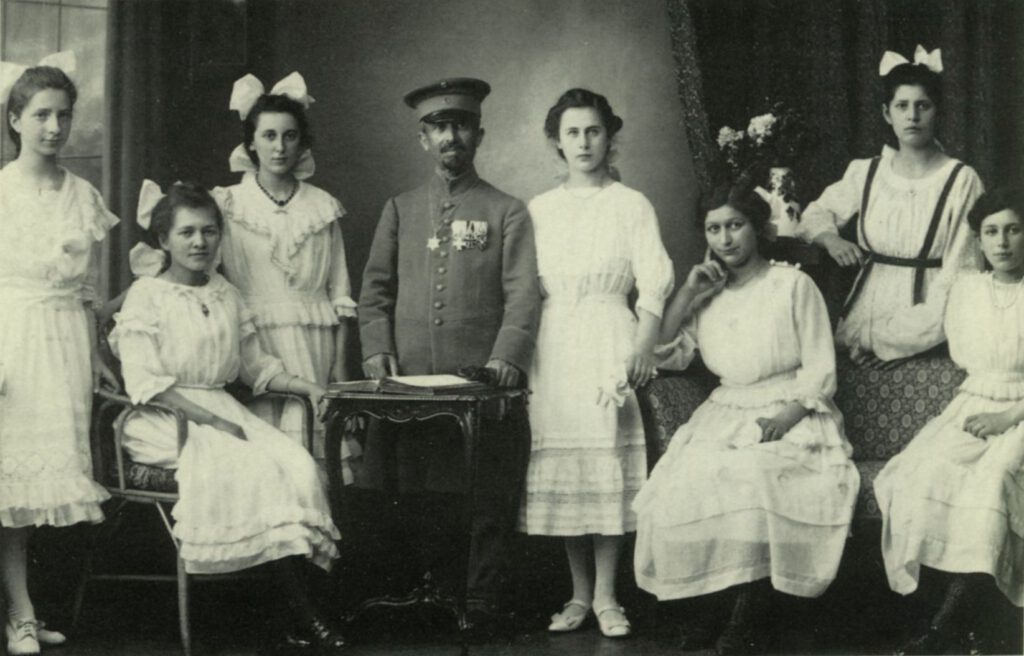 After the death of her husband, Lotte entered the business as partner. The house at Gartenstraße 2 also belonged to the widow. Her brother-in-law and business co-owner died in 1930. After her daughter moved out, Mrs. Sinn started renting out parts of her house. The restitution documents list the names of three Christian renters and also show that the family had become rather well-off through the horse dealership.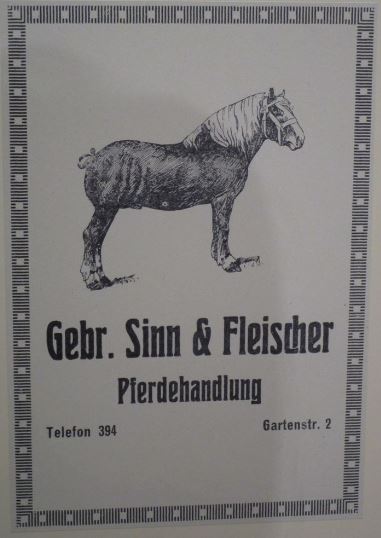 A neighbor and business friend of an upholstery, Eduard Bitsch, made the following official statement in 1960: "The Sinn family and my family were neighbors. We also had business dealings with each other. The Sinn family purchased upholstered furniture from me. They were a well-to-do family. They always paid in cash for their purchases."
Aron Tänzer's book about the Göppingen Jewish community indicates that Lotte was involved with the Israelite Women's Club, where she became a committee member in 1927.
Else, Daughter of Lotte – Deceptive Safety in the Netherlands
If you would have browsed through the local Göppingen newspaper, the 'Hohenstaufen' on December 27, 1928, you would have come across the following unusual wedding announcement. Not only the modern design was eye-catching, but the fact that Else, née Sinn, Lotte's daughter, married on December 26 Bram Kooperberg from Rijswijk (Holland). Bram (Abraham Jacob) Kooperberg, born in 1896, came from an old Jewish-Dutch family and was an engineer by profession. The city of Rijswijk is located in the proximity of Den Haag. Elsa and Bram lived in Oranjelaan 40, Rijswijk. A large proportion of the population was Jewish. Elsa and Bram had two children, Theo (Theodor), who was named after his grandfather on his mother's side, was born in 1930. The next year Bea (Bethrina) was born, whose first name was reminiscent of her Oma Kooperberg.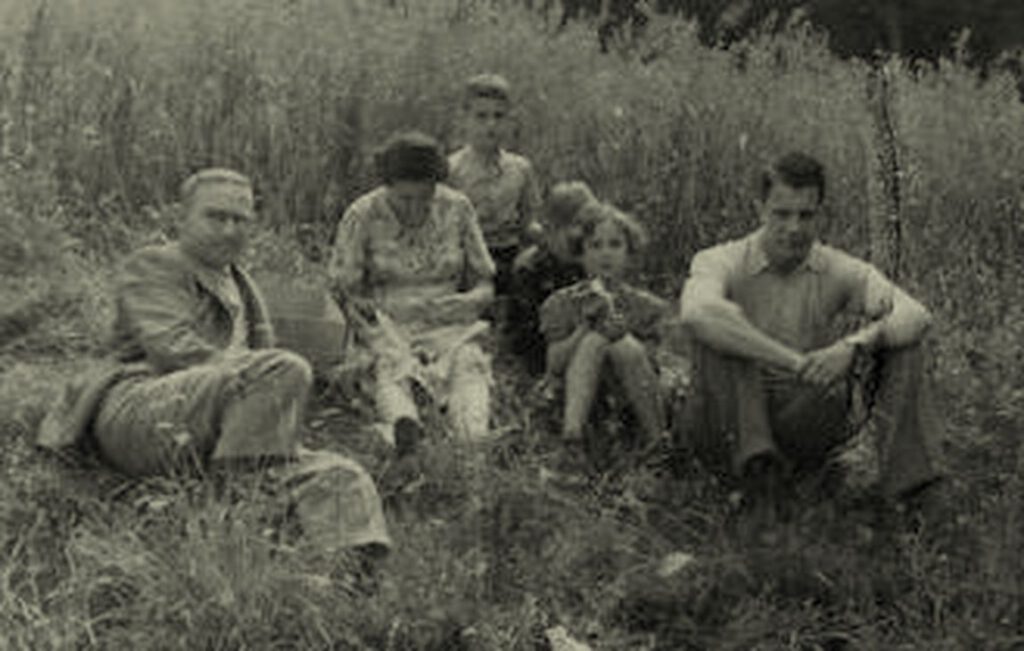 Even after the Nazis took over the government in Germany the Kooperberg family apparently felt safe in Holland. An old list of furniture shows that the family was able to live an upper middle class life till the Nazis arrived. In 1962 Else's brother Alfred wrote to the State Office for Reparations:
"My sister had no plans to emigrate abroad with her family. She was well-off in Holland, and my mother planned to move in with her and to take all her possessions with her. (…) My brother-in-law was of the opinion that Holland would remain neutral in the conflict, as it had during the first World War."
The German invasion of the Netherlands in 1940 however destroyed that hope and brought about the murder of the Jewish population in this neighboring country. Else, Bethrina and Theodor Kopperberg were deported to Auschwitz. Their date of the deaths was documented on October 19, 1942. Abraham Kooperberg had to perform compulsory labor at camp Wiesau in Lower Silesia, where the prisoners worked in mines (copper mining) and in road-building. He died on April 30, 1944. At least four of his siblings were also murdered by the Nazis: Simon Kooperberg died in 1945 in the camp "Blechhammer", Heintje died in 1943 in the Auschwitz concentration camp, where their sister Elisabeth Keijl also died. Philip Kooperberg's life ended in 1943 in the Sobibor concentration camp.
From the city Rijswiek at least 237 jewish civilians were murdered. The city remembers the victims of Nazi terror with a monument.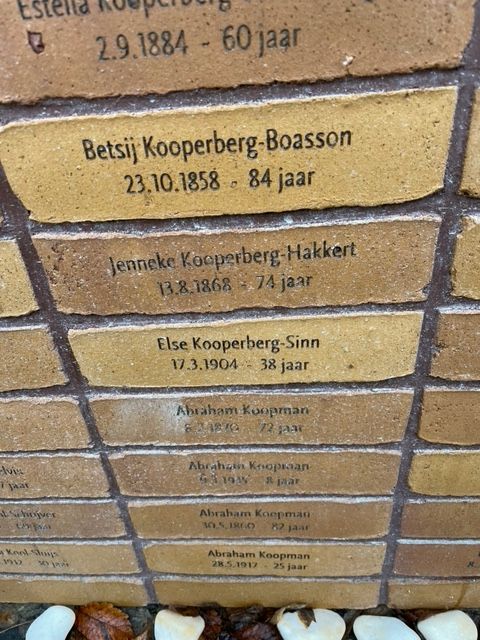 On Packed Suitcases
Lotte's son Alfred was able to flee to the USA in October 1936, so probably Lotte Sinn was glad that her 23-year-old nephew Lothar Dreifuss moved in with her. He was the son of her younger brother Jakob Dreifuss, who had been able to flee to Brazil with his wife and daughter in September 1939 and had hoped that their son would be able to follow them soon thereafter.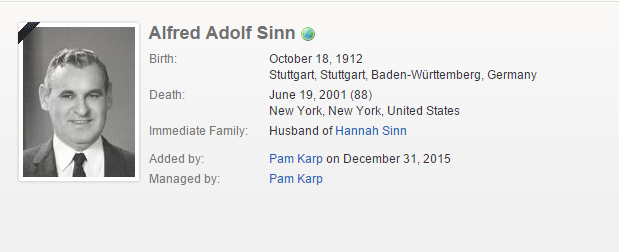 Lotte herself planned to move to her daughter in the Netherlands. Her friend Eduard Bitsch had packed most of her household goods into a large crate and had it shipped, but this so-called 'Lift' would never arrive at her daughter's house. Mrs. van Lommel, a neighbor in Rijswijk, wrote to Alfred Sinn in 1960: "…I can only tell you that I never heard or saw anything about it in the house of your sister who was a good friend of mine. During the years of war I spent a lot of time with her, and even though we had hoped that her mother would arrive soon, we never saw her or the wooden crate which you mentioned in your letter. I assume that the crate never arrived at all, and that the content remained in Germany." Research during the restitution process was never able to determine where the 'Lift' had been lost or most likely was stolen.
Lotte also sold her real estate properties (house, barn, wagon shed and courtyard) at Gartenstraße 2 to the city of Göppingen. The value was estimated to be Reichsmark 26.500.–, and the sales contract of July 10 indicated that the City was willing to pay RM 22.000,–. Of this amount, approximately RM 3.400,- went to the revenue office and over RM 600,– to the upper council of the Israelite religious community of Stuttgart, which officially left barely RM 18.000,– for the seller. However, she could not withdraw the money which had been deposited into a blocked account.
It appears that Lotte Sinn and Lothar Dreifuss remained at Gartenstraße until the end of January 1940, but then had to move to the 'Jewish houses' at Geislinger Straße 6 and 8 which belonged to the Dörzbacher family. On December 1, 1941 Lotte and Lothar were deported to the transit camp at Killesberg, and then on to Riga, where they probably were murdered on March 26, 1942.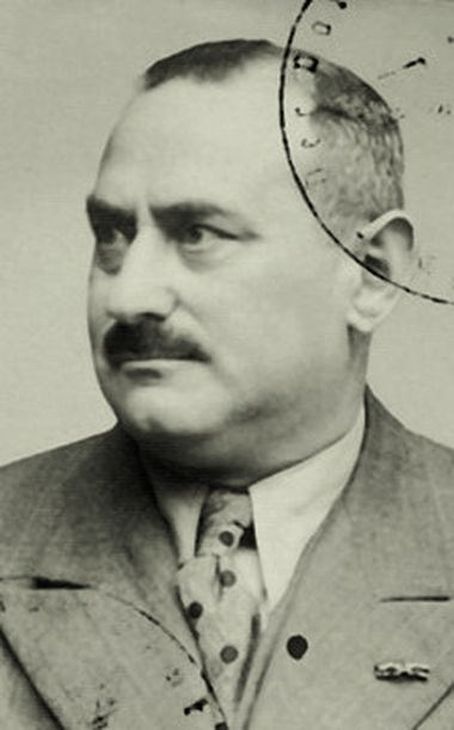 Other members of Lotte Sinn's family – her brother Hermann Dreifuss and his wife Viktoria who had lived in Karlsruhe – were murdered at Auschwitz in 1942.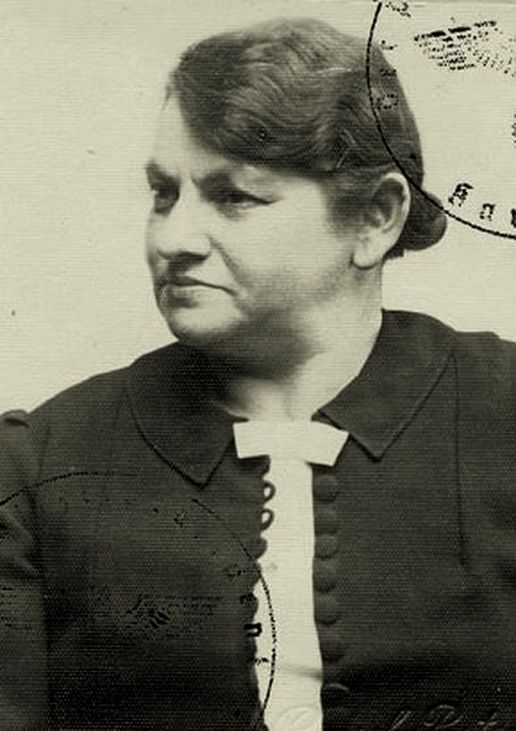 Alfred, the son of Lotte, married in the USA Hannah, née Strauss. The couple visited in 1984 Göppingen, the city of his birth. The First Mayor, Mr. Hans Haller, invited the couple, as well as other Jews out of Göppingen who had to flee the Nazi regime. Alfred Sinn died in 2001 in New York.
On November 25, 2011 Gunter Demnig laid a Stumbling Stone in front of the house at Gartenstraße 2 to memorize the fate of Lotte Sinn. We thank J.F. van Gils from the Netherlands for the picture of the Kooperberg-Sinn family. The Gils family was close friends with the Kooperberg family.
(12.10.2023 kmr/ir)
[osm_map_v3 map_center="48.6994,9.6590″ zoom="17″ width="100%" height="450″ post_markers="1″]