Geislinger Straße 6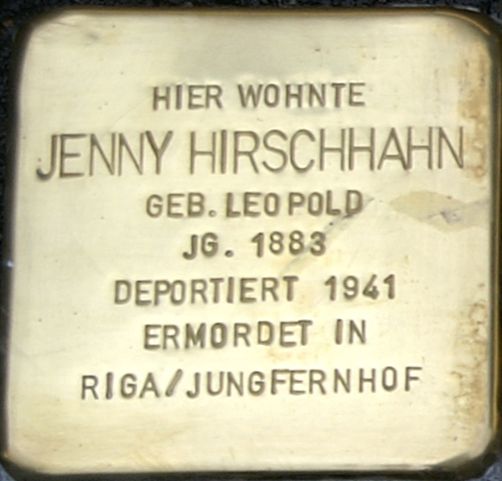 The Nazis tried their hardest to murder the Jews of Europe and to extinguish any memoryof them. In Göppingen they tried todestroy as many documents as possible shortly before the end of war. The Initiative Stolpersteine [Initiative Stumbling Stones] set itself the task to make sure that as many of the remaining few traces of the Jewish presence as possible are secured.
But we were not able to fulfill this promiseby locating sufficient information about Jenny Hirschhahn. Therefore we can only relate onthe bare facts about her that can be deduced from the Göppingen residents' registration office files.
We know that Jenny Hirschhahn was born on in Krojanke (today the Polish town of Krajenka) onDecember 21, 1882. It was a small town on the border of West Prussia and Pomerania in County Flatow with 3500 inhabitants, of whom 320were Jewish. Jenny's father Samuel Leopold was one of the Jewish citizens of the community, while her mother Ida, née Neumann,might have had Christian parents. There is a hand-written notation next to Jenny Hirschhahn's name in the files indicating "Half Jewish."

There wasanother hand-written addition: "related to Rosinberg." Irma Rosinberg, born in 1906, had the maiden name 'Hirschhahn' [see Stumbling Stones biography Rosinberg], and the name Hirschhahn is very rare. Jewish victims of the Nazis by this name can mainly be found in today's State of North Rhine-Westphalia. Irma Hirschhahn, whose married name was Rosinberg, was born in Hamborn, a district in the city of Duisburg, and there is an indication that in 1907 a Sally (= Salomon) Hirschhahn owned a textile business there.
Sally, born in 1878, married Jenny. They gave birth to a little daughter, Irma, in 1906.The small family seems to have lived only a short period of time in Hamborn, because their name is not mentioned in the adressbooks of Hamborn, neither in 1903 nor in 1910.It could not be traced, if Irma had any more children, nor what happened with her husband Sally. Was the marriage annulated or did Sally die in early manhood?
The few biographical details we have about Jenny Hirschhahn,and her daughterIrma Rosinberg overlap on another point: Irma Hirschhahn married Fritz Rosinberg in 1929 in Breslau, and Jenny Hirschhahn moved from Breslau to Göppingen. There is a notation about the Geislingerstraße 6 address which reads: "Renter Mrs. Rosinberg."
The large house at Geislingerstraße was owned by the Dörzbachers, a Jewish family in Göppingen(see Stumbling Stones biography Julius Regensburger). The Rosinberg family did not move there out of their own free will. They had been evicted from their apartment in Obere Marktstraße and were forced to move into the "Jewish house" at Geislingerstraße.
Did Jenny Hischhahn plan to stay in Göppingen when she arrived in December 1938? Did her grandmotherly feelings draw her to come to Göppingen? Here were living her grandchildren Arnold and Heinz Rosinberg.
Like the Rosinberg family Jenny Hirschhahn was included in the first and most devastating deportation from Göppingen. On November 28, 1941, 39 Jewish citizens were rounded up, taken to the Göppingen Schillerschule [Schiller school], where they were searched in the most degrading manner. The next, and much worse camp, awaited them at Stuttgart's Killesberg, where approximately 1000 Jewish men and women were kept as prisoners in the exhibition halls which did not provide even the most basic living facilities.
These tormentedpeople were forciblytaken in an unheated train for three days and four nights from Stuttgart to Riga, Latvia. They were suffering with extreme hunger and thirst when they were forced on a march from Riga to camp Jungfernhof. There they were housed once again in completely inadequate quarters and suffered extremely from the terrible cold. We do not know when and how Jenny Hirschhahn died there. Like most of the other camp inmates she probably was shot in the nearby woods of Bikernieki on March 26 / 27, 1942 by the Germans or their Latvian auxiliary troops.
The search for other relatives of Jenny did not produce any definite results. Two womenstayed in Berlin who wasborn in Krojanke, Jenny's birth place, too. They were Johanna Bendit, née Leopold, born in 1884, and Regina Keins, née Leopold, born in 1885. Both weredeported from Berlin to Kowno (Kaunas) in November 1941 and considered 'missing'. Might they have been sisters or cousins of Jenny Hirschhahn? Unfortunately the State Archive in Berlin could not enlighten this query.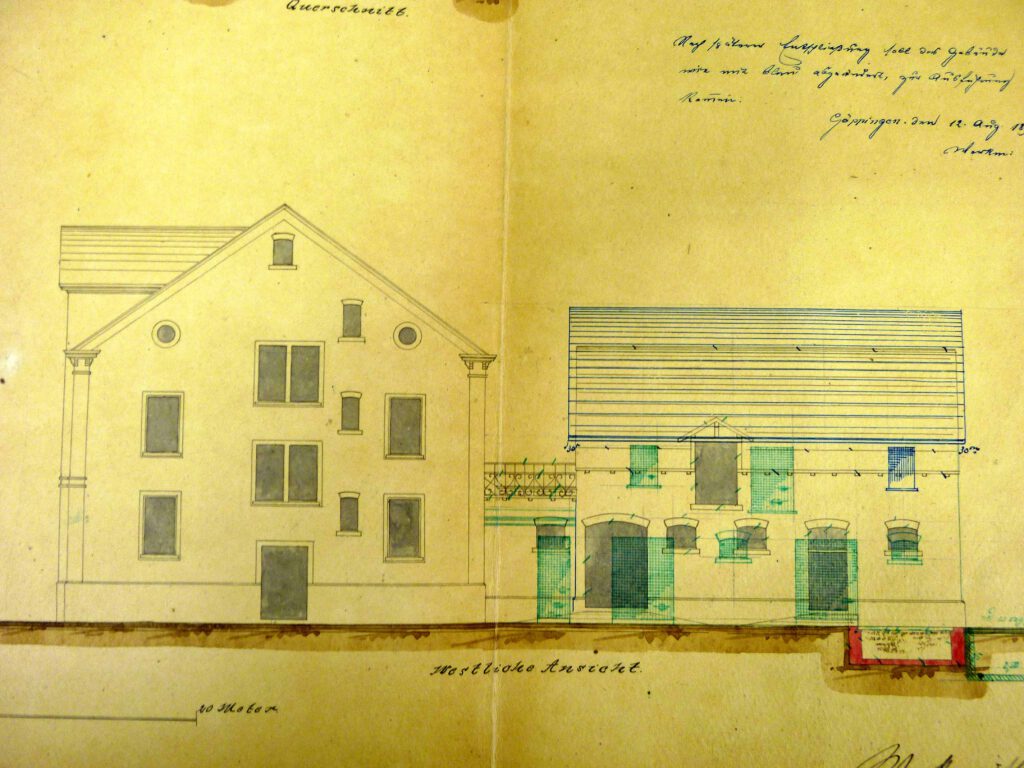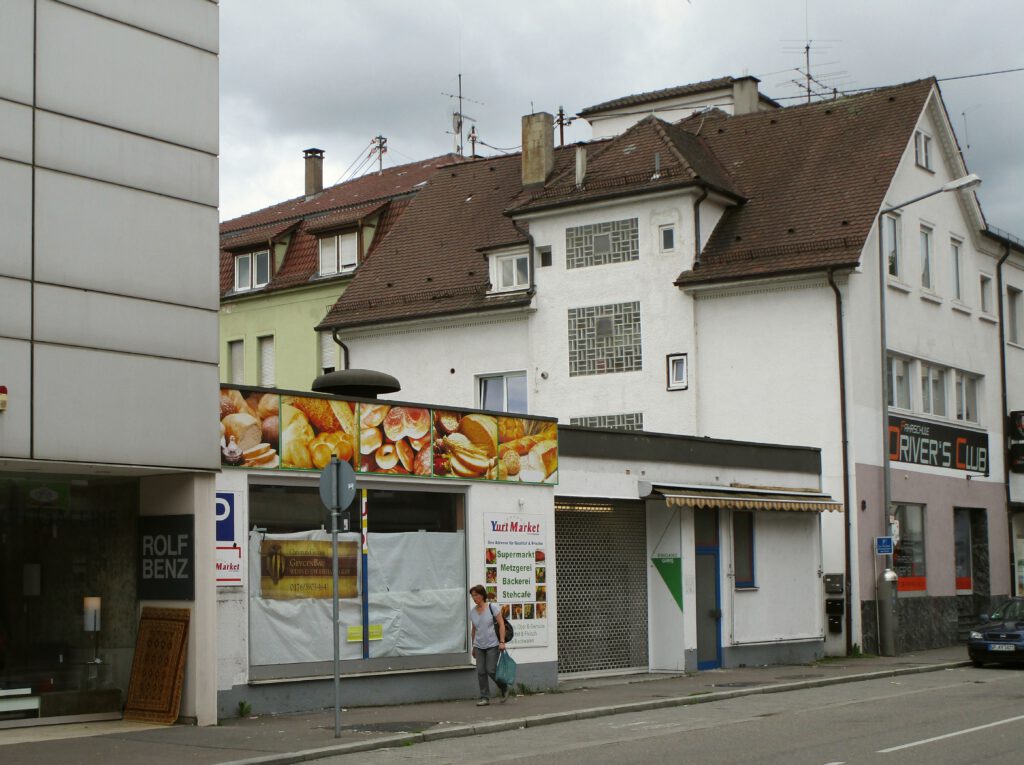 On September 19, 2012 Gunter Demnig laid a Stumbling Stone where the house at Geislingerstraße 6 once had stood in order to remembrance of Jenny Hirschhahn and to indict her murderers.
(04/05/2017 kmr/ir)