Gartenstrasse 2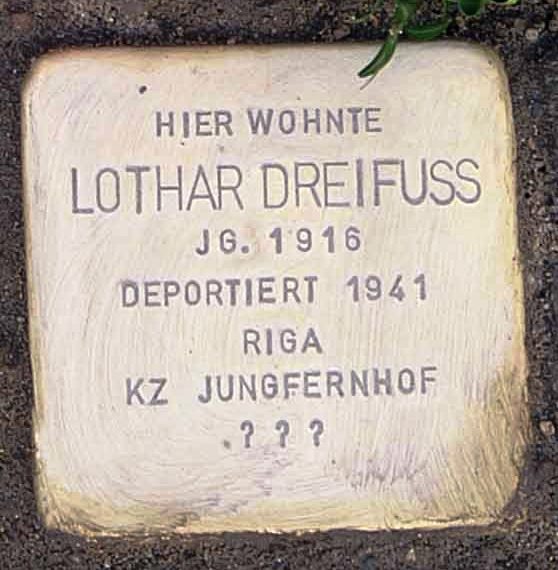 Jewish citizens had lived for two-and-a-half centuries in the small Baden town of Königsbach, located between Karlsruhe and Pforzheim, and represented a considerable proportion of the population. Lothar Dreifuss was born there on April 24, 1916, in the house that still stands at Schulstrasse 9. His father Jakob was a cattle dealer. Lothar was the second child of his parents Jakob and Selma, born four years after his sister Norma.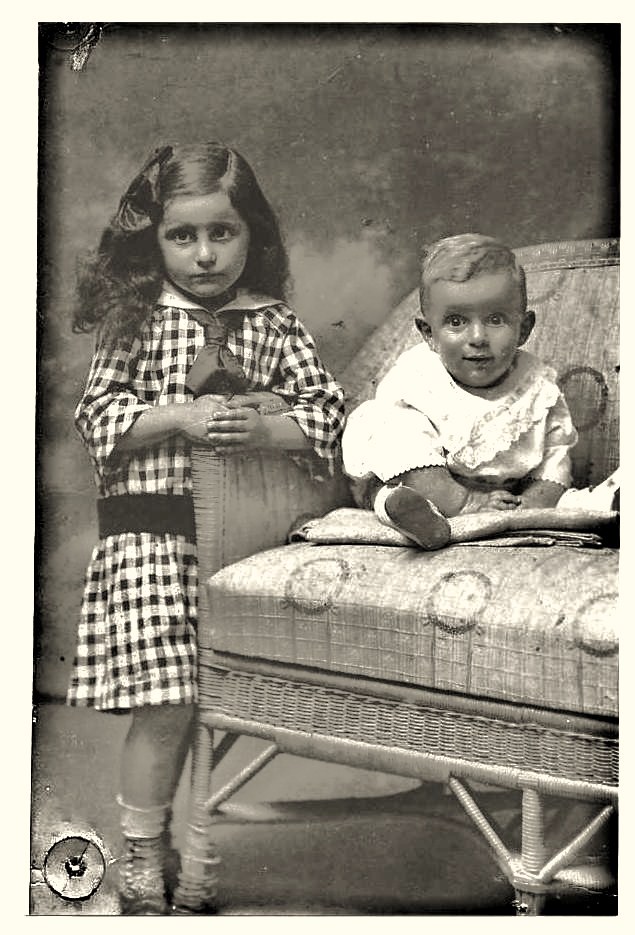 Lothar is described as a "large, clumsy and simple-minded fellow" in the 'Heimatbuch' [regional record book] of the Königsbach community.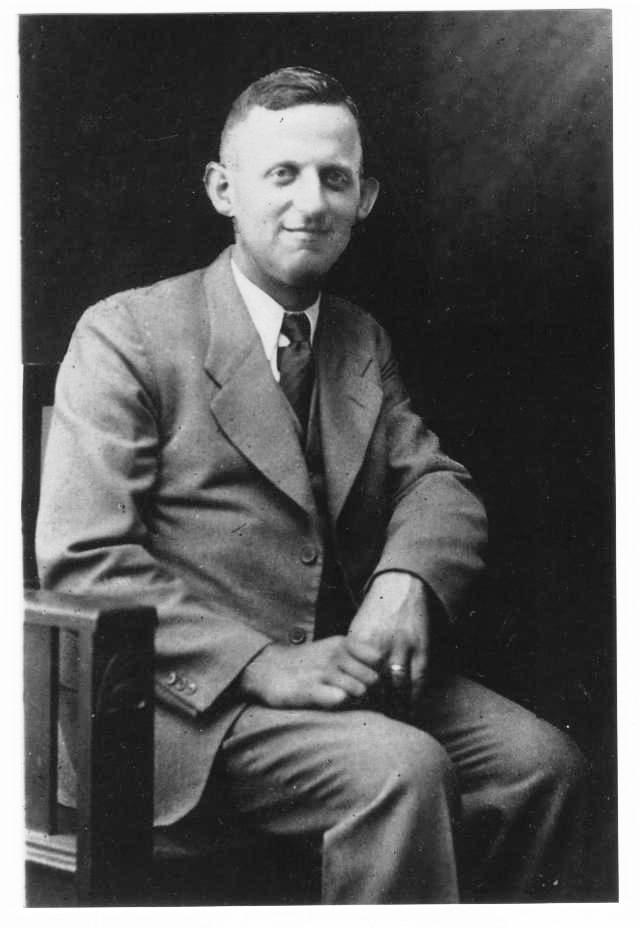 Subjected to mockery
On November 10, 1938, the Jews of Königsbach were persecuted during the Pogrom Night as occurred in other cities nationwide. It has been documented that Nazi storm troopers came from out-of-town to Königsbach where they began their work of destruction. But they found plenty of locals who willingly pointed out where the Jewish citizens lived whose houses were then attacked. The synagogue was ordered to be burned down, but the mayor would not allow this because the surrounding houses would easily also catch on fire. Instead all the interior contents of the synagogue were dragged outside and burned in a bonfire at the square in front of it. Jewish men were forced to assist with the destruction of the sacred objects and one of them was beaten for no apparent reason and badly injured. Then the Nazis decided to tear off its roof because the synagogue had hardly been damaged. Some of the spectators objected because lots of good shingles would be smashed. According to the 'Heimatbuch' local Jewish citizens were forced to participate in the destruction, among them the handicapped Lothar Dreifuss. A witness from that time remembered that Lothar "was terribly afraid that he would be forced to go up on the roof."
Entry not welcome
Even though Lothar was not transported to the Dachau concentration camp like his father, he must have been traumatized during the Pogrom Night. The family decided immediately afterwords to flee Germany. They prepared for emigration to Brazil and were lucky enough to receive visas – everyone except Lothar.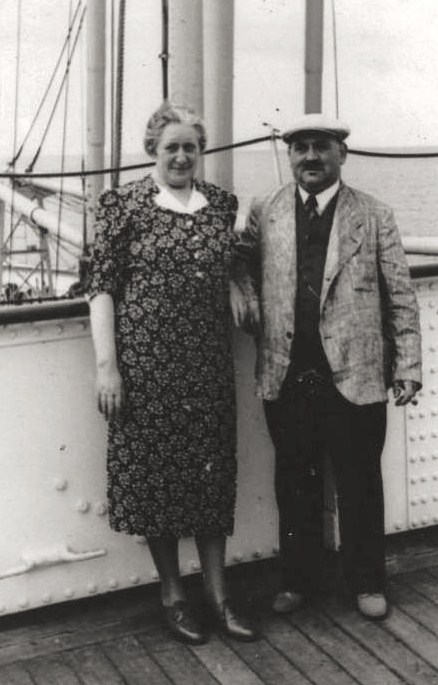 In the restitution documents of 1964, his sister Norma is quoted as stating: "He was not allowed to emigrate with his parents because he did not meet the health stipulations for an immigration visa. He was mentally handicapped." Of course his parents did not want to leave their son behind without anything. A chest was packed for him which was described in correspondence as a "hope chest". In 1951, Lothar's father Jakob Dreifuss made the following official statement in Rio de Janeiro: "I hereby certify under oath that I spent the amount of RM 7,500.00 for outfitting my son Lothar Dreifuss for emigration. A chest had been prepared for him, officially sealed and was ready to be shipped." This shows that the family had planned to bring Lothar to Brazil in the future, but until that could be arranged they arranged a safe home for him: in Göppingen, where his aunt Lotte Sinn, the widowed older sister of his father, lived.
Finding refuge with the aunt in Göppingen, murdered in Riga
In the summer of 1939, Lotte Sinn was 59 years old. For quite some time her own children had not lived any longer in her large house at Gartenstrasse 2, where her deceased husband Theodor had operated a horse dealership. Not much is known about Lothar's time in Göppingen. After a few months he and his aunt were forced to leave the house in the Gartenstrasse and move to Geislinger Strasse 6 with the Dörzbacher family who had to take in many of their fellow believers in Judaism. Lothar often spoke about his upcoming emigration, and his fantasies centered around his hope chest. As Hulda Dörzbacher remembered, he assumed that besides clothing, pillows and shoes it contained valuable jewels – however, that would have been highly unlikely because of the very restrictive export regulations.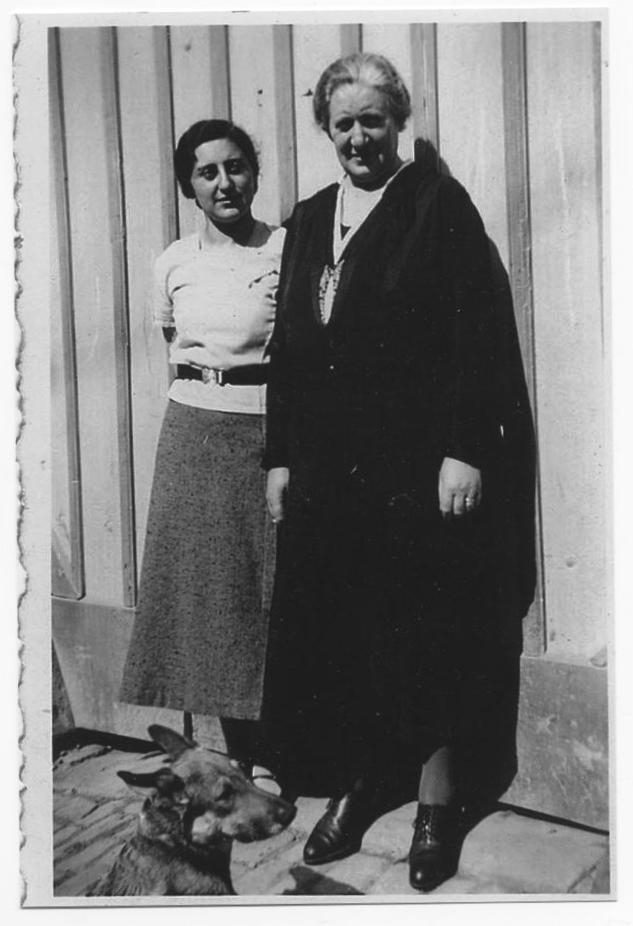 But Lothar's hopes were dashed; much worse, his family was unable to save him. On December 1st, 1941 Lothar and his aunt Lotte were deported to Riga, where he led a miserable existence under inhuman treatment at Jungfernhof camp. (See Stumbling Stones biography Lotte Sinn). He was probably shot at the end of March 1942 in the Bikernieki woods, like most of the inmates of the camp.
Other members of the Dreifuss family were also murdered by the Nazis: Lothar's cousin Elsa Kooperberg, along with her husband Abraham and their children Theodor and Bethrina; as well as his uncle Hermann Dreifuss and his wife Victoria. (See Stolperstein-page Lotte Sinn.)
Lothar's mother died in 1948 and his father died in Brazilian exile in 1954. His sister Norma married and had two children.
The Stumbling Stones Initiative was able to make contact with Lothar's niece, Mrs. Marion Gideon, who lives in the USA. We are very thankful to her for the photos she made available.
On November 25, 2011, Gunter Demnig placed a Stumbling Stone in front of the house at Gartenstrasse 2 in memory of Lothar Dreifuss.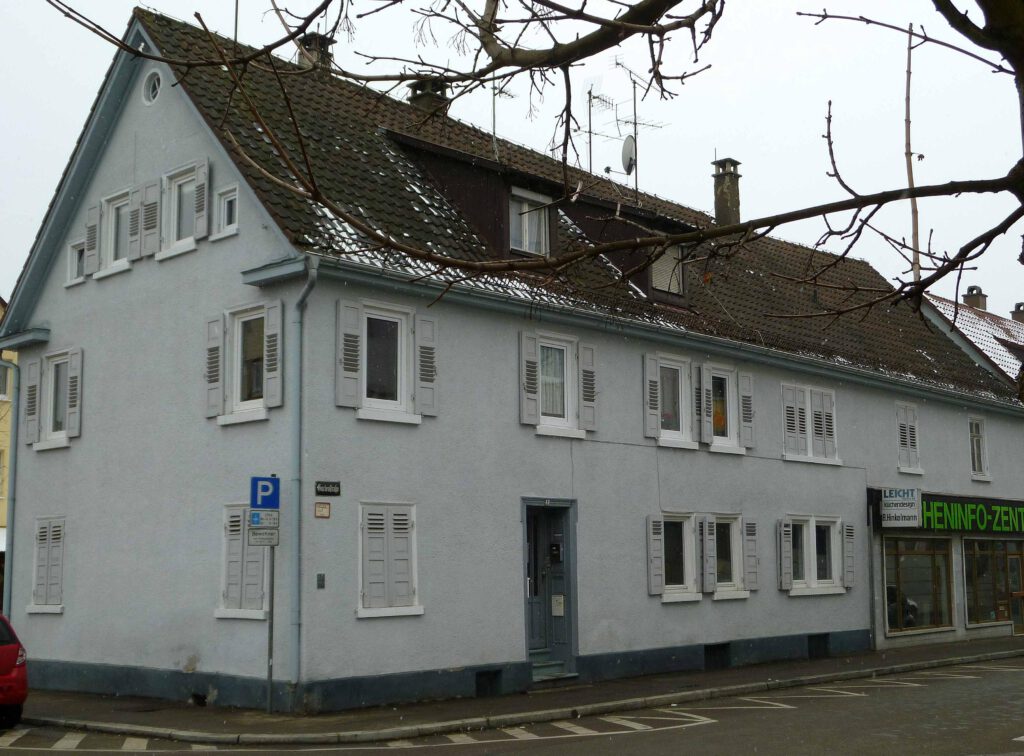 (20th of December 2016 kmr / ir)
[osm_map_v3 map_center="48.6997,9.6588″ zoom="17″ width="100%" height="450″ post_markers="1″]