Vorderer Berg 23 (Jebenhausen)
When Inge Auerbacher heard about the Stumbling Stone project she wrote from the USA: 'I am very happy and grateful that you are laying a Stumbling Stone for my late dear grandmother'. Her grandmother Betty Lauchheimer from Jebenhausen had been murdered in Riga in 1942. Betty Lauchheimer, née Leiter, was born on April 11, 1883 in Aufhausen / Neresheim. She was one of 14 children of Malchen and Heinrich Leiter, an orthodox Jewish family. Many of Betty's siblings died in early childhood already. Her brothers Josef and Moritz lost their lives as soldiers in the German army during World War I. On May 8, 1903 Betty married Max Lauchheimer, a cattle trader from Jebenhausen.
The ancestors of Max Lauchheimer were among the first Jewish families to settle in Jebenhausen in 1777. But in the mid-1930's the Lauchheimer family was one of the only 'old' Jewish families who still lived in Jebenhausen. During the 19th century many of Jebenhausen's Jewish residents had already either emigrated abroad or settled down in Göppingen or in other towns in the surrounding area. On 13th of June 1871 Max got to be the second born of six children. Two of his sisters already died as children. The other siblings left Jebenhausen when they were still young.
In World War I Max was drafted for military service as "Landsturmmann". Old Jebenhausen residents remembered Max Lauchheimer as being very original – especially his witty greetings and their variants remained in the local memory.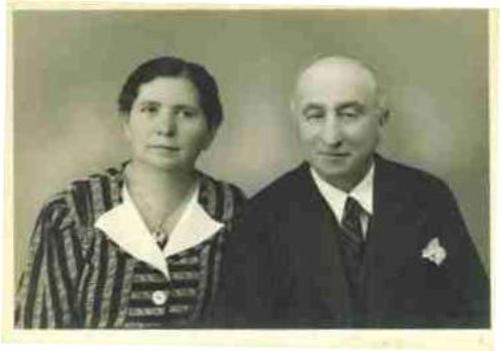 Two Children and a Grandchild
Betty and Max lived in Jebenhausen in a combined residential/business building at Vorderer Berg 23. They had two children, Regina, born 1905, and Karl, born in 1907. In 1933 Karl married Gertrud Blumenthal out of Laupheim. The couple who were childless lived in Jebenhausen until June 1938, and then fled to the USA. One of the reasons for that was due to the fact that Karl, being Jewish, could no longer get a 'travel permit' as a travelling merchant from the Nazi administration.
In 1928 Regina married textile dealer Berthold Auerbacher from Kippenheim and moved with him to his home in Baden where their daughter Inge was born on December 31, 1934.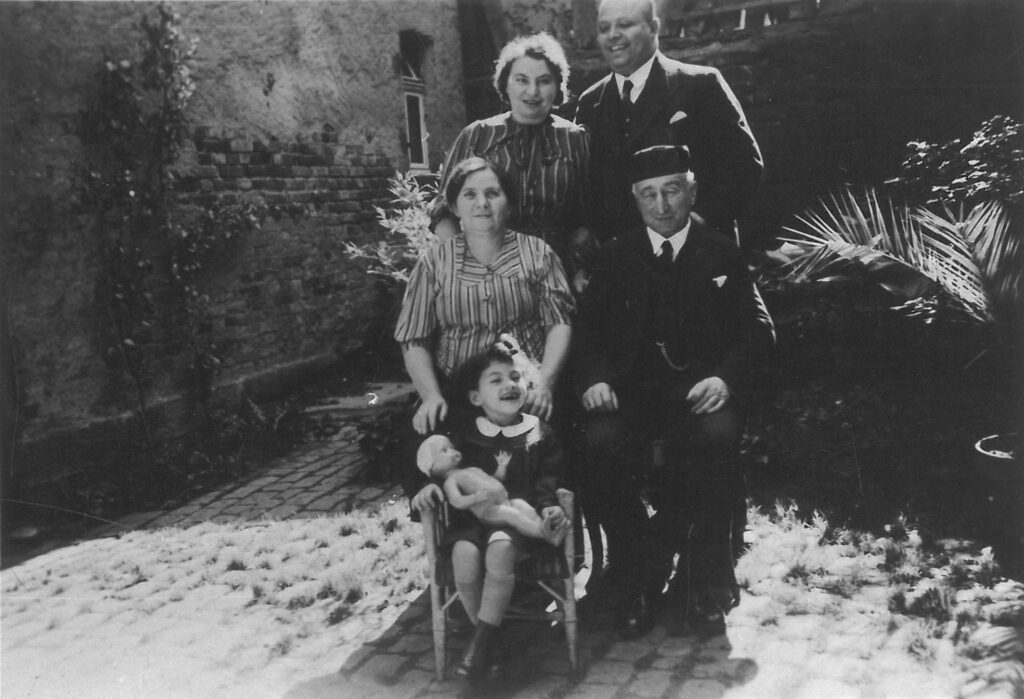 Pogrom Night in Kippenhausen
The Pogrom Night of November 9 – 10, 1938 caused a serious disruption in the family's history. Inge Auerbacher vividly describes the Nazis terror, which threatened her life as well, in her book 'Ich bin ein Stern' ['I am a Star']. The Pogrom Night also had serious consequences for Max Lauchheimer who at that time was visiting Kippenheim with his wife Betty. He was arrested with all of Kippenheim's Jewish men and on the following day deported to Dachau concentration camp. Had he remained in Göppingen /Jebenhausen on that fateful day, he would most likely not have been taken to Dachau concentration camp. Max was 67 years old at the time and in Göppingen Jewish men of this age were not being deported to Dachau. Max was tortured there until November 22nd.
As a consequence of the Pogrom Night Berthold Auerbacher was no longer permitted to carry out his business, and in May 1939 the family moved with his parents-in-law to their house in Jebenhausen. Daughter Inge would later vividly and positively remember her childhood with her grandparents in Jebenhausen. She was not quite five years old at that time – the next two years would be the best in her life.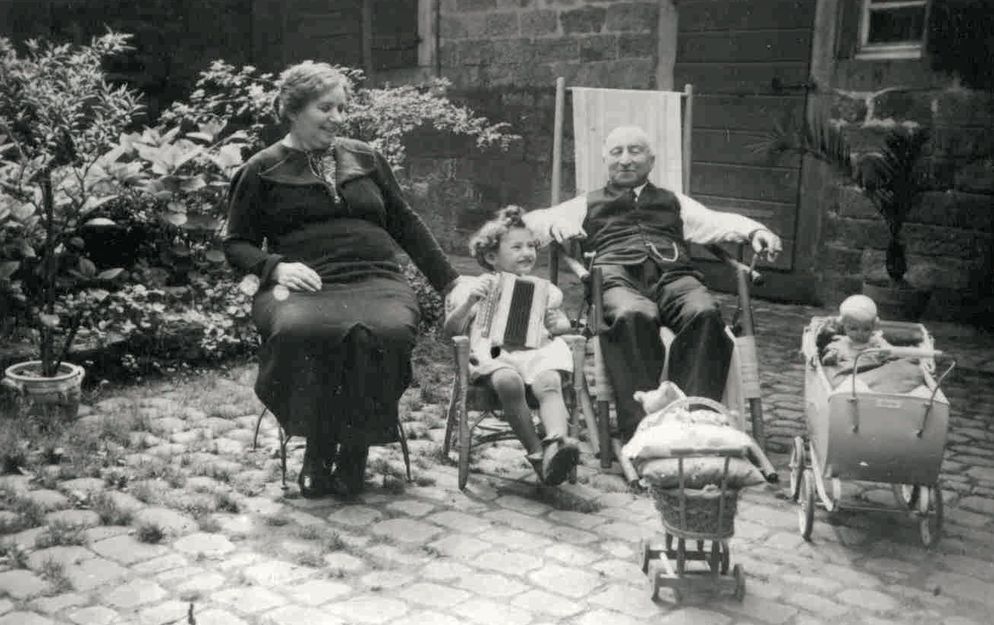 Inge was Betty's only grandchild and she spent a childhood full of security and happiness with her Oma which she still remembers well today; how she got to help her grandmother with baking cakes, how she sped down the mountain on her sled, or how she sat at her grandfather's lavishly decorated table during holiday dinners. But her happy life did not last long. Her grandfather Max Lauchheimerdied on May 26, 1939 after his imprisonment in Dachau concentration camp had seriously and sustainably affected his health. Inge Auerbacher writes: "Grandpa soon succumbed to a broken heart. He died from combination of illness and a disappointment in the country he loved'.

The "Initiative Stolpersteine" has decided to lay a Stolperstein for Max as well. The sponsorship was absorbed by the public charity "Haus Lauchheimer".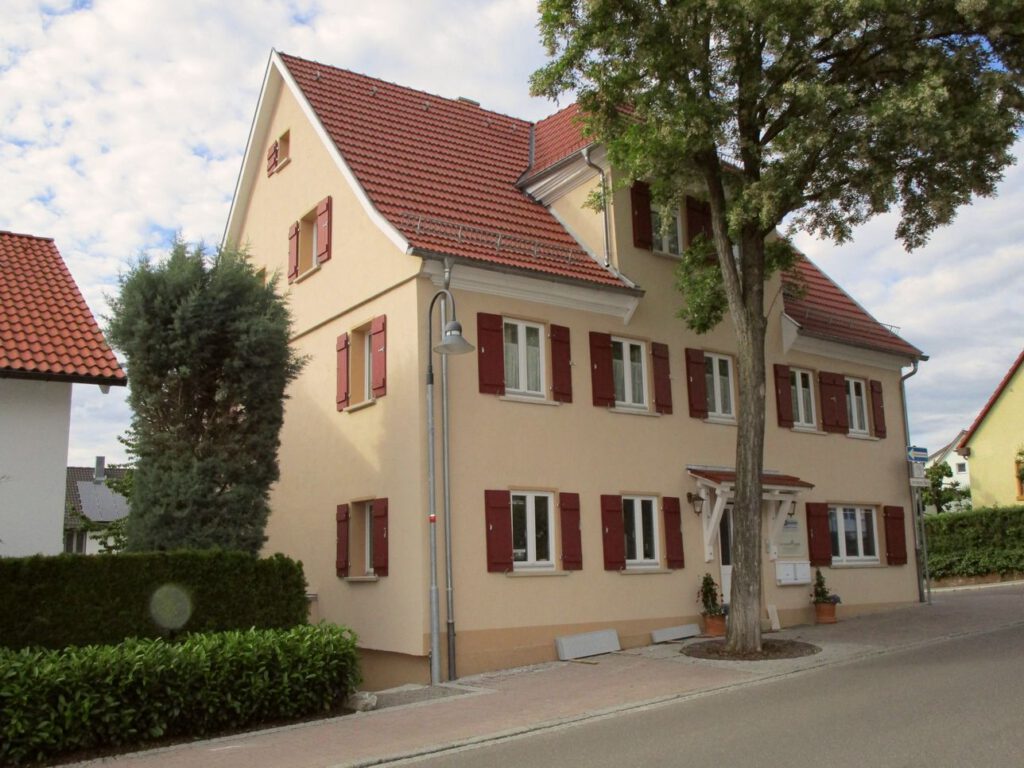 The end of the house community – Betty's death
After Max' decease Betty Lauchheimer accommodated Johanna Frey, a Jewish woman from Göppingen for a short time.Inge Auerbacher remembers that 'Miss Frey' was treated like a family member. However the harmonious household was soon torn apart. On December 1, 1941 Betty Lauchheimer was deported by the Nazis to Riga in Latvia and detained at Camp Jungfernhof together with 26 other Göppingen residents. Did Betty die due to the murderous conditions at the estate which was not in the least equipped to house so many hundreds of people? Many who were crammed together froze to death during the winter of 1941-1942. In March 1942 most of the survivors were taken to the Bikernieki forest, lined up in front of ditches and been shot by Nazi commandos or Latvian volunteers.
The Family Auerbacher: Expelled from their house
After Betty's deportation and murder the Nazi government confiscated her house in Jebenhausen and rented it to an 'Aryan' family. Berthold, Regina and Inge Auerbacher were forced to move into a 'Jewish house' at Metzger Street 16 in Göppingen which was owned by Pauline and David Geschmay.
During this time Berthold Auerbacher took a photo, as important document, in front of the house at Metzger Street 16. It shows eight children, Inge amongst them. The photo is unique, because it must have been the last or maybe the only document that shows most of the children before they were murdered.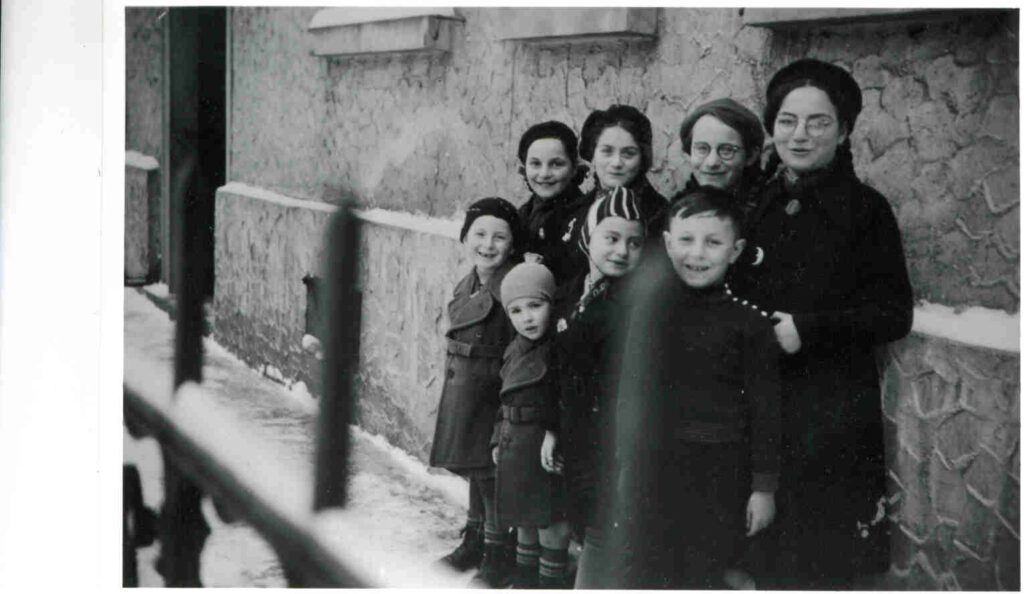 However, life in the 'Jewish house' where they were cooped up together did not continue for long. On August 20, 1942 the Auerbacher family was deported to the Theresienstadt concentration camp, together with 23 other people from Göppingen. There they were forced to live under inhumane conditions, weakened by hunger, with totally insufficient medical care and always threatened by transport to the extermination camp. In her book 'I am a Star', Inge Auerbacher vividly describes their wretched life in the old fortress which was constantly being threatened by illness – for example, Inge fell ill with scarlet fever. But Regina, Inge and Berthold had the exceptional luck to survive and were liberated by the Red Army on May 8, 1945. Sadly, Inge never saw her grandmother Betty again…
After their liberation the Auerbacher family lived in Göppingen for a short time before they emigrated to the USA in May 1946. Inge Auerbacher worked as a chemist and is the author of several books, one of them is the previously mentioned autobiographical book for juvenile readers 'I am a Star', which can highly be recommended. In the years since her retirement Mrs. Auerbacher dedicated her life as advocate for tolerance and peaceful coexistence. Therefore she had widely been honored.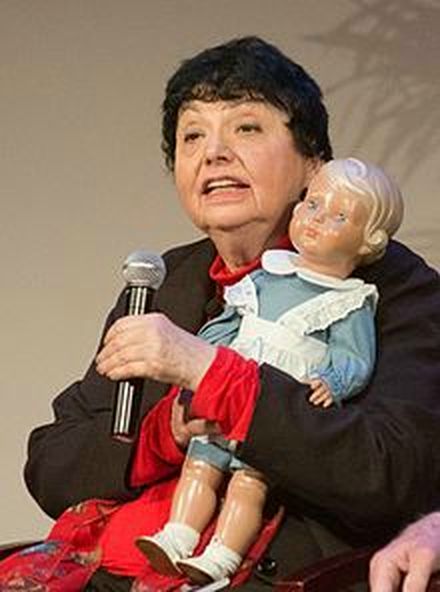 Two younger sisters of Betty Lauchheimer were also murdered by the Nazis. Like Betty Rosa Leiter died between the end of 1941 and March 1942 at Camp Riga/Jungfernhof. Betty's other sister Mina Leiter was taken to the euthanasia institution of Grafeneck and been murdered in October 1940 during a T4-Action when mentally ill people were rounded up. On December 1, 1941 Betty's sister-in-law Babette Leiter, née Pappenheimer, was deported to Camp Riga/Jungfernhof, where she was murdered. Prior to that, the widow had been quartered in Castle Weissenstein, in Göppingen County, which was being misused as a forced residential home for older Jewish people.
In the Auerbacher family there was victims as well; Berthold's sister Klara Breslau, née Auerbacher, together with her husband Paul and their 18-year-old daughter Lore. The Breslau family had their residence in Frankfurt/Main. They were deported on October 1941 to the Litzmannstadt (Lodz) ghetto and murdered. Stumbling Stones have been laid for them in Frankfurt.
In April 2007 Gunter Demnig laid the Stumbling Stone for Betty Lauchheimer in front of the house at Vorderer Berg 23 in Jebenhausen. During the ceremony her granddaughter Inge Auerbacher memorialized the destroyed lives of her grandparents in moving words.
The Stolperstein for Max Lauchheimer was laid in October 2017.
(October/14/2017 kmr / ir)