Kirchstrasse 12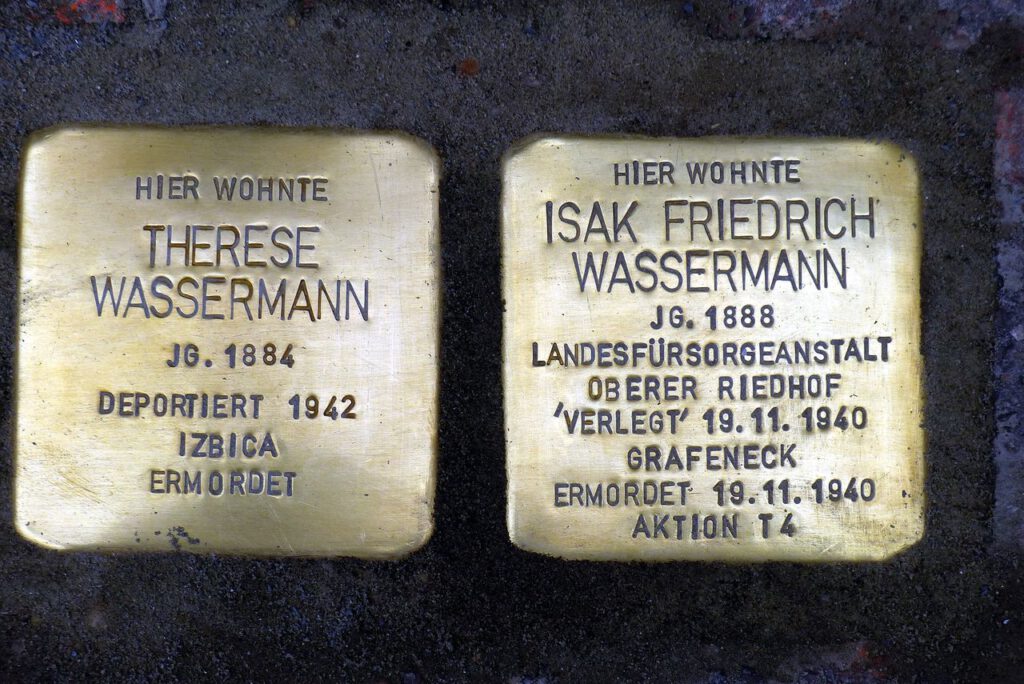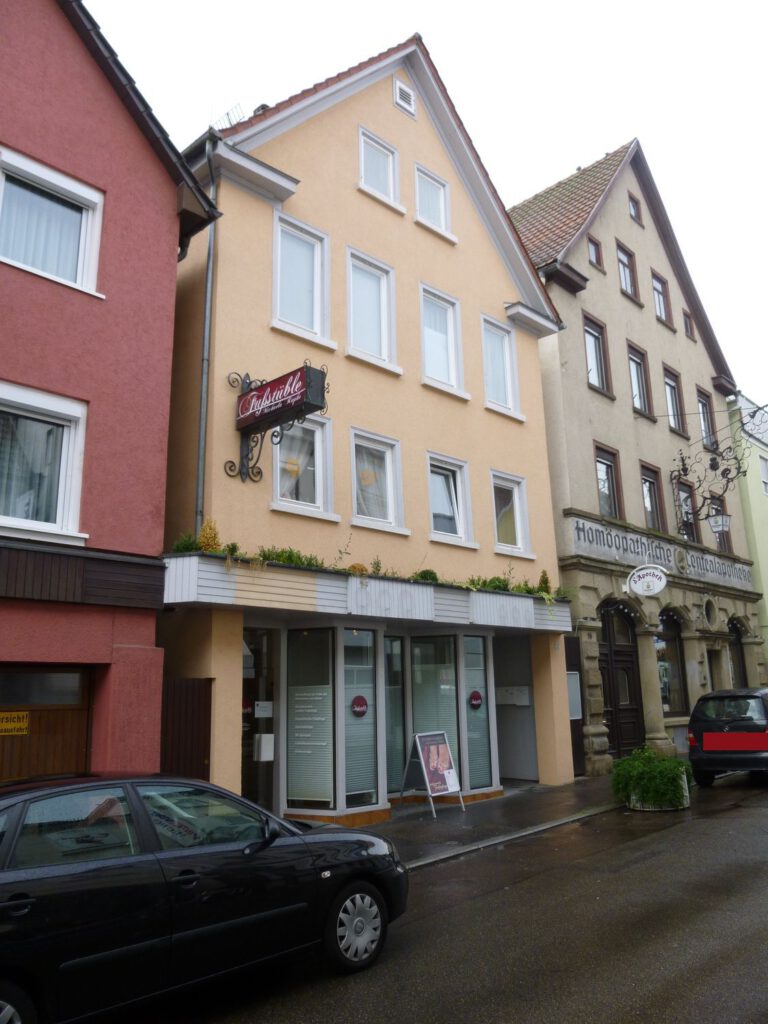 Living for a Kiosk?

Therese Wassermann was for sure a very well-known person in Göppingen. From 1912 to 1936 she was in her small sales kiosk at Untere Marktstraße 9a next to the former restaurant 'Zum Bären" and offered tobacco goods and newspapers for sale. When David Löw Wassermann purchased the kiosk in 1912 for his oldest daughter Therese, it must have been because he wanted to make sure that she had a way to make a living. Probably he and his family were not very well off, and by the standards of that time, Therese at the age of 28 would have been considered an 'old maid' without many chances left to get married. By the way, father Wasserman only paid for the actual building in which the kiosk was located; the ground on which it stood remained in the possession of the Scheer family.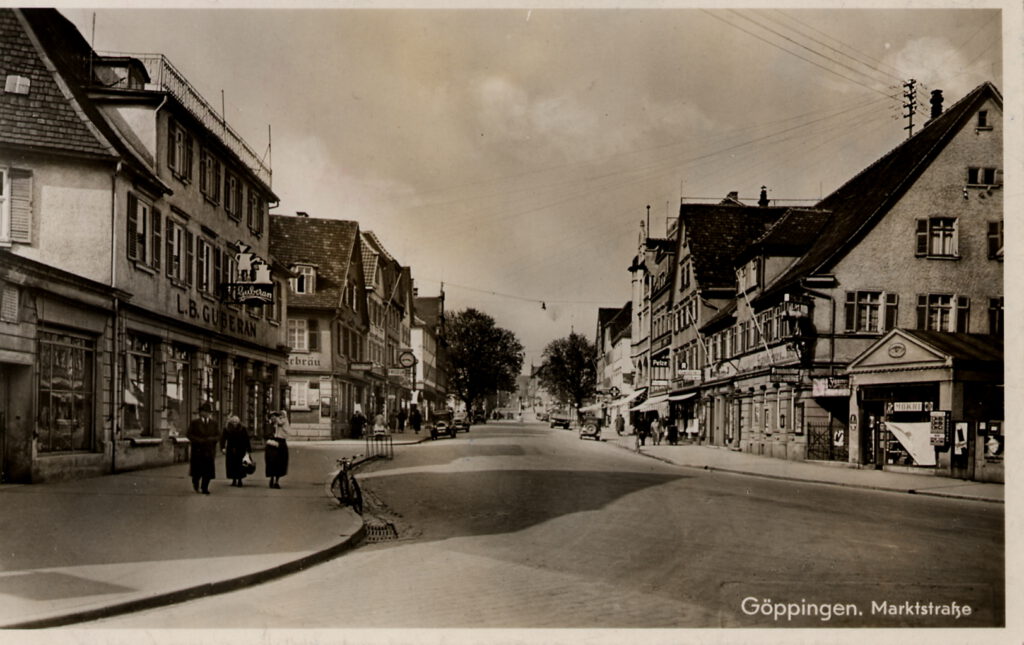 Therese Wassermann's small business barely kept above water financially. In 1953 Emil Schober, owner of an Esslingen tobacco wholesale business, wrote during the restitution proceedings:
"In 1928, when I entered into a business relationship with Miss Therese Wassermann, of Göppingen, she did not have any assets. She should already have given up her business at that time, because her suppliers could no longer make deliveries on credit to her. Sales representatives of these firms approached me with the request that I supply Miss W. with merchandise on commission so she could continue to make a living. I followed their advice, and from the start of our business relation to the end, Miss W. did not actually own any of the goods she had in stock. (…) On July 31, 1936, she had to give up her business due to illness and cancel its registration. She could not even sell the store, because she owned nothing except an old store counter and an old shelf."
This outlines the economic situation of Therese's business, but it does not give an indication if she was happy in her job. Did she have friendly daily interactions with her customers? In 1936 the pressure by the Nazis on small 'Jewish' businesses was probably not yet significant. So it can probably be assumed that Therese Wassermann really did have to give up her job due to illness.
Berta Henle remembered that Therese suffered from hydrops (most likely due to a weak heart). Was Therese able to find another job? Who supported her financially after the middle of 1936, when she had to get by without the proceeds from the kiosk?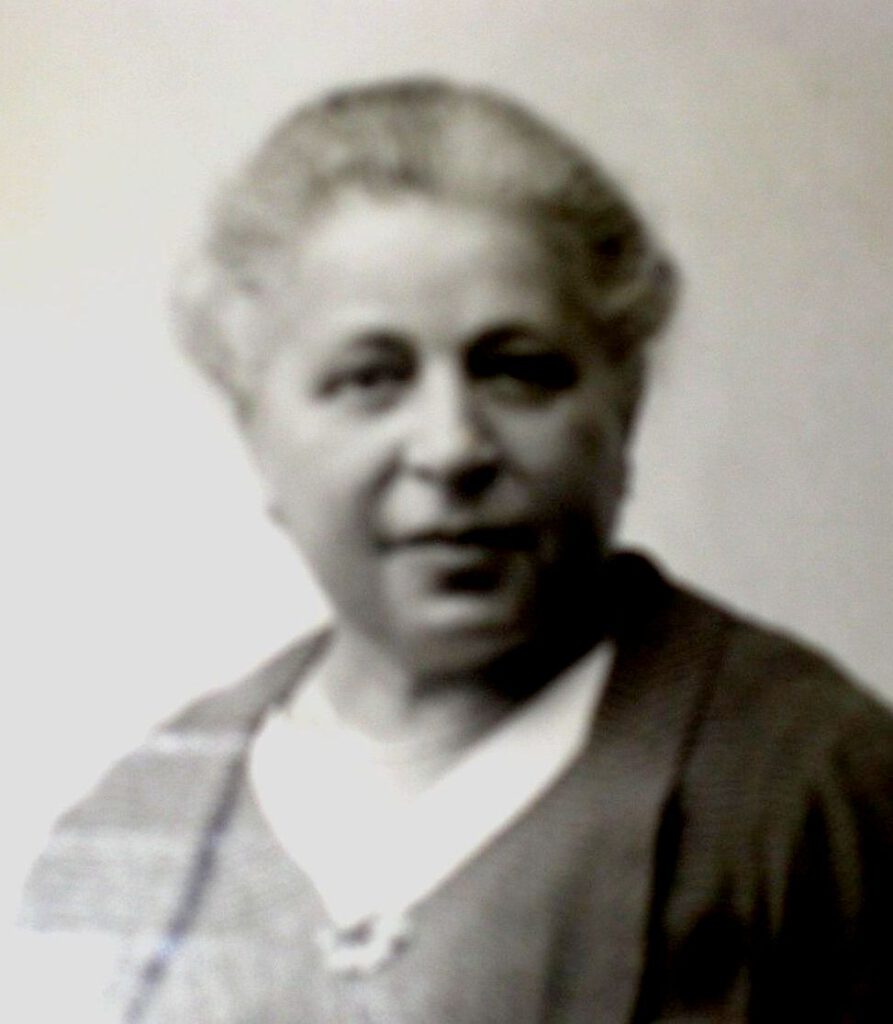 Family Wassermann

Here is a short overview of her family: In about 1891 Bertha Wassermann, née Frei (Frey) and her husband, David Löw Wasserman from Aufhausen, today the City Bopfingen, changed their residence to Göppingen. One of their children, Karoline (born 1885), died in 1891 in Aufhausen. They moved to Kirchstraße 12 together with their children, Therese (born 1884), Arthur (born 1887), Isaak (born 1888), and Berta Lina (born 1890). They rented an apartment on the second floor from Karl Berner, a master baker. The couple had another five children born in Göppingen.
It could not be determined with certainty how David Löw Wassermann earned a living in Göppingen. While the book by Rabbi Aron Tänzer does not give any information, Berta Henle of Göppingen remembered:
"In Kirchstraße, next to the Mauch Pharmacy, lived family
Wassermann, cattle drover, large family, very poor."
In 1936 only five of the ten children were still living. One of them, Isaak, was mentally ill and was at the Riedhof Institution in Ulm. However, not all of the siblings remained poor: Thereses´ sister Berta-Lina married the Christian engineer Emil Munz and in 1926 the youngest brother, Julius Wassermann (born 1901), had his own house built at Eugenstraße 10. It can be assumed that Therese was also supported by her siblings.
It does not appear that the family was very involved with the Jewish community; at least none of them participated in events of the congregation. Unusual for the time being it can be noted that three of the four married Wassermann siblings had chosen non-Jewish marriage partners.
The Fate Of The Wassermann Brothers With Their Families

It did not matter to the racist Nazis how people – who fell into their classification of 'Jews' – defined themselves. Therese's youngest brother Julius Wassermann, who was married to Hedwig, née Kocher, and their children Heinz and Inge, who were all baptized in the Protestant religion of his wife, were the first to feel the Nazis' racial hatred. A neighbor remembered his fate:
"During Kristallnacht (Pogrom night on November 9th), Julius Wassermann was arrested. He was taken to Dachau concentration camp with other Jewish men from Göppingen. There he was beaten and tortured badly. When he came back several weeks later, his back was full of deep wounds. Before his release he had to sign a document swearing that he would not talk about his treatment there. After this terrible experience he wanted to emigrate as soon as possible. There was no question that his wife would always stand by him. Their house and all their household goods were auctioned off at the beginning of 1939. Their neighbors were dismayed, because the family was well regarded by everyone. (…)"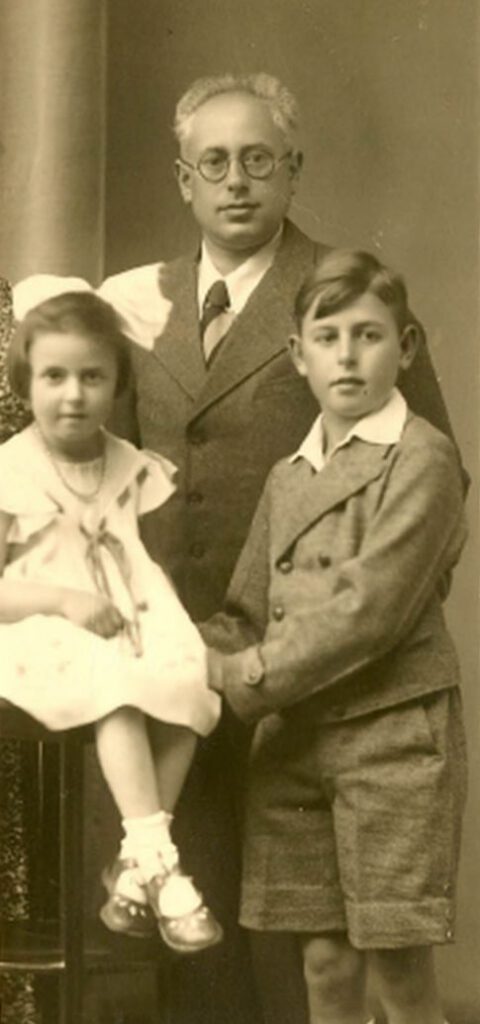 In early 1939, the only emigration route open to them was to Shanghai, China. On board of the ship on which they traveled they were fortunate to encounter members of the Seventh-Day Adventists who became their life savers when they were in Shanghai. Upon their arrival in Shanghai, the family first camped out in parks, suffered from hunger and had to hunt for food in Chinese garbage cans. It must have been horrible. The Seventh-Day Adventists hauled them out, found housing for them, and generally brought them through. After the war the family was able to immigrate to the USA. They affiliated with the Seventh-Day Adventists.
In August 1938 Berta Wassermann (widow of Arthur Wassermann, passed away in 1932) was able to flee to New York together with her son Kurt – even before Julius and his family escaped. Another of Therese's brothers, Alfred Wassermann, died in December 1940. He also had been married to a Christian woman. His widow, Mina Wassermann, née Weller, stayed in Göppingen with her 'half-Jewish' Protestant daughter Lore Beta. Lore married Capt. E. Harris, an American in 1949 and followed him to the USA.

Isaak Wassermann –Murdered Due To Mental Illness

The first victim of the Wassermann family out of Göppingen was Isaak, born in 1888. Because he was mentally ill, he had been institutionalized at Upper Riedhof, a state-run care institution near Ulm. Before he was committed there, he probably was at a psychiatric clinic where he was diagnosed and treated. Evidently his condition could not be treated at that clinic to bring about sufficient improvement; therefore he was taken to the Oberer Riedhof institution as a chronically ill patient. The only existing memory of him is that he had the nickname "Jud Süss" at Oberer Riedhof, an absurd anti-Semitic allusion to Jud Süss Oppenheimer, a Jewish financial advisor in Württemberg who had been executed after an unfair trial at the end of the 18th century.
This nickname already foreshadows Isaak Wassermann's gruesome death. The Oberer Riedhof, which had initially been a Christian institution, could not escape 'being brought into line' by the Nazis. An upstanding employee pointed out the deterioration and decline in the social life and interactions with the patients. The incurably ill would no longer protected and treated, but the Nazis considered them 'unnecessary ballast' with whom the 'healthy people' should not have to be saddled. Like thousands of other mental ill people, Isaak Wassermann was killed during this murder campaign, which was called 'Euthanasia' in the veiled jargon of the Nazis.
His life ended when he was gassed on August 23, 1940 at the extermination camp of Grafeneck.
Therese's Sister Lina – Concentration Camp Survivor
The life of Therese's sister Lina (actually Berta Lina) Munz, who lived with her Protestant husband Emil at Rosenstraße 13, was also threatened. A friend of the family remembers:
"He was frequently ordered to divorce his Jewish wife. But he always was loyal to her. (…) She had a happy nature and simply disregarded many of the Nazi regulations. She did not wear the yellow star, as her niece told me. She always had people in her building and in the neighborhood that helped her loyally. In January 1945 her husband was deported to the forced labor camp in Leimbach near Eisleben (clarification: This actually took place already on November 20, 1944 – note by author). The reason for his deportation was being married to a Jewish wife. Mrs. Munz received the order to prepare for deportation shortly after that. I remember that my landlady gave a warm wool blanket to her sister-in-law. She was taken to Theresienstadt. She was convinced that she would be able to return home again. Because of her positive attitude she also helped others to hold out."
Lina Munz describes her liberation as follows:
"On May 9, 1945 we were liberated by the advancing Russian troops. An SS-officer, one of the prison guards who was later sentenced to death and hanged in Austria, stated to the Swiss Red Cross that we were designated to be slated by gas on May 10, 1945."
Lina Munz remained living in Göppingen until her death in 1966. For a long time her memories of the Nazi atrocities in Göppingen remained the most important source if anyone wanted to obtain information on this subject. She was the one who took in 18-year-old Richard Fleischer when he returned to his home town in October 1945 after four years of torture and forced labor. (See attachment at the Stolperstein-biography of Irma and Julius Fleischer)

Therese's Deportation to Izbica
Therese Wassermann was caught up in the deportation action of April 26, 1942, when about 300 Jewish men and women were deported from Stuttgart to the camp in Izbica near Lublin in Poland. On this deportation transport there also were other people from Göppingen: the Oppenheimer couple, the Schwab couple with their 13-months-old daughter Hannacha, and Sofie Simon, who was single (see Stumbling Stone biographies). Lina Munz writes regarding her sister:
"I have not received any sign of life from Therese since she was transported from Göppingen on April 24, 1942. Only Mrs. Marianne Schwab, wife of Max Schwab, who was on the same transport as Therese, wrote a postcard from the Lublin area. I answered the postcard and asked if she knew what had happened to my sister Therese. But since that time I have heard nothing from either Mrs. Schwab or my sister. During the post-war years, investigations and missing-person reports on the radio were without success."
After the war, no restitutions were made in favor of Therese's heirs in Göppingen because the defendants could clearly document that any property in question was already no longer in her possession prior to the Nazi time. Only a letter by Lina Munz to Landrat (county administrator) Erich Krauss has been preserved, in which she asks to have her sister's furniture returned to her which had been confiscated by the Finanzamt (finance office) after her deportation.
Additional Victims of the Family
Besides Therese and Isaak Wassermann, many other family members were murdered too (most of them didn't live in Göppingen):
Recha (Rosa) Frey, who had earned her living in Stuttgart as a caregiver and household help, was deported in August 1942. She was first taken to the Theresienstadt concentration camp, then at the end of September of that same year to the Treblinka extermination camp, where she was murdered.
Johanna Frey, who had lived temporarily in Göppingen, died on September 1, 1942 due to the murderous living conditions at the Theresienstadt concentration camp (see Stumbling Stone biography). Recha and Johanna were the half-sisters of Therese's mother.
Also a couple of cousins of Therese and Isaak did not survive the Holocaust. Joachim Wassermann and his wife Johanna lived in Frankfurt / Main. They were deported on 1942 to KZ Theresienstadt, where Johanna died. Her husband was murdered two years later in Auschwitz.
The unwed Alfred Wassermann lived in Aufhausen / Bopfingen. He died in Riga / Jungfernhof.
Adolf Wassermann lived with his wife Luise, their daughter Ruth and their son Julius in Bopfingen and Oberdorf am Ipf. Adolf, Luise and Julius were murdered in July 1942 in Auschwitz. Ruth survived the imprisonment in KZ Theresienstadt.
Bernhard Wassermann was deported from Magdeburg to the ghetto Warschau. There he died in April 1942. His mental ill brother Isaak Wassermann was murdered 1940 in Grafeneck. (The same fate incurred to the cousin Isaak Wassermann from Göppingen.)
Ida Wassermann was an unwed cousin, who stayed in Aufhausen. She was deported in December 1941 to Riga / Jungfernhof and has been murdered later.
On May 16, 2014, Gunter Demnig laid Stumbling Stones in memory of Isaak and Therese Wassermann in front of her former residence at Kirchstraße 12.
The oration for Therese was held by Jordanos and Zara, scholars of the Hermann-Hesse-Realschule from Göppingen.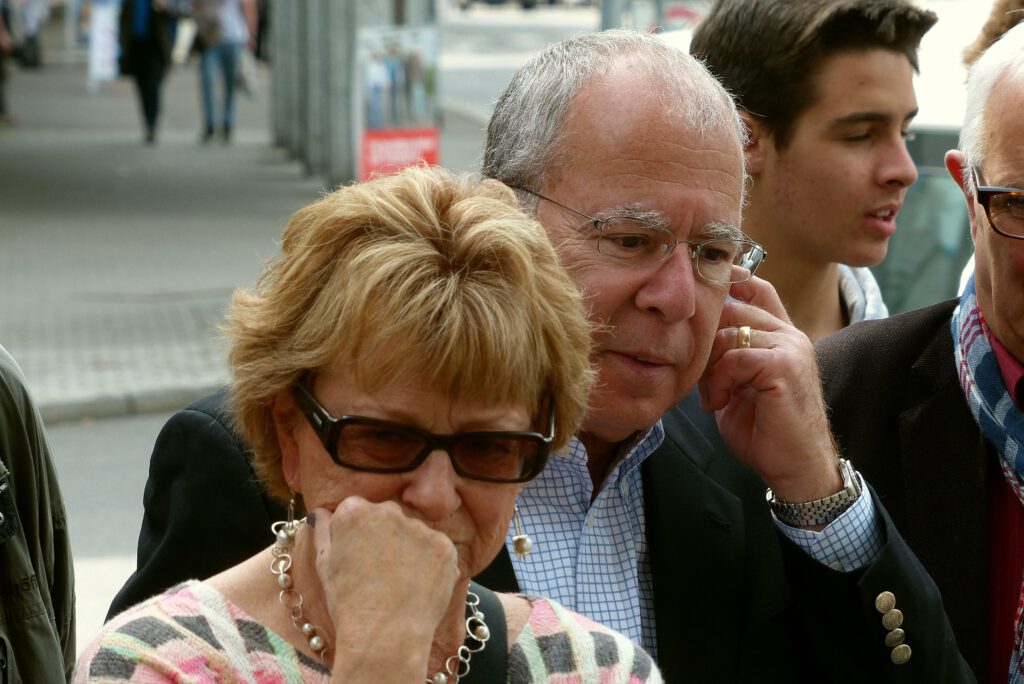 Jim and Barbara Hilb came out of the USA for the family Wassermann / Hilb to take part on the celebration.
The Stolperstein Initiative is grateful for the information provided by Mr. Berner and the couple Zoller. The photos of the family were placed at disposal by Glenn Wassermann and Inge and Steven J. Junghans, descendants of Julius and Hedwig Wassermann.
(11.04.2017 kmr/ fw/ir)