Spitalstr. 17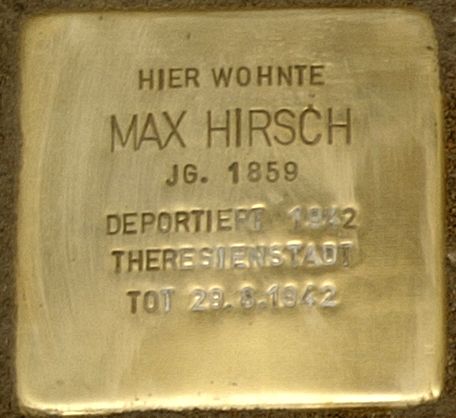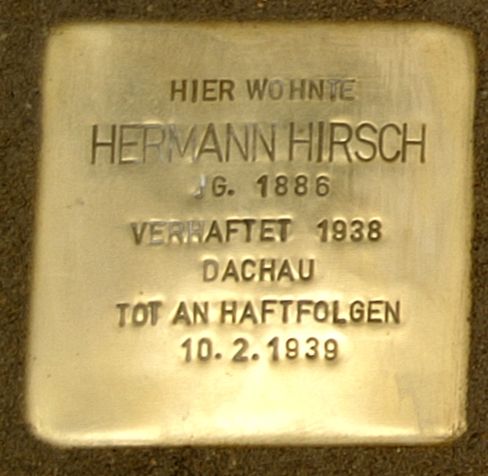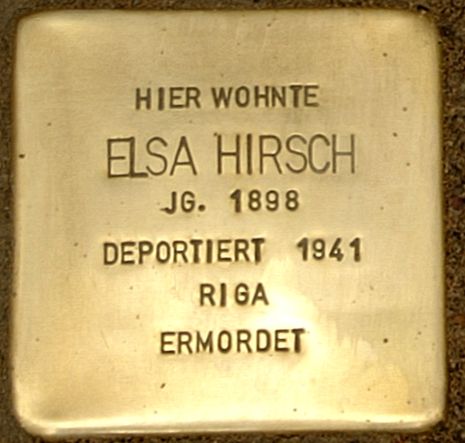 Berta Henle's Memories
In the 1960s Berta Henle from Göppingen wrote a text with the title: "Jews I knew who used to live in Göppingen". Ms. Henle's small effort distinguishes her from many of her contemporaries. She structured her text according to addresses and so we come across Wühlestrasse, about which she remembered: "Barn across from Gösele was the cattle barn of the cattle dealer Hirsch (house was in Wühlestrasse too). His son and daughter were picked up and taken to a concentration camp. The old man cried hard, it was terrible for him. If they picked him up too, I do not know."
For a long time it was unclear whether the details Mrs. Henle remembered would correspond with the reported data. Unfortunately, Ms. Henle was essentially right. The historical reality was even more cruel because other family members and Max Hirsch himself were also murdered by the Nazis.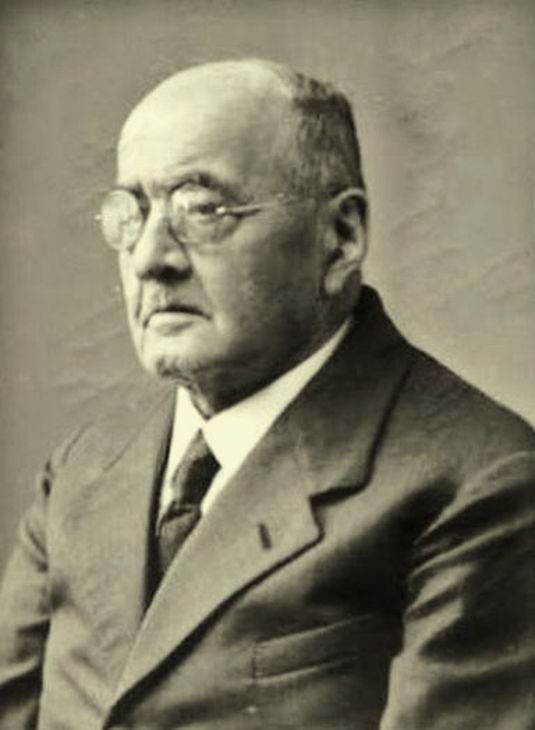 Max – married into the 'Old Center' part of Göppingen
Max Hirsch was born as 'Michael' Hirsch in Haigerloch on August 30, 1859, as the seventh of nine children. Three of them emigrated to America, three died in childhood. Michael and his sister Helene moved to Göppingen. He probably changed his first name at the time of this move. In any case, in 1885 'Max' Hirsch married 22-year-old Ida Bauland. In the middle of the 19th century, Ida's father, Mayer Bauland, bought the house at Spitalstrasse 17 which had been built after the city-wide fire of 1783.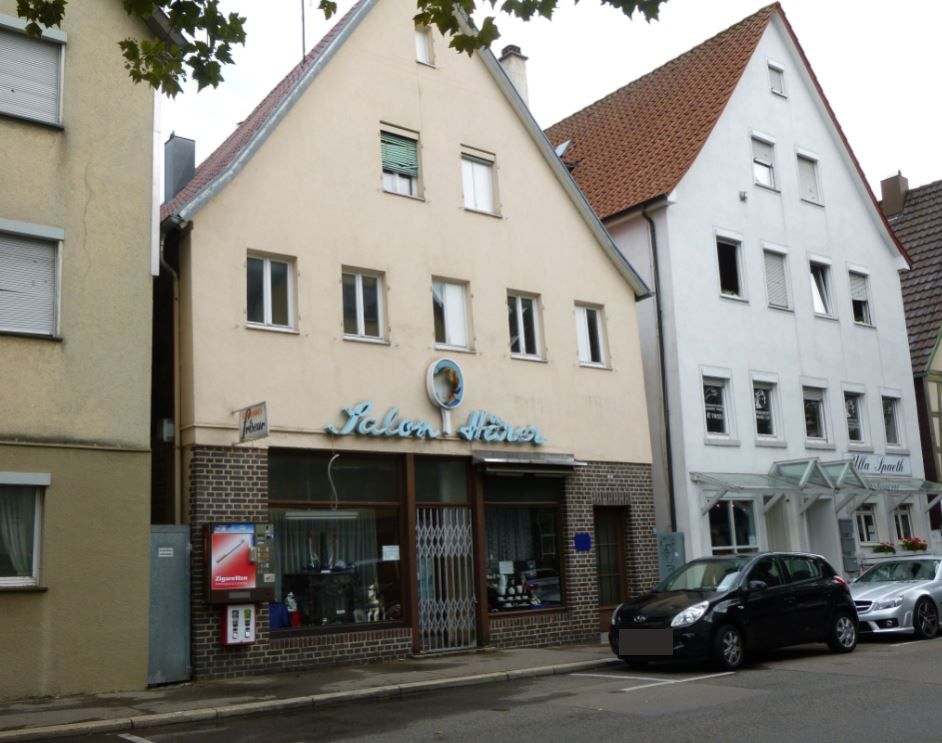 Wühlestrasse is mentioned above, but the street`s name alternated between Spital- and Wühlestrasse. It can be assumed that son-in-law Max was welcomed into the family because he was able to continue the cattle trade, which his aged father-in-law had run. He carried on the business for 40 years. After retiring Max became an active board member of the Israelite Charity Organization in Göppingen. Even before that he was already active as second cantor in the synagogue of Göppingen.
The 'Israelitische Wochenblatt, No. 1 / 2, 1929' celebrated Max' s 70th birthday as follows:
"On the 30th of August Max Hirsch celebrated his 70th birthday in perfect health. It was an occasion with lots of enjoyment for the whole community. Max Hirsch is one of those people who always support the community when there is a need. For many years he was the second cantor at Jom Kippur services and was always glad to help out. After celebrating Sabbath in the synagogue, the members of the Israelite congregation moved to the home of the birthday celebrant to especially congratulate him and his family (…) May he be blessed with many more good years to come!"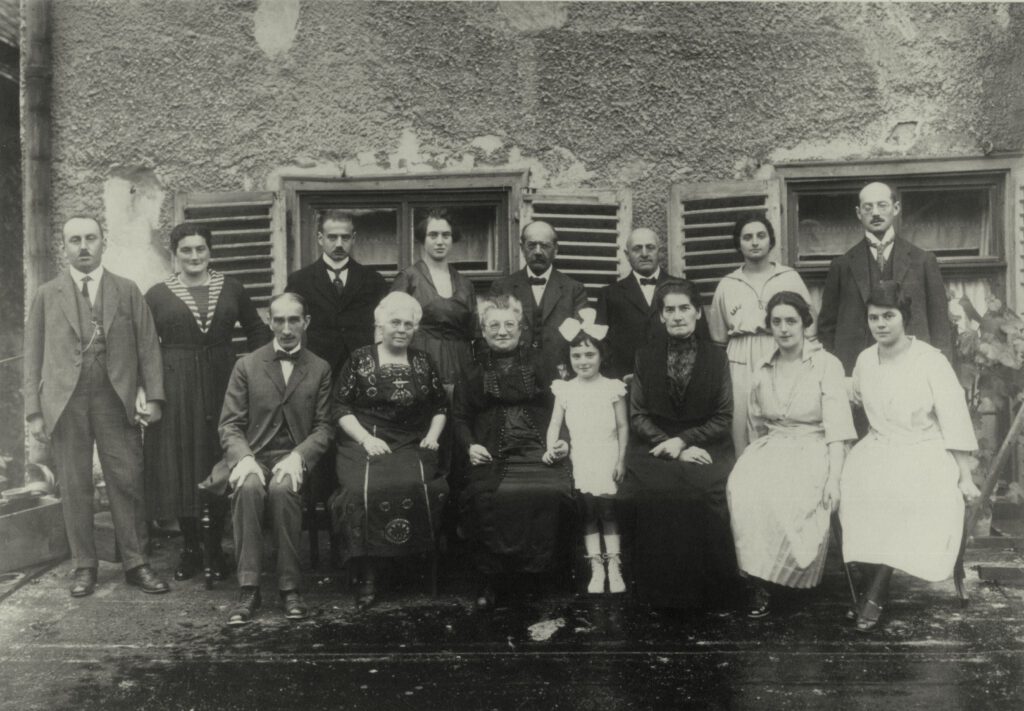 During their 45-year marriage Ida and Max had nine children of whom only two would still be alive in 1945.
Two sons died during infancy, their son Milton died in World War I fighting for Germany (the sons Hermann and Karl took part in the fighting as well but survived); Julius, another son, died young at the age of 26. The family endured the 'normal' amount of suffering for those times.
Fortunately two of his children got married: Paula's first marriage was with Moritz Fuchs a horse dealer from Buttenwiesen who also died during World War I.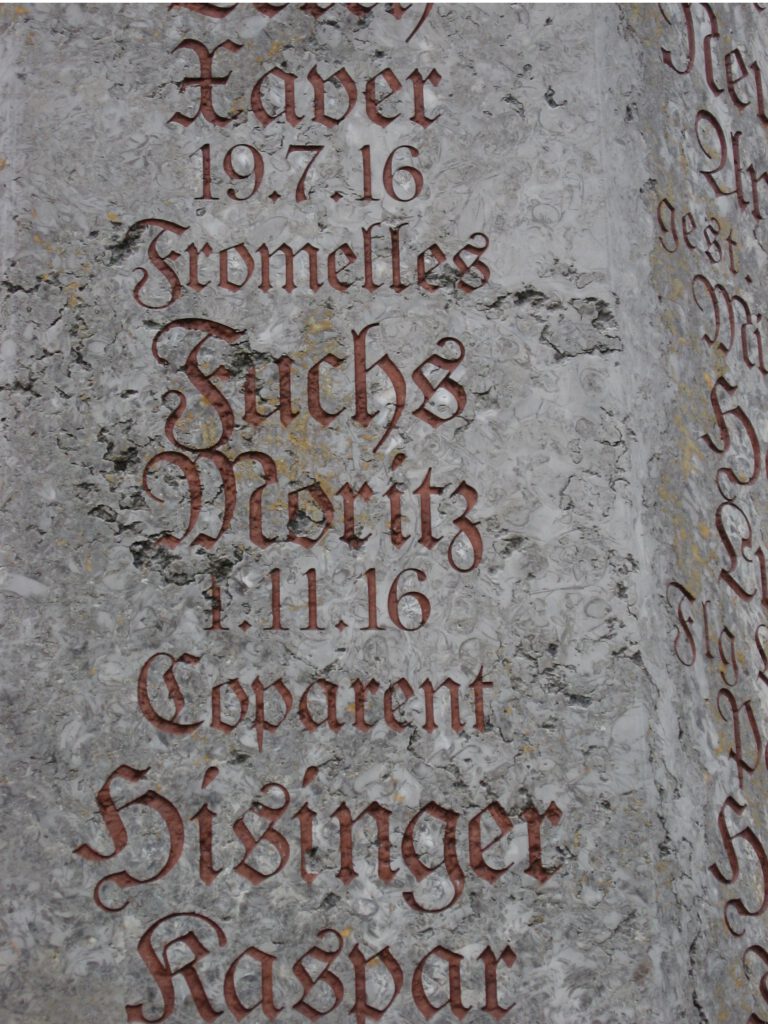 Paula and Moritz had a daughter named Karolina. After her first husband's death she married Augsburg merchant Hermann Mendle. Together they had a daughter named Irene and settled down in Stuttgart.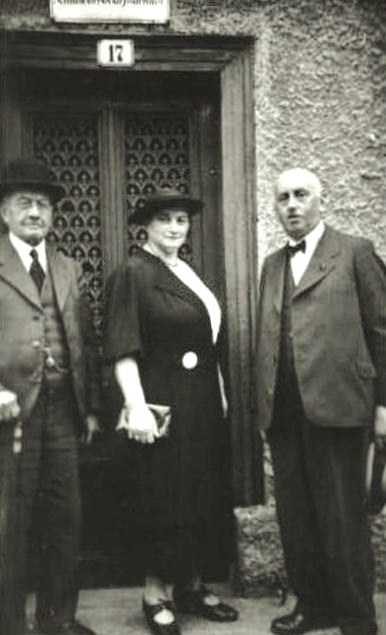 The Mendles were well-off to begin with and were able to arrange for their daughters to reach safety during the Nazi time, Irene in England, Karolina in the USA.
However, Julie, the other daughter of Ida and Max, hesitated to get married to merchant Moritz Hanauer from Westheim. Moritz lived in Göppingen (alone?) at Geislingerstrasse 18. What prevented the couple from getting married in Göppingen? Only after they fled to the USA – separately – where they married in May 1941, but they did not have any children.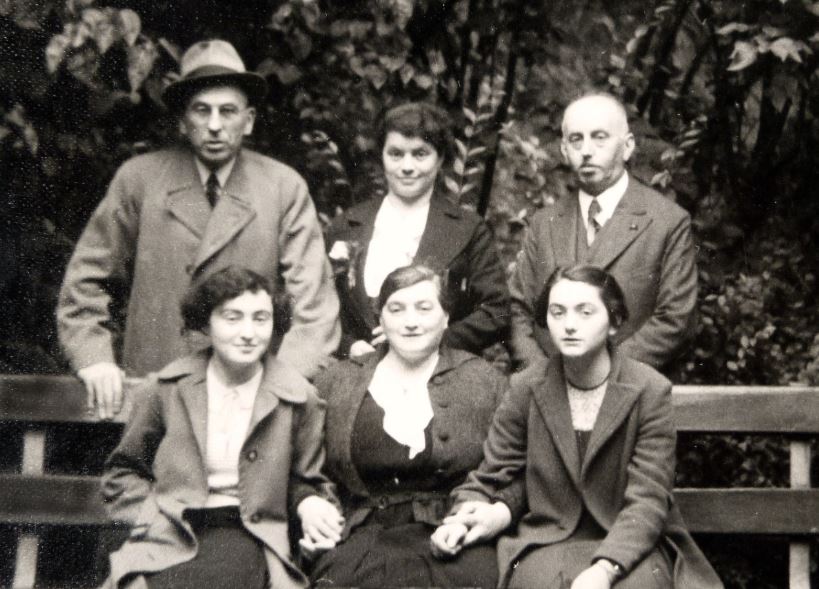 Several photos reflect the everyday life as well as the days of celebration of the family. Max Hirsch, widowed since 1934, is seen together with his children, his son-in-law and his grandchildren. A depiction of the Hirsch family's lifestyle is given in the list of their household goods which was drawn up in connection with the restitution process. Besides "wonderful crystal bowls and platters" or a "bedroom set made of polished cherry wood" there was also "1 large bookshelf containing: the works of Schiller, Göthe, various authors, Heine, Uhland and certainly more than 100 other good books as well as so and so many volumes of Meyer's Conversational Encyclopaedia". One would have wished that the old gentleman could have had a good evening of his life after all the sorrow he had endured. But in 1933 the Nazis came to power and Max was Jewish…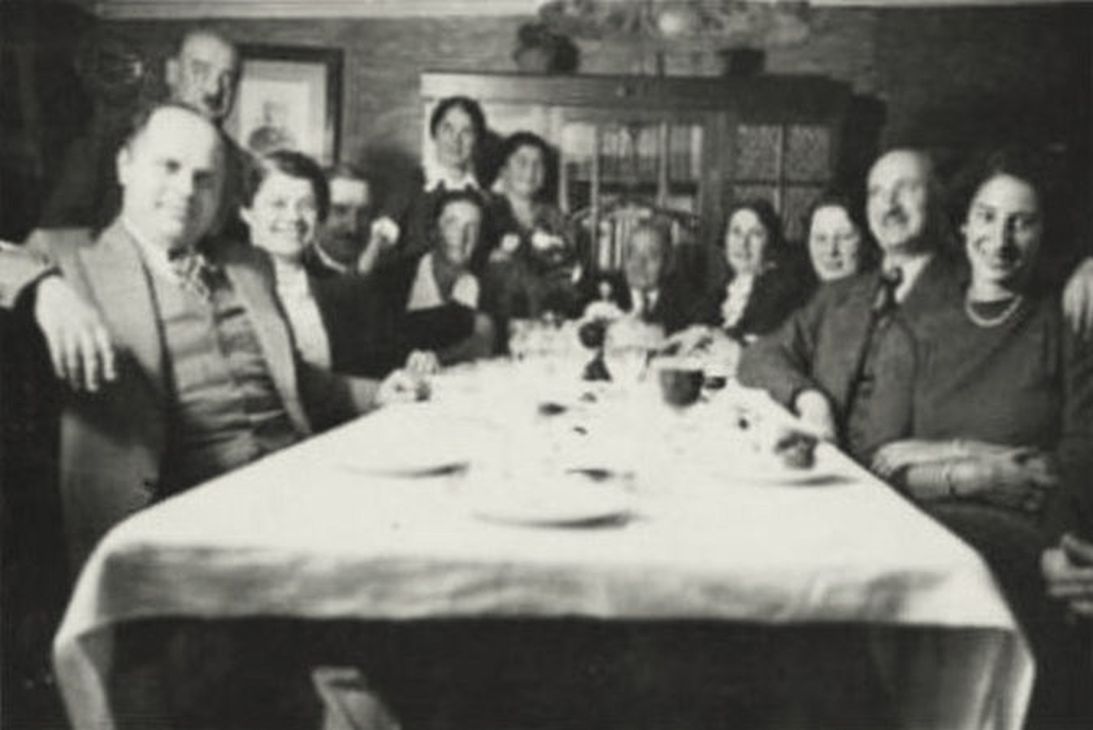 Boycott and Concentration Camp Imprisonment of Max' Sons Karl and Hermann
The daughter of Max, Julie Hanauer, wrote in 1966 to Georg Weber about the start of the Nazi crimes: "On the first of April 1933 there were guards posted in front of the store of my brother Karl Hirsch in Spitalstraße 17 in Göppingen. This alone was a bad beginning for the business". Mrs. Hanauer was referring to the SA 'guards' with their weapons. On that day they besieged the Jewish shops and prevented the customers from doing their shopping.
She went on: "I was already here [in the USA – kmr] when the synagogue was burnt down. I was told that bullets were shot right through the windows into the apartment. Both my brothers and my husband were deported to Dachau. Thank God they came back. My older brother (Hermann – kmr) was beaten there and soon afterwards he died of a stroke at the age of 53. My younger brother [Karl –kmr] suffered a lot, especially because he had to leave behind our old father, and he began to have serious heart trouble."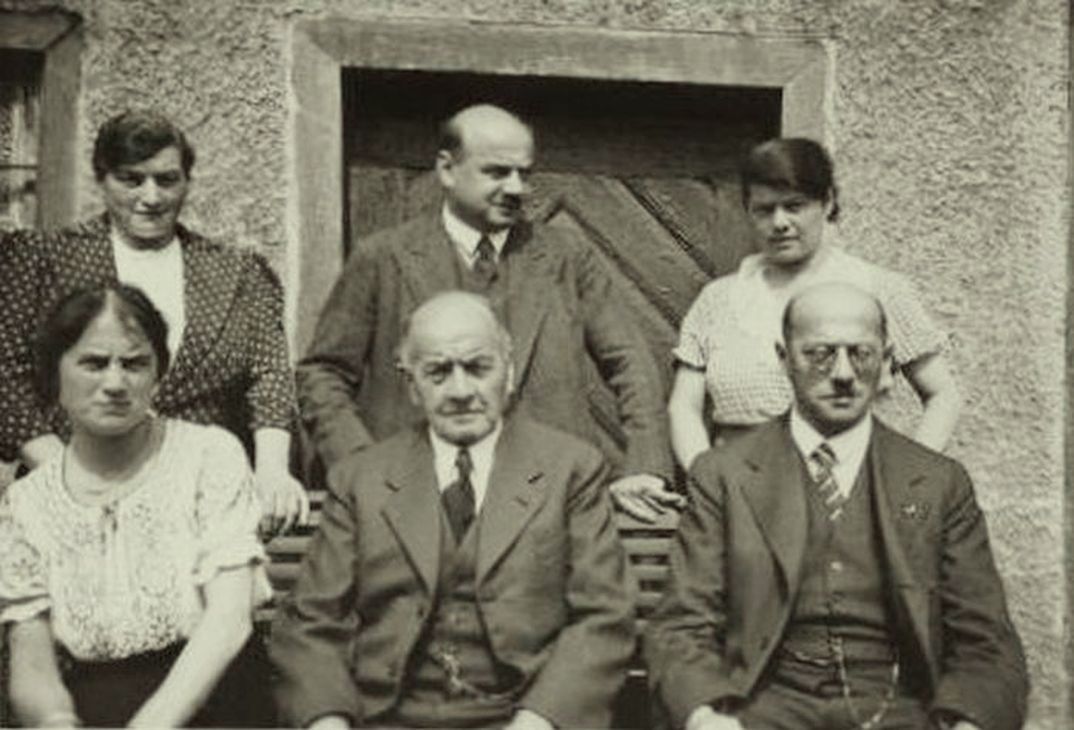 Karl and Hermann Hirsch were two of the 27 men from Göppingen who were deported to KZ Dachau (Concentration Camp) two days after the Pogrom Night. Karl was kept there until the 20th of December 1938, Hermann until the 12th of December 1938. Even though the cause of Hermann´s death on the death certificate was recorded as 'stroke', this does not allow us to draw any direct conclusions. But the Stumbling Stone Initiative agrees with Hermann Hirsch's sister and considers him a victim of the Nazi regime because he had to endure torture in the concentration camp. Hermann Hirsch had remained single and had worked as a self-employed merchant. He died without heirs on the 22th of July 1939 at the age of 53.
As Julie Hanauer writes, her fiancé Moritz Hanauer was also deported to Dachau concentration camp after the Pogrom Night. However, the circumstances of his arrest are hard to determine because Moritz Hanauer had moved to Stuttgart in April 1938 and lived there at Tulpenstrasse 27. Julie on the other hand had already fled to the USA by herself in September 1937. Was Moritz arrested in Stuttgart, or was he visiting in Göppingen at that time and was taken from there to Dachau, where he was detained until December 12, 1938?

The Fate of Daughters Julie, Elsa and Paula
At the time of Hermann's death, his sister Julie Hanauer née Hirsch was already living in New York where she had fled alone in September 1937 "because National Socialism sickened me," as she would later write. Her husband, Moritz Hanauer, was also able to flee, however not until March 1941. After interim stops in Berlin and Portugal he eventually joined his wife in the USA. Julie was able to act as guarantor for her brother Karl and made it possible for him to flee to the USA in 1941 and so saved his life – but he would always be grieving his father´s death, as one can read above.
A school photo from the finishing school for girls shows that it was important to Ida and Max Hirsch that their twin daughters Julie and Elsa receive a good education. Both of the girls learned a profession and worked in their respective fields: Julie as a secretary at the paper factory Fleischer in Eislingen between the years 1916 – 1937, and Elsa as a clerk at the Gutmann company in Göppingen since 1914. But the eldest daughter Pauline was not forgotten either: she learned the profession of an accountant, but Elsa Hirsch lost her job during the Nazi era in 1939, solely because she was Jewish.
Elsa is the daughter in Göppingen who, as Mrs. Henle wrote, "was picked up and taken to a concentration camp." She was part of the group of Göppingen citizens who were imprisoned on the 28th of November 1941 at the transit camp and deported on the1st of December from Stuttgart to Riga and the Jungfernhof camp, where they were kept under inhumane conditions. With the exception of Richard Fleischer, all members of this group were murdered; most were shot at the end of March 1942 in the forest of Bikernieki.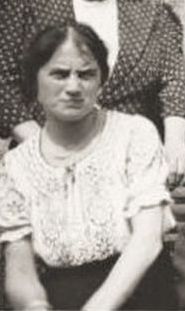 Max Hirsch lost yet another child due to the violence of the Nazi regime: his oldest daughter Paula. Hermann and Paula (née Hirsch) Mendle were deported from Stuttgart to Riga where Paula probably was shot in March 1942 like her sister. Her husband died of typhoid fever in the camp of Salaspils near Riga.
Did elderly Max Hirsch know that a third one of his children had been murdered?
Elise Bensinger, a 62-year old niece of the late wife of Max Hirsch, moved in with him in September 1941 at his home in the Spitalstraße 17. Around that same time, members of the Katz family from Rodalben/Palatine moved in with him as well.
Homeless and in Despair
On December 1, 1941 Mr. Hirsch sold his house to Frida and Matthäus Feuerbacher. The deed of sale shows that the 'Aryan' buyers paid a relatively fair price to Mr. Hirsch. One must keep in mind that at this time a Jewish business partner was always under pressure. Until Mr. Hirsch could move out of the house, he was allowed to live there for rent, which also included the Katz family as lodgers. The proceeds of the sale of course did not go to the Jewish seller. The German government secured (stole) the money onto a frozen account. Max Hirsch couldn't make much use of his right to stay in the house, because already on March 4, 1942 he was forced to move to the Jewish old-age home Eschenau near Heilbronn, where his sister Helene Simon was brought too. Max and his sister Helene was deported on the 22nd of August 1942 intermediated at Killesberg / Stuttgart to KZ Theresienstadt. With the same transport Inge Auerbacher, her parents and other Jews out of Göppingen came to Theresienstadt. She writes in her book 'I Am a Star':
"A couple of days after we arrived in Theresienstadt my father saw a man wanting to commit suicide by jumping out of a roof hatch of the Dresdner barrack. Father got him at his legs and could pull him back into the barrack. To his surprise he recognized him being an old man out of our transport. Father tried to encourage him and let him promise not to try it ever again. Next morning a body have had smashed on the floor of the courtyard – it was the old man."
Based on the death certificate from the Theresienstadt concentration camp, it is possible that Max Hirsch was meant, who ended his life in this way on August 29, 1942.
The cynical 'epilogue' on the life of Max Hirsch by the local tax office in Heilbronn reads as follows: "April 22, 1943. The Jew Max Israel Hirsch, formerly Eschenau Street 23/451, was expatriated in the year 1942 and deported from the Reich. His assets were confiscated. The Reich has become the legal successor. The balance due for income taxes for 1942 was set at 166 Reich marks."
The only one could share memories in 2011 about Max Hirsch was late Mrs. Adomeit, who had run a bakery in the neighbourhood. She remembered that he "bought his rolls every morning." She even witnessed Mr. Hirsch being "taken away" from his house.
Max Hirsch's only surviving son Karl, died at the age of 65 years old unmarried in New York in 1959, where he managed to get by as an elevator operator. Before fleeing Karl was a distributor for animal feed and ran the business from his parents' house.
In the 1970s, Max Hirsch's daughter Julie Hanauer visited her hometown, where she maintained good relations with the neighboring Eisele/Neher family. Aged 92 and without descendants, she died in 1990 in New York, where her husband Moritz had already died in October 1965.
Max Hirsch's granddaughters, therefore Pauline Mendle´s daughters, Karolina Fuchs and Irene Mendle both had children, so that today there are two great-grandchildren in England and two in the US. We have contact with Mrs. Elaine Israel and Mrs. Judith Ward who on their visit to Göppingen brought along many photographs for which the Stumbling Stones Initiative is very grateful. We are grateful to Mr. Roland Eisele too for sharing the memories he had of his family and a photo of his family together with the neighbours.
Besides his own children, the following members of Max Hirsch's family were also murdered: his sister Helene Simon, née Hirsch with her daughter Sofie Simon. From the family of his wife Ida, née Bauland, also murdered were: her niece Elise Bensinger and nephews Josef Stern and Milton Bauland.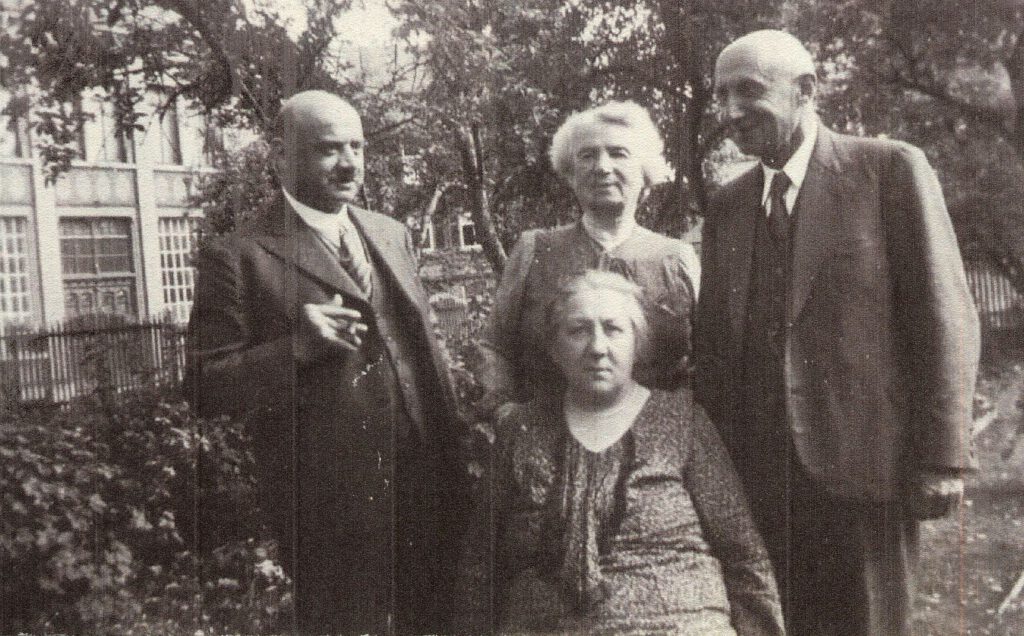 On September 19, 2012, Gunter Demnig laid Stumbling Stones in front of the house at Spitalstraße 17 for Max, Elsa and Hermann Hirsch. Elaine Israel, Judith Ward and her daughter Hannah Lovell came to participate in the ceremony.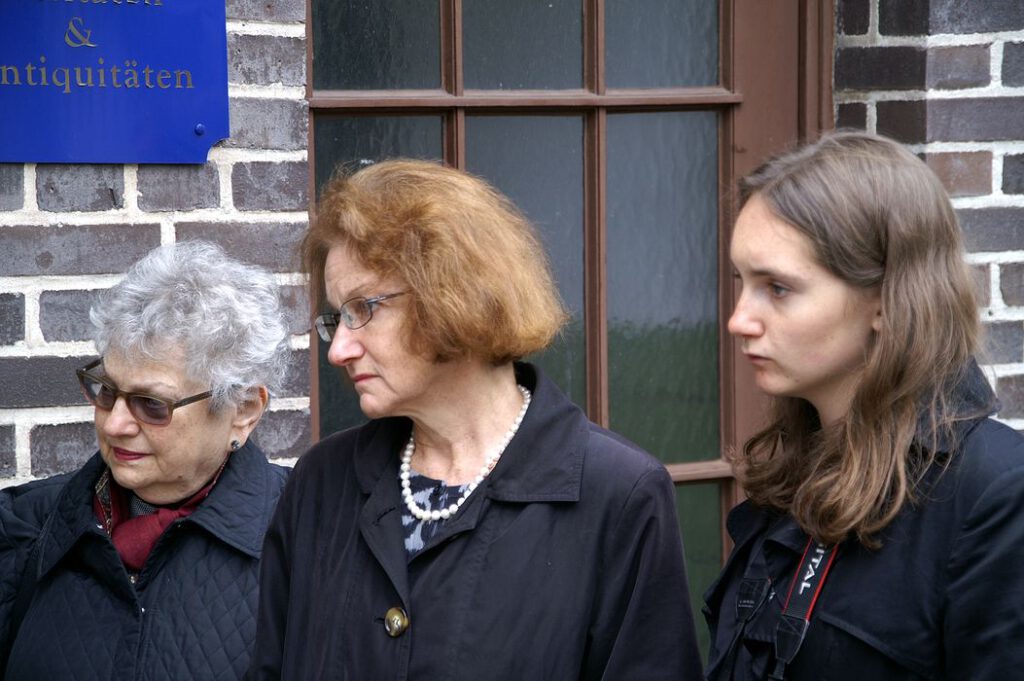 Sadly, Max Hirsch's house at Spitalstrasse 17 was torn down in 2018. With it vanished a testimony to Göppingen's more recent history.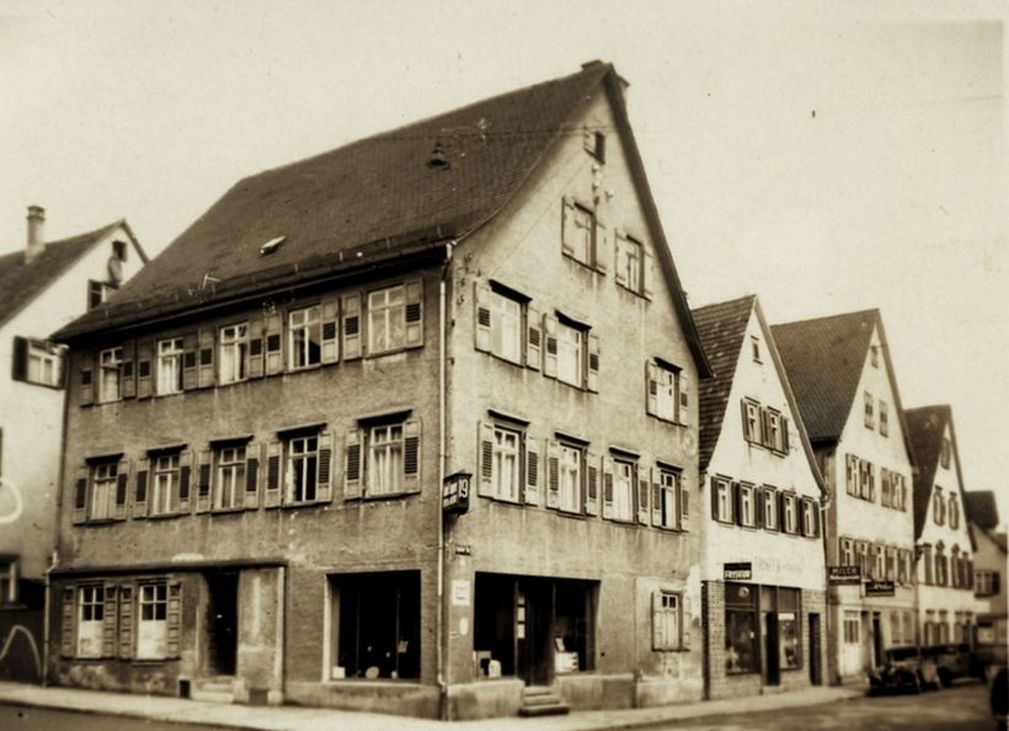 On March 15, 2023, the Stolpersteine for Paula Mendle, née Hirsch and Hermann Mendle were laid in Stuttgart, Frühlingshalde 8.
(14.11.2023 kmr/ir)
[osm_map_v3 map_center="48.7021,9.6520″ zoom="18″ width="100%" height="450″ post_markers="1″]