Born on February 13, 1867, in Ludwigsburg
Murdered on May 27, 1942, in Theresienstadt concentration camp
Interned in Weißenstein in February 1942
Klara Becker's parents both came from Jewish families, but from different regions in Germany. Her father, Hermann (Hirsch) Schottländer, was born on August 16, 1838, in Bleicherode / Thuringia. He married his first wife, Emma Goldschmidt, in his hometown. She gave birth to a daughter named Julie in nearby Sondershausen in September 1858. Emma Schottländer died in May 1860 while she was giving birth to another child.
Hermann Schottländer, who was now a widower, made major changes in his life: he first moved to Ludwigsburg where in January 1, 1864, he started a sheet metal manufacturing company. In the same year he married his second wife, Pauline Fleischer, who was born on November 12, 1832, in Jebenhausen near Göppingen. Her parents, Fanny (Vögele) née Löbstein (1813-1864) and David Löb Fleischer (1791-1841) came from one of the first Jewish families who had settled in the community beginning in 1777.
Branches of the Fleischer family founded several successful companies, Pauline's younger brother Moriz Fleischer (1839-1908), for example, founded an innovative paper mill in Eislingen.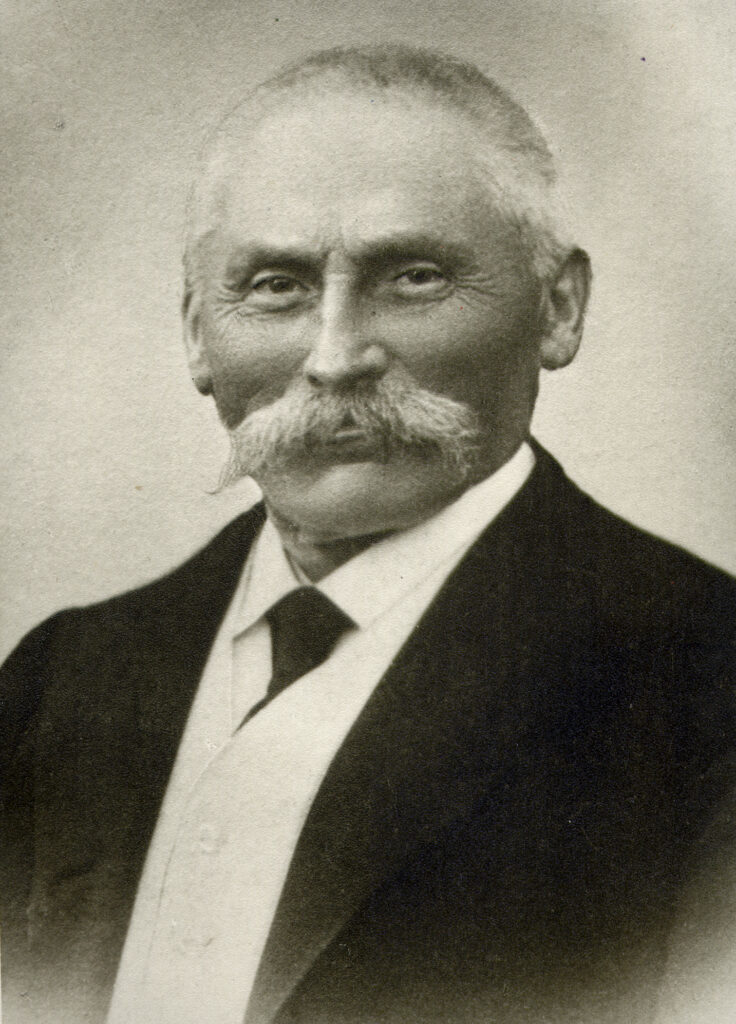 Pauline and Hermann Schottländer had eight children, six of whom sadly died before they reached their third year of life. Only two of the couple's children reached adulthood: their second-born daughter Klara, who was born on February 13, 1867, in Ludwigsburg, and their son Theodor, born on March 12, 1872, in Göppingen.
The family moved from Ludwigsburg to Pauline's hometown of Jebenhausen in 1869, with Julie, Hermann's daughter by first marriage, their daughter Klara, and their son Leopold, who was born in July 1869 and died in 1872.
In 1871 the Schottländer family moved from Jebenhausen to the nearby industrial city of Göppingen. Manufacturing, especially the textile industry, flourished there during the 'Gründerzeit' [time of economic boom], and Hermann Schottländer got a new start there. Göppingen's Rabbi Dr. Aron Tänzer mentioned in his book 'The History of the Jews in Jebenhausen and Göppingen' under the category 'jersey weaving':
"Schottländer and Bros., manufacture of sewn corsets and cotton goods, and trade in such. The brothers Hermann and Julius Schottländer from Nordhausen founded this company in 1871. Julius left during the first year of operation. In 1898 the company was dissolved."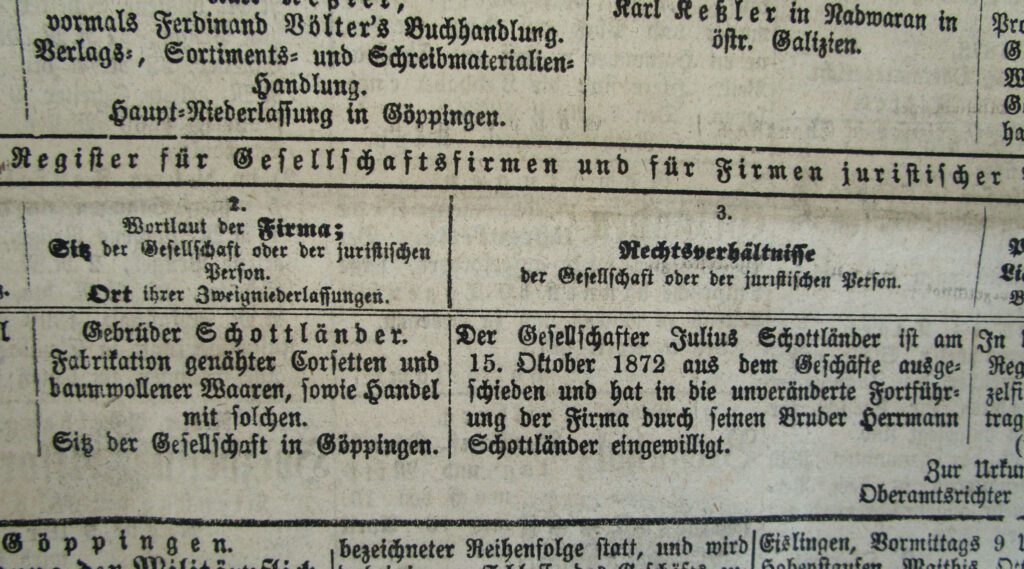 Julius Schottländer, Hermann's brother, was involved in the construction of the Göppingen synagogue and remained in Göppingen for a few more years, then moved to Bernburg and started a family there. Another brother lived temporarily in Göppingen: Moritz Schottländer, born in 1847, and his wife Bertha, née Herbst, must have lived there until at least 1885 because in June of that year their first child, a daughter Selma, was born there. Their second child, a son Julius, was born in Mainz in 1887, where the family had moved.
During the time period before 1898, Hermann Schottländer also started a completely different 'career': in addition to being successful in his profession, he was elected as a member of the Göppingen Citizens Committee and served from 1880-81. He also he was a member of the city council from 1888 to 1894. That made him one of seven Jewish citizens in Göppingen who served on municipal committees between 1862 and 1919. This is an indication of how well Jewish citizens were 'emancipated' or accepted during that time. It shows that Hermann Schottländer was highly regarded and was involved in community life because he was treasurer of the Göppingen 'Liederkranz' Singing Club for two years.
The family lived in their own home at Uhlandstr. 11 (today: Theodor-Heuss-Straße), outside the old city center, surrounded on two sides by the city stream. A good environment for Klara's childhood? Maybe yes, but Klara had to live with the fact that one of her younger siblings died almost every year, which must have been was a traumatic experience for the whole family.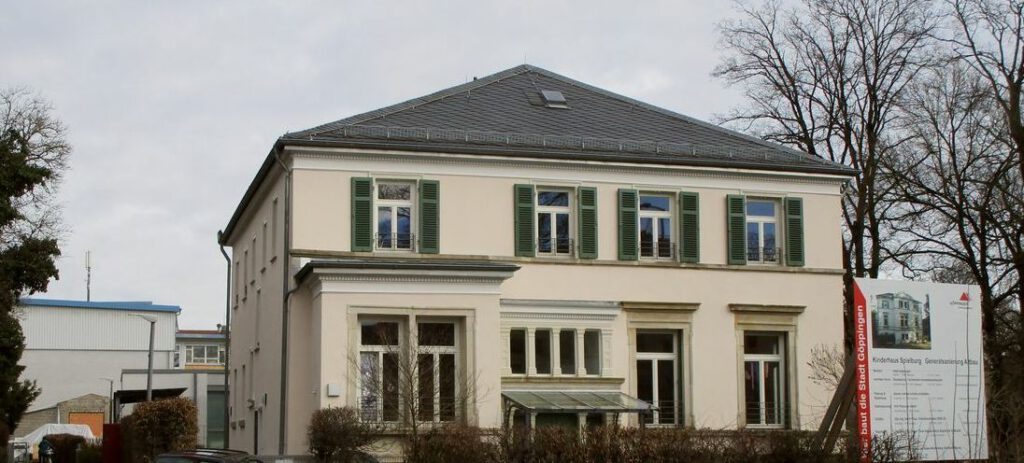 Klara's half sister Julie had married Gustav Gugenheim, a merchant from Ulm, in 1878. Eleven years later, on August 12, 1889, Klara was married in Göppingen to Emanuel Becker, who was born in Billigheim. Her husband was six years older than she and a businessman by trade. It is unfortunately not documented where Klara received her schooling, but one can assume that she attended the 'Higher Daughters School' like other girls of the upper middle class. Two years after the wedding, on the February 21,1891, Ilse Johanna Becker was born in Göppingen, the first and only child of Klara and Emanuel.
Ilse's grandparents Hermann and Pauline Schottländer took the daring step at the advanced age of around 60 to make a fresh start in the USA and emigrated there in 1896/97, accompanied by their son Theodor. They both lived to an old age and both died in Chicago, Hermann Schottländer in August 1925, Pauline in September 1913.
During the same year, on October 1, 1913, Klara, Emanuel and Ilse Becker moved to Esslingen. As Joachim Hahn documented in his book 'Jewish Life in Esslingen', the family lived at Friedrichstr. 23 until 1917 and later, until May 6, 1937, in Wilhelmstr. 9.1 where Emanuel Becker operated a 'cloth agency'.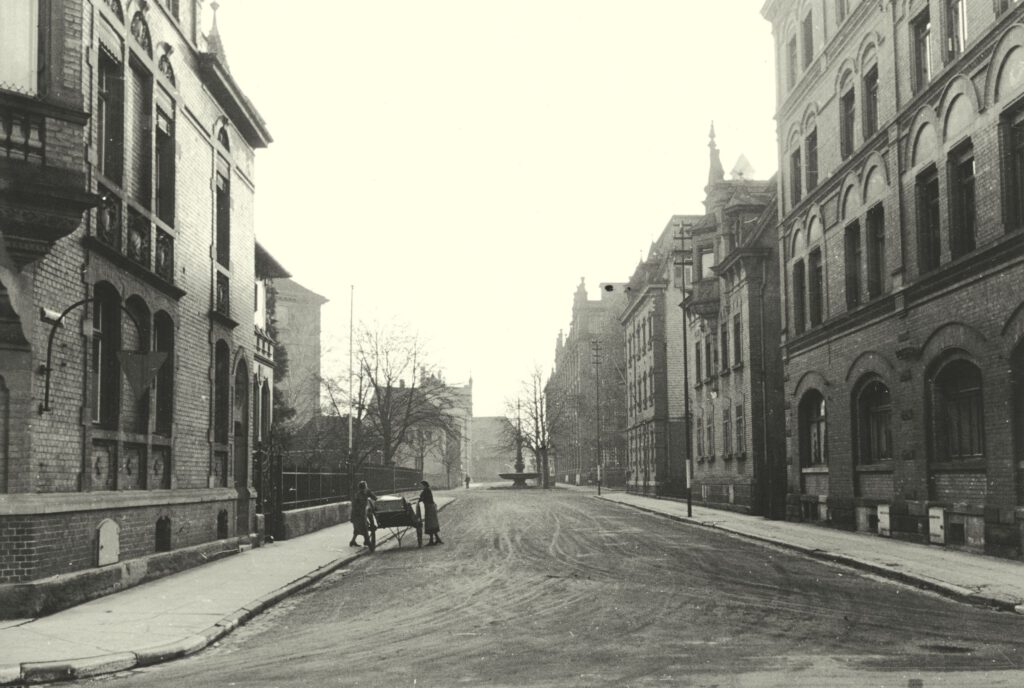 At that time, Ilse had already started her own life away from her parents' home: in August 1919 she was married in Esslingen to Karl Bernhard Trick from Pfalzgrafenweiler. He was a merchant who came from a Protestant family. Most certainly Klara and Emanuel Becker were happy about their grandson Rolf Trick, who was born in Stuttgart. Unfortunately having a child did not stabilize the marriage of Ilse and Karl Trick, and they were divorced in April 1924. As their grandparents had, Ilse's generation also sadly experienced the fate of childhood death when Rolf Trick died at the young age of nine on December 9, 1930, in Esslingen.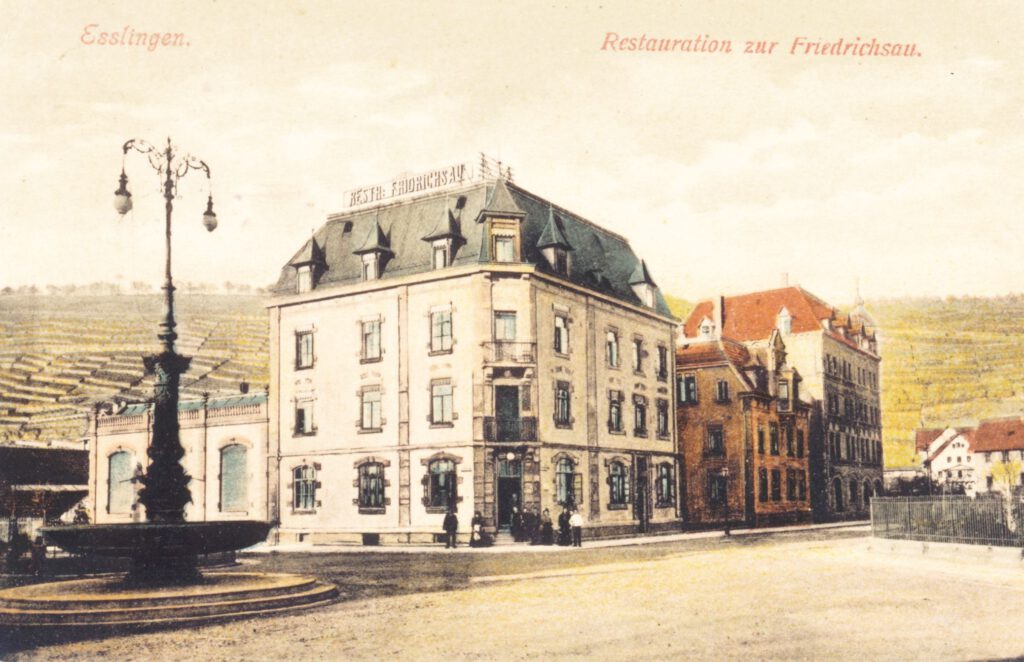 The remaining family sold their house in Esslingen at Wilhelmstrasse 9 to Fritz Quist in August 1937, then left the city and moved to Stuttgart. Emanuel Becker is listed for the first time in the Stuttgart address books in the 1938 edition. He and his wife Klara rented the ground floor of a large five-story townhouse at Johannesstrasse 26. The city directory also lists 'Trick, Ilse, Mrs.', at the same address, indicating that their daughter Ilse Johanna lived in the house as well.
The owner and landlord of the building was Dr. med. Josef Neu, a Jewish doctor who had opened his internal medicine practice there in 1924.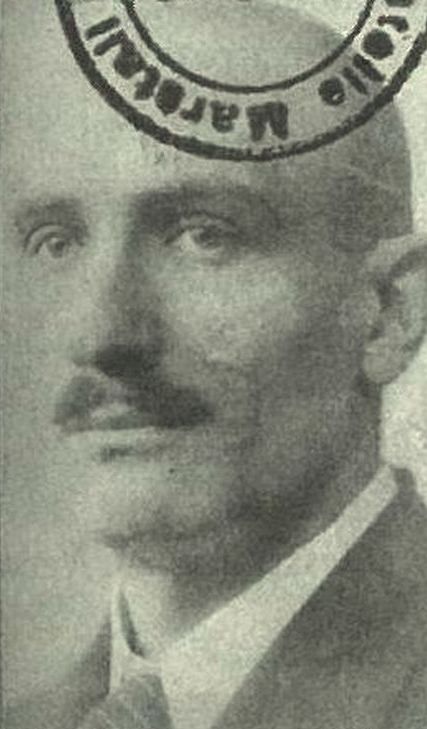 Even prior to the Nazi era Jewish and non-Jewish people lived as tenants next door to each other in his house. In 1939, Dr. Neu was forced to sell the house, as one of the conditions for his forced emigration in January 1940. The buyer was master butcher and innkeeper Wilhelm Sautter, who owned the house next-door at Johannesstrasse 28. The change of ownership apparently had no serious consequences for the Jewish tenants, and the Becker family remained there as other Jewish tenants moved in, but not all 'Aryan' tenants left the house. Even Wilhelm Sautter, the 'Aryan' owner, also moved into the house himself in 1943.
It should be noted that Ilse Trick is listed in the 1939 address book under her married last name, but in 1940 she is listed under her maiden name of Becker. The reason for this was Nazi legislation, which in most cases required that Jewish Germans go by the compulsory names 'Sara' and 'Isaak' and also forced those who were divorced from 'Aryans' to go back to using their birth names again.
1940 was a horrible year for Klara Becker. Her husband Emanuel died on May 20 of 'cardiac paralysis' as a result of arteriosclerosis. The death certificate shows that the patient had at least received medical care. Even if one can still consider her husband's cause of death 'natural', that was not the case for the way her daughter Ilse Johanna Becker's life ended.
The date of her death, November 30, 1941, was not accidental. Ilse Becker fled into death, probably because she was facing deportation to Riga the next day. The death certificate lists the cause of Ilse's death as an overdose of sleeping pills, however, she did not die in the apartment at Johannesstrasse 26 but was still alive when she was admitted at the Bürgerhospital (Citizens' hospital).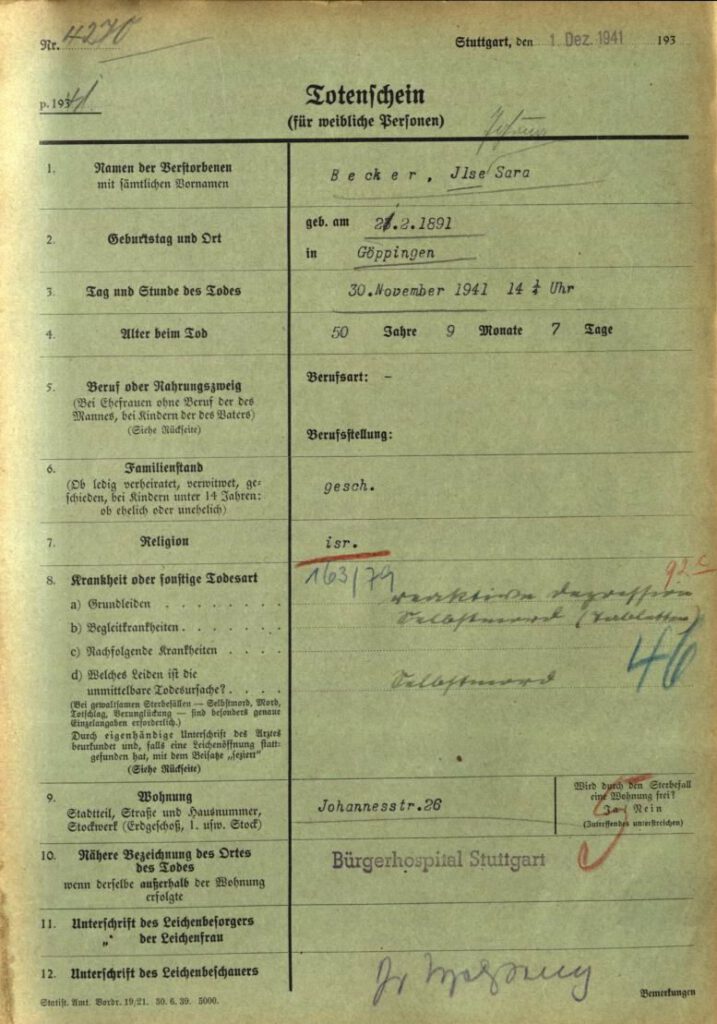 After these catastrophes, Klara Becker lived alone in the almost empty apartment for about three more months. On February 6, 1942, she and four other women from Stuttgart were transported to the forced retirement home at Weißenstein Castle in Göppingen county. Klara Becker only remained there
a few months, and on August 22, 1942, she was taken from Stuttgart to the Theresienstadt concentration camp. There she succumbed to the murderous living conditions on May 27, 1943, at the age of 76.
Other close relatives of Klara were also murdered by the Nazis:
Her younger cousin Selma Schottländer, who was single and had lived in Mainz, was deported to Piaski ghetto on March 25, 1942, and subsequently murdered.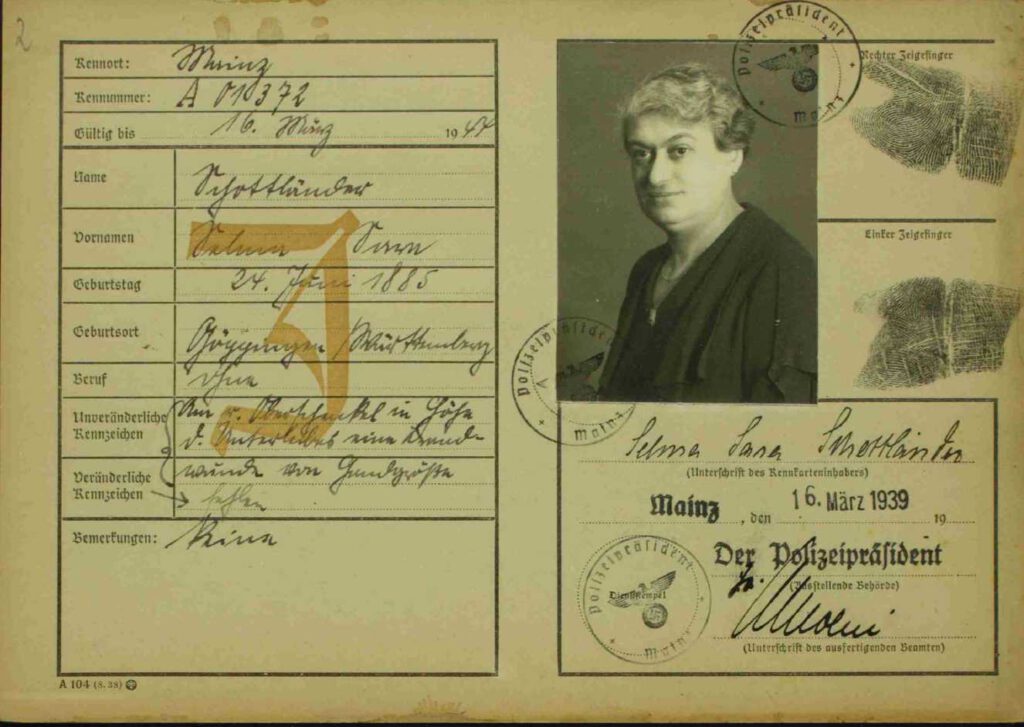 The children of Klara's older half-sister Julie Gugenheim, née Schottländer, also died violently: Bertha Gugenheim, who was single and lived in Esslingen, was deported to Riga/Jungfernhof camp on December 1, 1941. A Stolperstein (Stumbling Stone) was laid for her at Schelztorstrasse 17 in Esslingen.
Bertha's younger brother Otto Gugenheim was deported together with his wife Ilse and daughter Gertrud from Munich to Kaunas on November 25, 1941.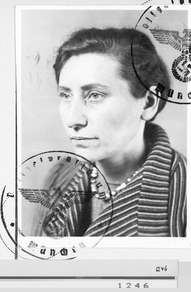 In the family of Emanuel Becker two of his cousins were murdered.
(15.03.2020 kmr)