Eschenbacher Straße 38-42, Holzheim – St. Gotthardt
(The house with the former number 18 was torn down)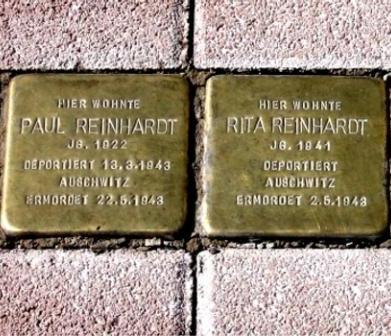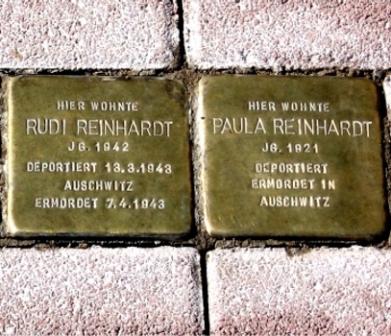 Three Siblings on their Move to Holzheim / Göppingen
Patrizka Reinhardt, born on the 7th of June 1925, moved from Heiningen to St. Gotthardt on June 11, 1942 when she was seventeen years old. She lived and worked with a farm family, but her stay there already ended after nine months. A written communication from the mayor of Holzheim, Feeß, to the employment office in Crailsheim indicates that she 'was taken away due to actions by the Reich'. The documents of the residents' registration office in Göppingen are more specific. On March 13, her 'departure' to Auschwitz is recorded. Patrizka Reinhardt had to endure a forced sterilization, but survived the persecution by the Nazis. After the war she got married and later lived in Garmisch-Partenkirchen.
Paula (Paulina) Reinhardt, the older sister of Patrizka, was born on 21st of April 1921, in Bühlerzell. On March 4, 1942 she moved with her small daughter Rita from Augsburg to Holzheim, where she firstlived at Staufenstraße 16 at family Bassler. Paula was not married. Rita's father, was at time being soldier in the German army. On September 1, 1942 Paula moved with Anna Reinhardt (details below) to Eschenbacher Straße 18 (which was the street number at that time) in St. Gotthardt. In the meantime she had also changed her place of employment, now worked as a laborer at the veneer and plywood plant in Holzheim. In May 1942 she gave up her daughter Rita to the St. Vinzentius children's home in Donzdorf. The district youth welfare office took over the payment of the living expenses for the girl.
Four weeks before the other Sinti [gypsies] from Holzheim were taken away by the police, Paula Reinhardt moved with her daughter Rita to Lower Bavaria. On March 5, 1943 she registered with the residents' registration office in Lalling. But even there she was not able to escape her pursuers. On May 26, 1943 the Göppingen youth welfare office received a letter informing them that 'the ward of the state, Rita Reinhardt, born on December 4, 1941 had died at the local camp on May 2, 1943.' This death notice had been sent from the concentration camp Auschwitz. Paula, who was registered on 10th of April 1943 in the KZ Auschwitz – Birkenau together with her daughter Rita, died on 1st of April 1944. Details about how she was slain, is not known.
Paul (Ziegeli) Reinhardt, born on 22th of April 1922 as brother of Paula and Patrizka Reinhardt, moved from Donzdorf to Holzheim on August 23, 1941. First he lived and worked there in an agricultural business of the farmer Hauser at Hofstraße 5. Later he worked at the veneer and plywood plant and lived at his sister's place in St. Gotthardt.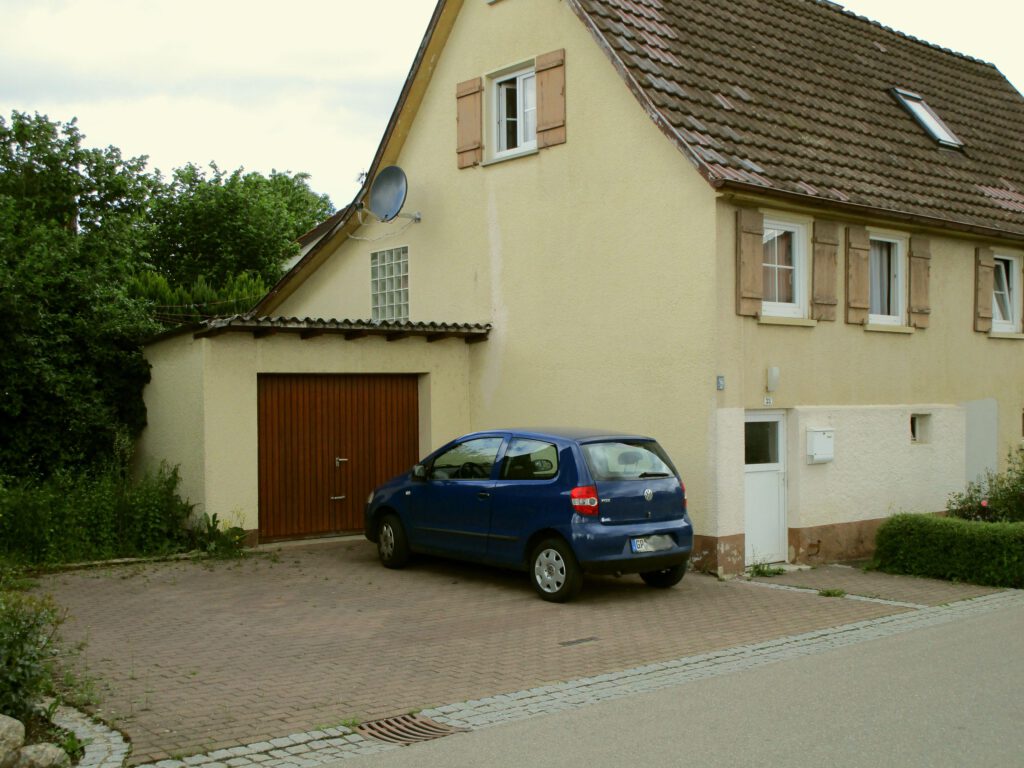 Anna and Paul – the Forbidden Marriage
Anna Reinhardt, born on 30th of January 1920 in Zuttlingen, was the girlfriend and fiancé of Paul Reinhardt, lived there too (by random they shared the same surname). On October 26, 1941 she had moved from Giengen on the Brenz to Holzheim. On August 18, 1942 her son Rudi was born at the Göppingen County Hospital. Anna and Paul Reinhardt (Rudi's father) had planned to get married during that year. But a marriage between 'gypsies' required a special permit, because procreation by 'inferior races' was not desirable for ideological reasons. Before couples could get married, they first had to obtain a 'race biological' expert opinion. On June 24, 1942 the 'Race-Hygienic Research Office' classified Paul Reinhardt as a 'mixed-race gypsy'. A letter from the criminal police headquarters in Stuttgart explains what consequences this designation would have from him and Anna Reinhardt: "I would like to raise serious concerns about a marriage by Reinhardt and approval of such. A marriage between mixed-race gypsies can only be permitted if the subject agrees to be sterilized first." According to these conditions, Anna and Paul decided against marriage – with the consequence, that the villagers condemned them as being vicious and immoral.
On December 30, 1942 mayor Feeß wrote a letter to the Göppingen lord mayor: "Two gypsy women are living in the small house owned by the village of St. Gotthardt. The fiancé of one of the Reinhardt women, Paul Reinhardt, is a renter there. They live together in true gypsy fashion and are causing a public nuisance in the small village of St. Gotthardt. I request that the proper authorities arrange for the removal and separation of these gypsies. If this is not possible immediately, Paul Reinhardt, who has worked for a farmer for quite some time, should be placed with an agricultural employer in anout-of-town location. In this way the question of Paul Reinhardt's residence can be solved."
KZ Auschwitz – Birkenau
Three months later his request was being granted – however in a different manner and much worse. While Paul and Anna were living in St. Gotthardt, they had to report with the police once a week. In March 1943 they were arrested. After the war Anna Reinhardt described the events as follows:
"We were informed that we were being temporarily arrested, but on Monday we were taken to Stuttgart. I was not even interrogated, and I don't even know why I had been arrested. When I was arrested, all the other gypsies were also taken away, my fiancé as well as his sister. I, my fiancé and his sisters were the only ones from Göppingen who were taken to Stuttgart. In the evening we were transported from there to Auschwitz in a whole train with other gypsies."
When the newcomers arrived at the concentration camp, a prisoner number was tattooed onto their arms. The children were marked on their feet. Rudi Reinhardt, who was only seven months old at that time, did not survive for very long. Barely four weeks after his arrival, had the commandant of the Auschwitz concentration camp informed the Göppingen youth welfare authorities of his death: "The mixed-race gypsy Rudi Reinhardt died on April 7, 1943 at the local gypsy camp." The daughters of Anna Reinhardt reported that he had starved to death: "Anna only received one piece of bread which she shared with her child. But it was not enough… The child starved, he became very emaciated. After he had died, she had to throw his body onto a cart… The mothers were not allowed to cry in public, otherwise they would get 30 strokes on their buttocks. They could not openly grieve, otherwise they would also be whipped."
Paul Reinhardt died at Auschwitz too. On March 22, 1943 he was shot on the run.
The lives of the prisoners were constantly threatened by death. When they were not able to perform hard physical labor they were murdered in the gas chambers or shot. Anna Reinhardt had met her brothers again in Auschwitz, and together they tried to flee from the camp. Their attempted escape was discovered. When they were lined up to be shot, the execution by the SS was abandoned through an air attack.
In August 1944 the so-called gypsy family camp in Auschwitz-Birkenau was closed. The prisoners who were deemed fit for work by the camp administration were moved to another camp, the remaining prisoners were gassed. The next stop during Anna Reinhardt's ordeal was the Ravensbrück concentration camp, after that she was put to work at the Altenburg and Taucha satellite camps which were part of the Buchenwald concentration camp. On April 13, 1945 she was liberated by allied troops from camp Altenburg. After the end of the war Anna Reinhardt returned to Württemberg and was reunited with her mother near Heilbronn.
Between a quarter to half a million European Sinti and Roma became victims of the annihilation planned and carried out by the Nazis. Among them were the relatives and friends of Anna Reinhardt: her friend Paul, her brothers Konrad and Josef, her son Rudi, and the girl Rita, daughter of her sister-in-law Paula. As her daughters recounted, Anna Reinhardt was traumatized for the rest of her life: "Mother felt always haunted by what happened at the concentration camp which affected her health and her life in general. At the beginning she suffered from severe depression because she had lost so many members of her family … That was very difficult for her to deal with."
A man who was involved in the discriminatory measures against the Holzheim Sinti inadvertently met Anna Reinhardt after the war. Her daughters recounted this meeting: "Later, after the war, he was sitting in 'The Bock', a local restaurant. Mother was a guest there too and he had ordered a glass of wine for her. She got up and depleted it in his face."
After war Anna Reinhardt married Karl Hirsch. She died on May 1, 1983 at the age of 63 in Sulzbach-Laufen, where she had lived there until her death. During her marriage to Karl Hirsch she had eight children. When one of her daughters was asked about the relation between her mother and the inhabitants of Holzheim and St. Gotthardt, she answered: "She always dreamed of living permanently in Göppingen. I think she would have settled down there if she had not been deported."
In April 2007 the Stumbling Stones for Paul, Paula, Rita and Rudi Reinhardt were laid at the spot where the house of the Reinhardt family once was located.
This text is a slightly altered excerpt from Matthias Storr's article in the book 'Göppingen under the Swastika,' page 224 ff.
(February 14, 2016 kmr / ir)