Mittlere Karlstraße 79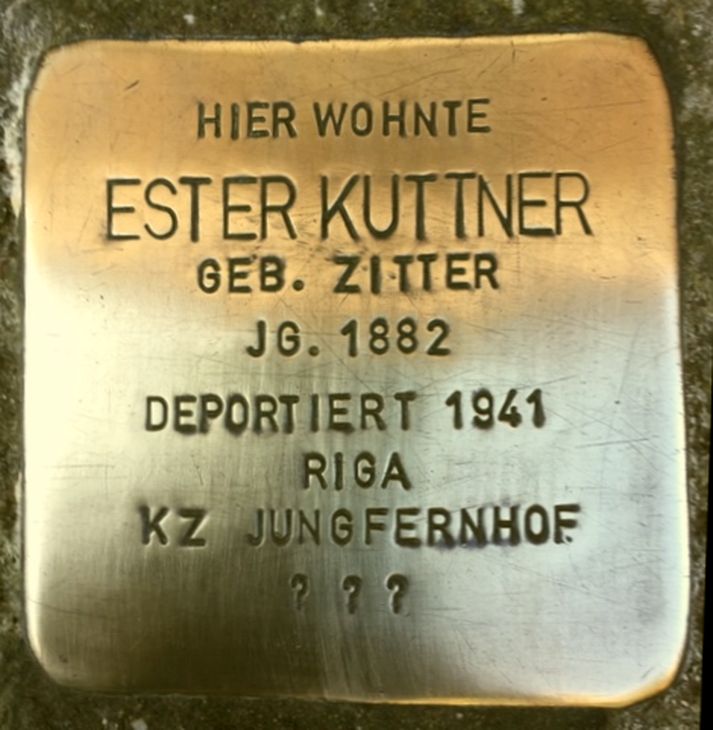 An Immigrant Family

When the so-called reparation proceedings were started in the 1950s and 60s, a court also had to clarify which property had belonged to the murdered Göppinger Ester Kuttner. Lina Munz was the only witness from the Jewish population still living in the city. But she could not help the court any further: She knew the Kuttner family only by name. Coincidence? Probably not, because the biography of Ester Kuttner, née Zitter differs in one point from that of most Jewish Göppinger. Ester was 'not from here', not even from Germany. She was born on March 14, 1882 in Lodz, which at that time belonged to Russia. Jews were allowed to settle there only since 1848, but the Jewish population of the rapidly growing industrial city (textile industry) increased rapidly, so it is no wonder that the largest Jewish cemetery in Europe was established in Lodz after 1892.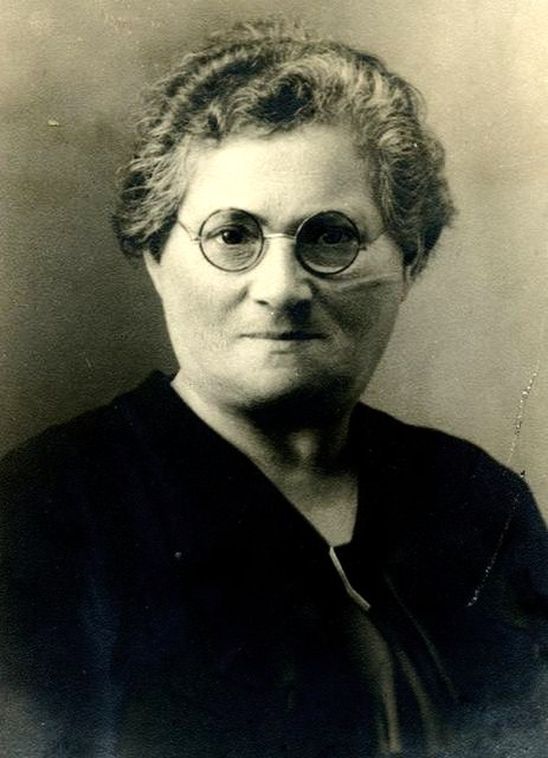 Nothing is known about Ester Zitter's childhood and youth, but it is certain that she did not intend to spend her life in Lodz. In the years after 1903, the young woman lived in London. Was England already the destination of her emigration or only a stopover on the way to the USA? It was here in London that Ester married Joel Kuttner, a compatriot two years her senior, a weaver by trade, who also came from Lodz. Their first son Michael (Max) was born in England's metropolis in 1905. Did the young family not get a permanent residence permit in England, did they get into financial difficulties? The next child, their son Julius (Israel), was born in Lodz again in 1907.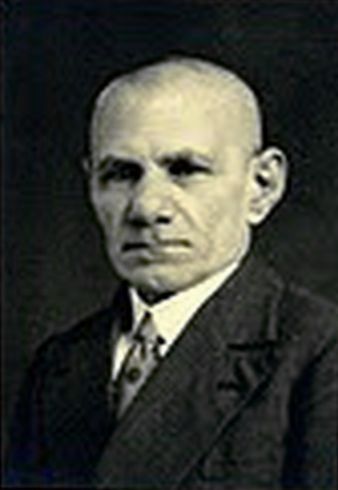 'Stranded' in Göppingen?
The next attempt to leave the hometown of Lodz for the West led the young family to Göppingen. The reason for this may have been the hostilities of the First World War, because Lodz was heavily fought over between Russia and the German Reich. Presumably Ester, Joel, Michael and Julius Kuttner came to Göppingen in 1914, the year when Ester's brothers Pinkus and Samuel Zitter also settled in Göppingen with their families. On September 9, 1918, David (Chaim) Kuttner was born, the first child of the family born in Goeppingen. The address of the house is Mittlere Karlstraße 79, where the family of five lived quite cramped in the attic: 43 square meters, not counting the slopes. How (little) wealthy were the Kuttners? Mrs. Hildegard Ege (✝), who knew David Kuttner as a classmate, recalled, 'They were very poor Jews, ragpickers'. Auguste Mühlhäuser, who lived in the same house and was a frequent guest in Kuttner's apartment, wrote in the 1960s, 'The apartment made a modest but nice impression in terms of furnishings'.
Mrs. Mühlhäuser was also able to provide more detailed information about Mr. Kuttner's profession: 'As far as I know, the husband ran a rag and scrap metal business. (…) As long as the husband was alive, the scrap metal business provided the family with a good livelihood, in my opinion, i.e. there was no financial hardship for the Kuttners. Even after the death of the husband, I have never heard that there was any hardship'. On August 19, 1934, Joel Kuttner died after a long illness in Göppingen. Ester received only a small widow's pension for a short time, but was able to make a living by selling from her husband's stock and by sewing.
Music Lovers
From Mrs. Mühlhäuser's testimony, as well as that of another witness, it is clear that music was cultivated despite scarce means: Son Julius played the violin and, according to some testimonies, the family even owned its own piano.
Mother Courage
Mrs. Ege's recollection from 1934 shows Ester Kuttner as a courageous woman: David Kuttner, the youngest son, went to the 'Höhere Handelsschule' in Göppingen, where a Nazi teacher constantly discriminated against him. Thereupon Mrs. Kuttner had gone to school and had clearly and publicly 'spoken her mind' to the teacher. However, according to her recollection, David Kuttner then left the school.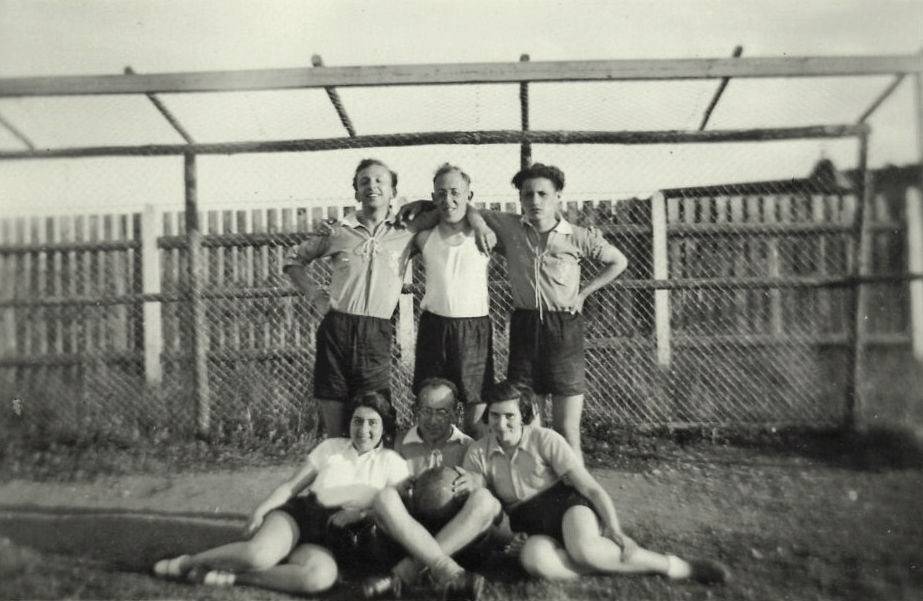 David Kuttner was the sportsman in the family. A photo shows him in the gate of the sports field, which belonged to the 'Reichsbund Jüdischer Frontsoldaten' and was located on the grounds of the Veit felt cloth factory. David's sports comrade Hugo Lang, who was from Süßen, remembered the soccer matches against Jewish teams from the surrounding towns. The Jewish sports club 'Schild Göppingen' had come into being when Jewish athletes were excluded from the now 'Aryan' sports clubs. Only other Jewish sports clubs were allowed as 'opponents'.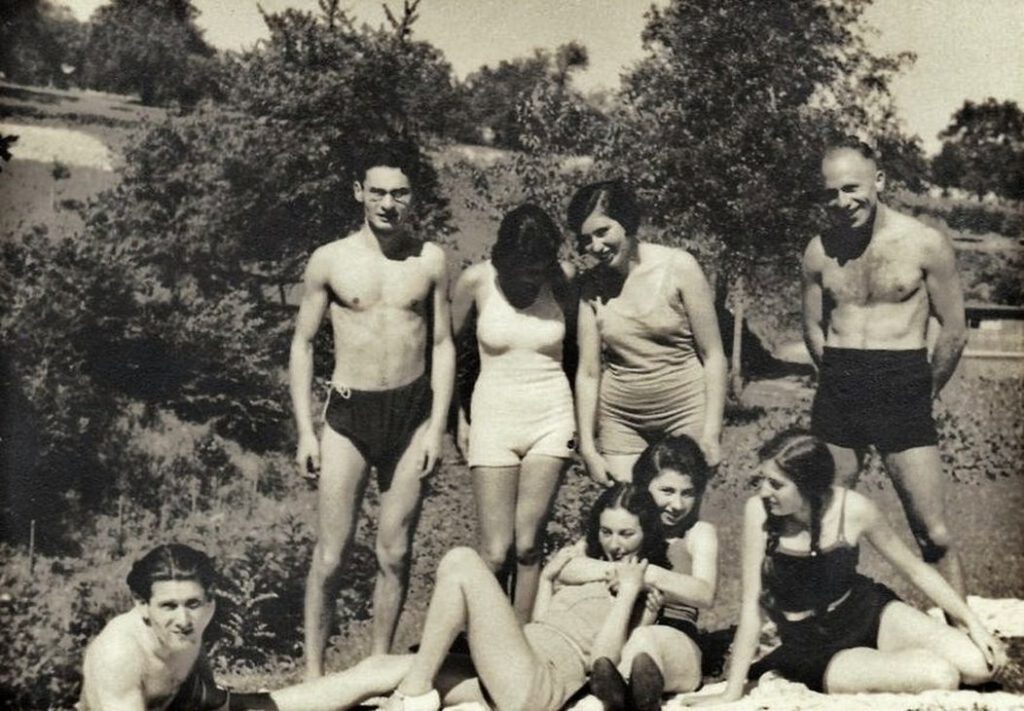 The sons are able to escape
Ester's sons quickly drew the consequences from the discrimination by the Nazis:
Michael Kuttner, Ester's eldest, had British citizenship by birth; for him, Great Britain offered itself as a place of escape. In October 1936, he left Germany and settled in London, where he died around 1976. His only child, daughter Frances, lives in the USA.
Julius, the second son of Joel and Esther, had already worked in Göppingen as a teenager at the Märklin company. Shortly after his marriage to Pola Rozenberg, which was still celebrated in Göppingen, the young couple fled to Palestine in December 1935 and settled in Haifa. Unfortunately, Julius' life was permanently affected by the consequences of a serious accident, he died around 1976. In Israel Julius and Paula had a daughter and a son, to the granddaughter Ayala Sicron, child of daughter Sarah we found contact. Mrs. Sicron continues the musical tradition of the family as a singer and musician.
David, Esther's youngest, also left Nazi Germany, his escape route leading first to Italy in 1939, and later to France, where he was interned after the war began. He enlisted in the French Foreign Legion and reached Morocco with it, where he met the Moroccan / Sephardic Jew Lily Assidon, who was active in the Gaullist movement. But he also had to go to war on European soil, as his unit fought in the liberation of Strasbourg. After the war, David initially lived in France. However, his love for Lily led him back to Morocco, where they married in January 1947. In 1957, the couple left Morocco and found a new home in France near Strasbourg. The couple had three daughters and a son. David, who called himself 'Henri Kutner' in France, worked as a self-employed driver. He visited Goeppingen several times, the 'May Day' was a good occasion to meet former acquaintances. David / Henri died in 2000 and his son Jean-Marie Kutner, a pharmacist by profession, was a committed local politician. He was elected mayor of the Alsatian commune of Schiltigheim and also served as vice president of the 'Eurométropole Strasbourg' association of communes.

Expelled from their home, Deported
In the only official Göppingen document that has survived, Ester and David Kuttner are considered Polish citizens. This could have resulted in their deportation to Poland as early as 1938, which also happened to other Goeppingen families, for example to the couple Cilly and Julius Cyter, who were related to the Kuttners.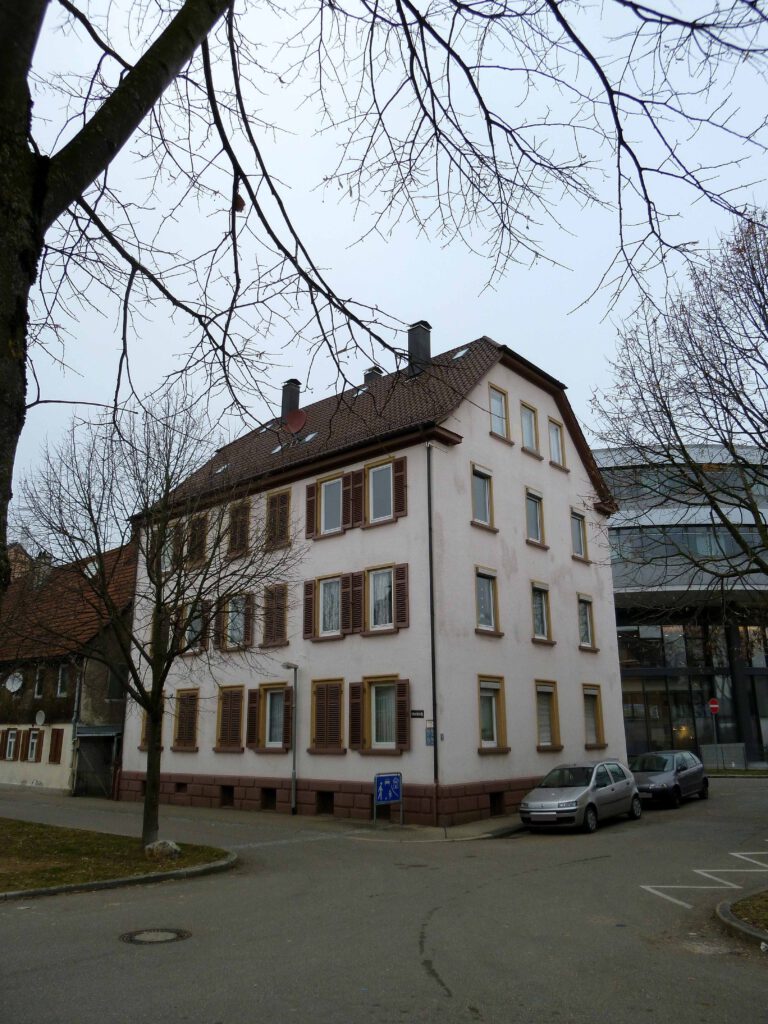 Mrs. Kuttner, however, soon became the victim of a different kind of discrimination, for on April 29, 1939, she had to leave the familiar apartment in Karlstraße. A 'Law on tenancies with Jews' may have been the reason for the termination, according to which Jews should not live with 'Aryans'. However, the new address Bergstraße 8 poses a mystery, because no Jewish owners or co-tenants are known there.
It is to be feared that Ester Kuttner spent two lonely years here. According to Mrs. Mühlhäuser, contact with her former apartment neighbors had broken off, and Ester Kuttner is also never mentioned in the extensive correspondence of her niece Sara Zitter from Göppingen.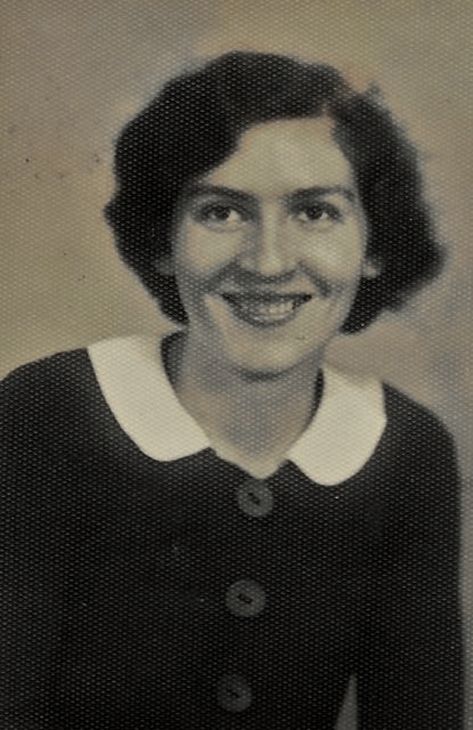 What is certain, however, is that Mrs. Kuttner had to vacate the new apartment on November 28, 1941. Chased out of Goeppingen, she was deported with 38 other fellow citizens to Riga, where she lived in the Jungfernhof camp under the harshest conditions until her murder on March 27, 1942. At that time, thousands of camp inhabitants were taken to the Bikernieki forest, where they were shot by German soldiers, SS units or Latvian auxiliary troops.
From the immediate family, Esther's sister-in-law Paula Zitter and her daughters Sara and Rosa were murdered (see Stolperstein biographies). Many members of the family of Esther's daughter-in-law Pola, née Rozenberg, who lived in the Polish town of Kola, were also murdered by the Nazi Germans.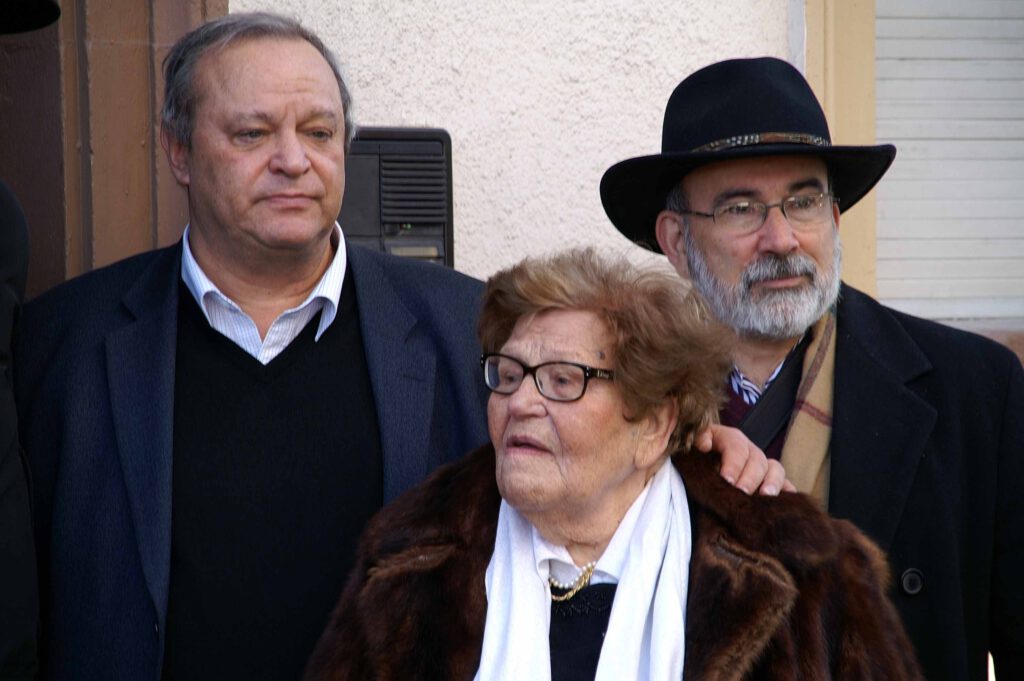 IIn November 2011, Gunter Demnig laid the Stolperstein in memory of Ester Kuttner in front of her former home in Mittlere Karlstraße. For this occasion many family members had traveled to Göppingen: Ester's grandson Jean-Marie Kutner with his wife and his mother Lily Kutner-Assidon (✝), the great-nephew Peter Liebermann with family and the great-nephews Michael Cyter and Reuven Shachaf-Cyter.
(23/07/2023 kmr/pr)

[osm_map_v3 map_center="48.7008,9.6610″ zoom="18″ width="100%" height="450″ post_markers="1″]