Noerdliche Ringstrasse 33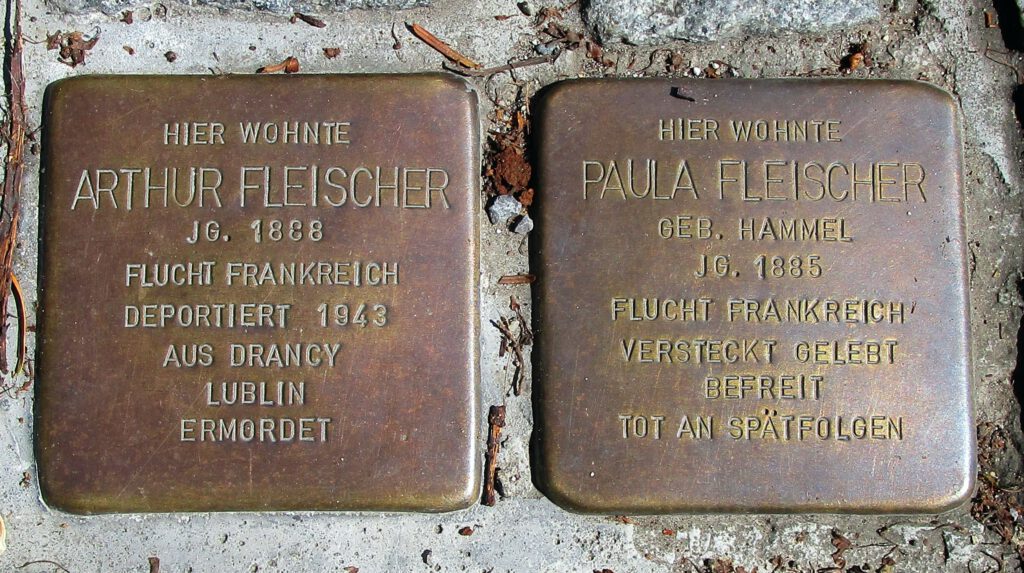 A Man in the "Prime of his Life"
surrounded by three elegant young men, his sons.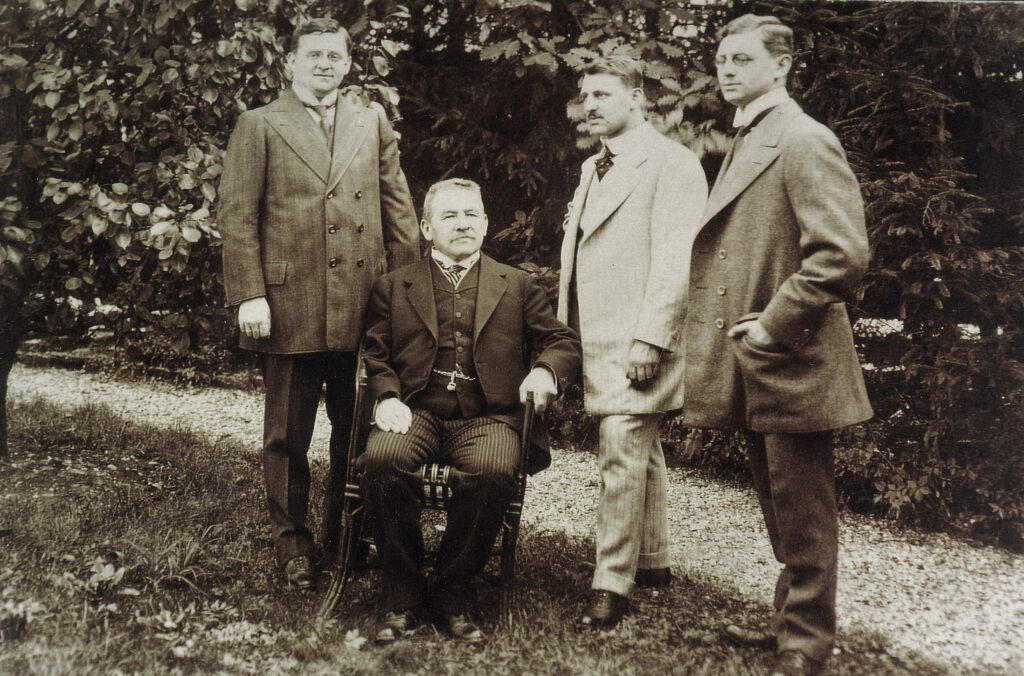 This photograph was taken around 1910, and Samuel Fleischer could look back at his life with pride: His company, the corset factory Rosenthal, Fleischer & Co., founded in 1887, was a successful, growing company whose products were internationally acclaimed. The corset factory is certain to have been a 'model company' in Göppingen too: well-lit factory rooms in a modern building from the year 1890 surrounded by gardens which could be used by the employees. Samuel Fleischer was also a proud father. He and his wife Emilie, née Rosenthal, had three sons named Bernhard, Julius and Arthur and a daughter named Paula, who was already married to Eugen Ries at the time the picture was taken and so was part of her new family.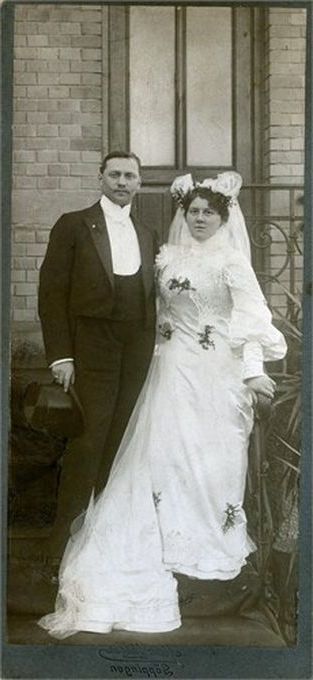 As is usual practice in family-run companies, the successors should be family members. However, Samuel Fleischer's oldest son Bernhard had already chosen a different career path. After finishing his law degree, he began practicing as an attorney in Stuttgart in 1907. But the younger brothers Julius and Arthur are still there. And as a matter of fact, they both take over the company after Samuel's death – just for their father's sake? Or was it a sense of responsibility to the employees and their well-being? We know that Julius, the middle brother, would have rather studied medicine, and later in life, healing did become his calling. And Arthur? Many years later his daughter Hanna indicates his profession as "author" when filling out the remembrance form at Yad Vashem. Arthur and Julius Fleischer were equal partners in the company. How much did the brothers have in common? Hanna Herschbaum, Paula and Arthur Fleischer's oldest daughter, comments: "Arthur and Julius Fleischer were very different. My father ran the factory. He was interested in history and literature, but not in politics. In Göppingen, our house was always open to foreign business associates who visited us. My father's best friend was Karl Veit, the owner of a factory producing woven felt in Göppingen."
Livelihood Worries
When Samuel Fleischer dies in 1920, the political, economical and cultural situation had changed fundamentally. Besides being affected by the economic recession after World War I, it is the change in fashion which affects the company. Corsets are now frowned upon; the company's core product declines in sales. The company managers try to adapt to the market, offer a collection of nightgowns and specialize in orthopedic corsets. However, this only slows down the company's decline. In 1928, the factory buildings (today the Technology Courthouse) as well as the house at Nordring 33 are sold to the City of Göppingen. Production continues on a smaller scale and the family secured the legal right to continue living in their house. But this privilege is revoked by Nazi mayor Pack in 1935 when Samuel Fleischer's widow, Emilie, is 77 years old and blind. Emilie, her daughter Paula Ries and her granddaughter Erika are victims of this ruthless breach of contract and are forced to leave the house.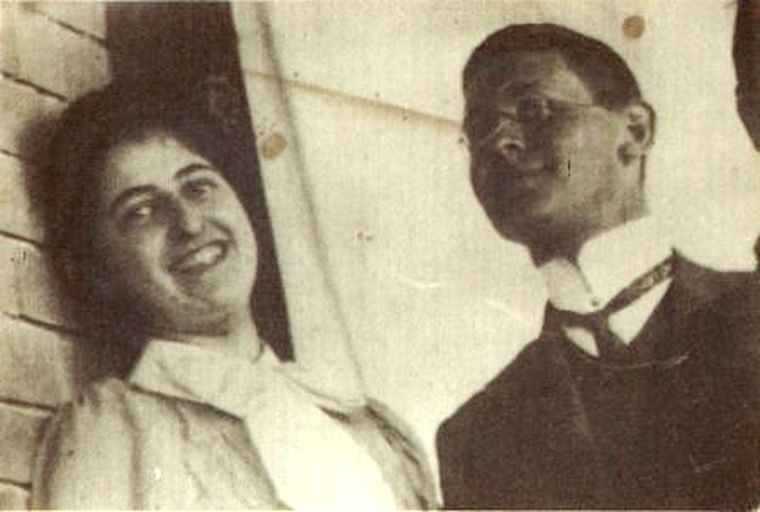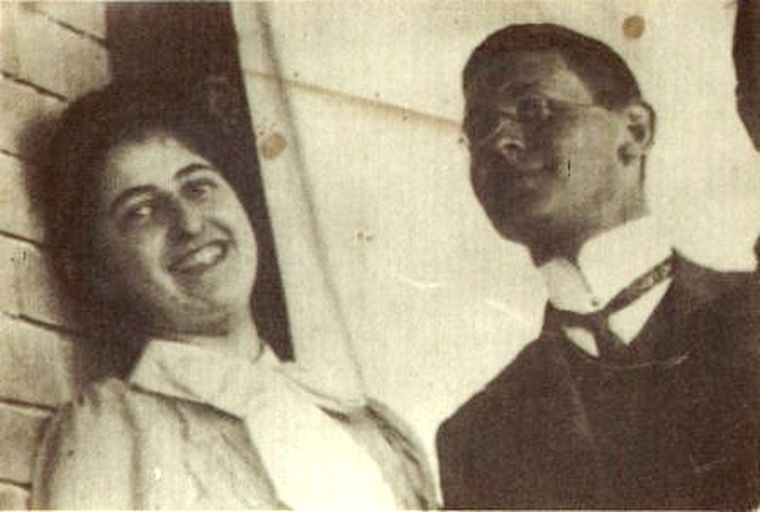 A new family
It appears that Arthur Fleischer and his family might at first have been satisfied with the original arrangement, because Paula and Arthur had just moved into the house in question with their children Erwin, Eva and Hanna several years ago. It cannot be assumed, however, that their family life was untroubled. In 1926, the couple's son Franz Bernhard had died of an ear infection at the age of 11. He was the first-born child of the couple who had married in 1913 in Strasbourg, the town where Paula, née Hammel, had grown up. In 1916 her daughter Hanna was born in Goeppingen, Eva , the second daughter followed in 1920, the youngest child, Erwin was born in 1923.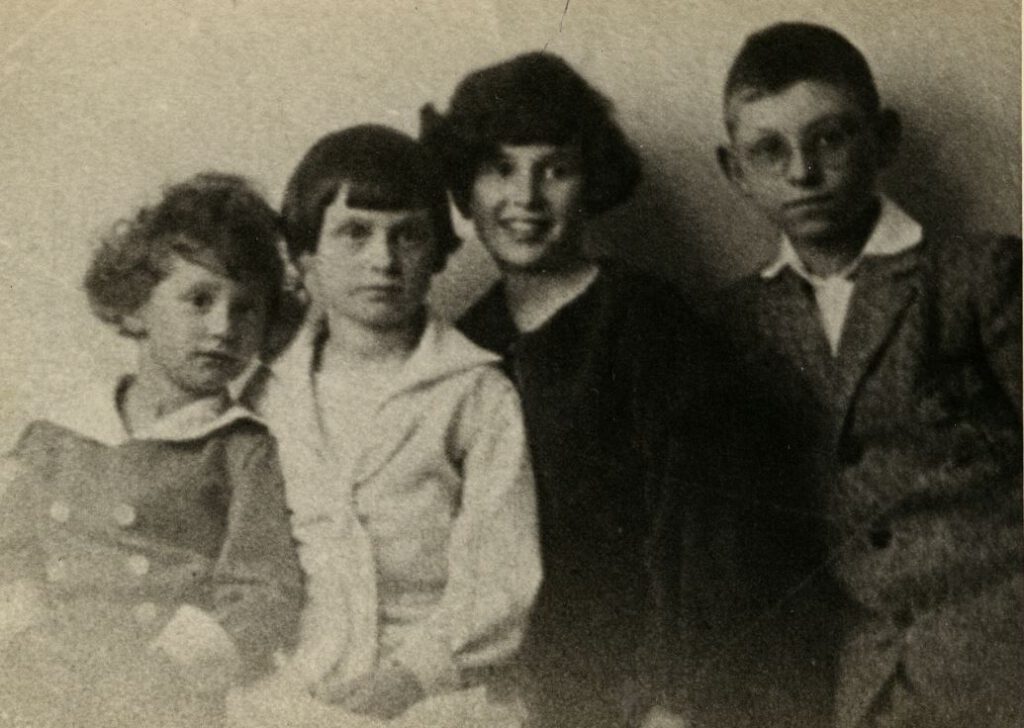 A Dedicated Zionist
Paula, who was Arthur's cousin, was a well-educated young woman and embraced Zionism early on – a dedication that, according to her children Erwin and Hanna, lasted her entire life. Before her marriage she attended the Zionist Congress in Basel at least once. This made her an exception in Göppingen among the 'old' Jewish families. Most of the people in her social group considered themselves Germans of the Jewish faith and leaned toward political liberalism. Supporters of Zionism could more likely be found among Jewish immigrant families from eastern Europe or among the younger generation.
Move to Paris
Another comment in Ms. Herschbaum's memoirs is surprising, namely that her father was not interested in politics. As early as 1931, the family made a decision which suggests a keen political intuition: Paula and Arthur Fleischer leave Germany and move to Paris. There was, however, a specific incident that prompted this step. Ms. Herschbaum writes about it:
"My father received a threatening letter in 1931, which I saw myself, from the son of one of the factory employees whose name I don't remember. He wrote verbatim: 'Mr. Fleischer, when the Nazis come to power, you are going to suffer.' The letter was bordered with swastikas. My mother ripped it up (unfortunately)."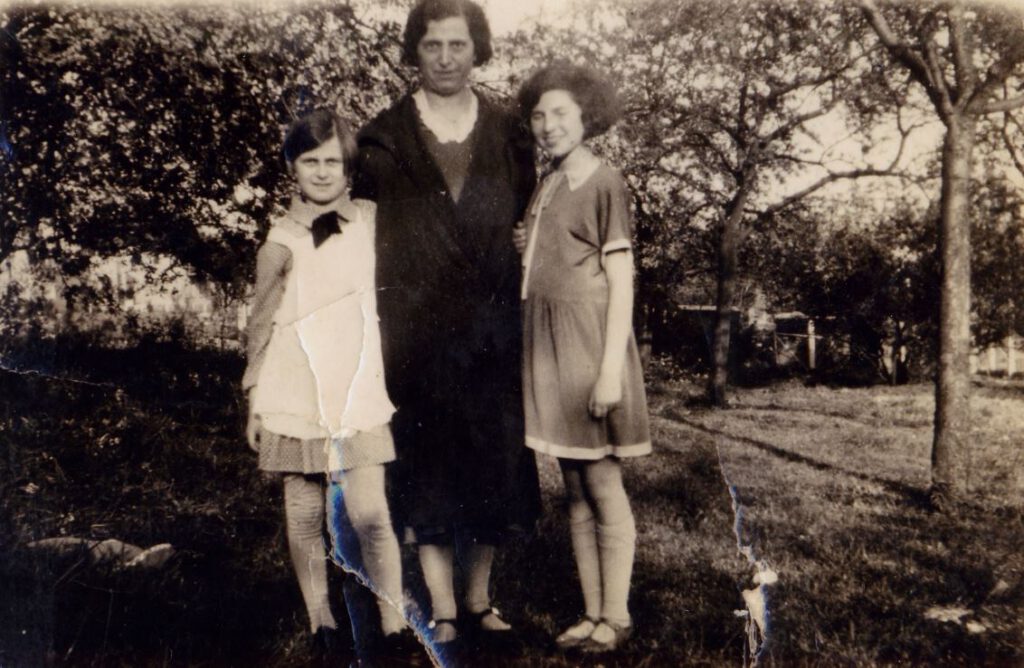 The couple officially moves their place of residence to Paris in May 1932. The children Erwin and Eva initially stay in Göppingen with their grandmother and later find refuge in a children's home in Grossherrischwand in the Black Forest that was operated by an anthroposophic couple, the Ehmanns, who stood up for the Jews even during the Nazi time. Erwin Fleischer remembers that he spent the best time of his life there. His oldest sister Hanna attends a girls' boarding school in Strasbourg. It is not until May 1933 that Eva and Erwin leave Germany, where their situation has become dangerous.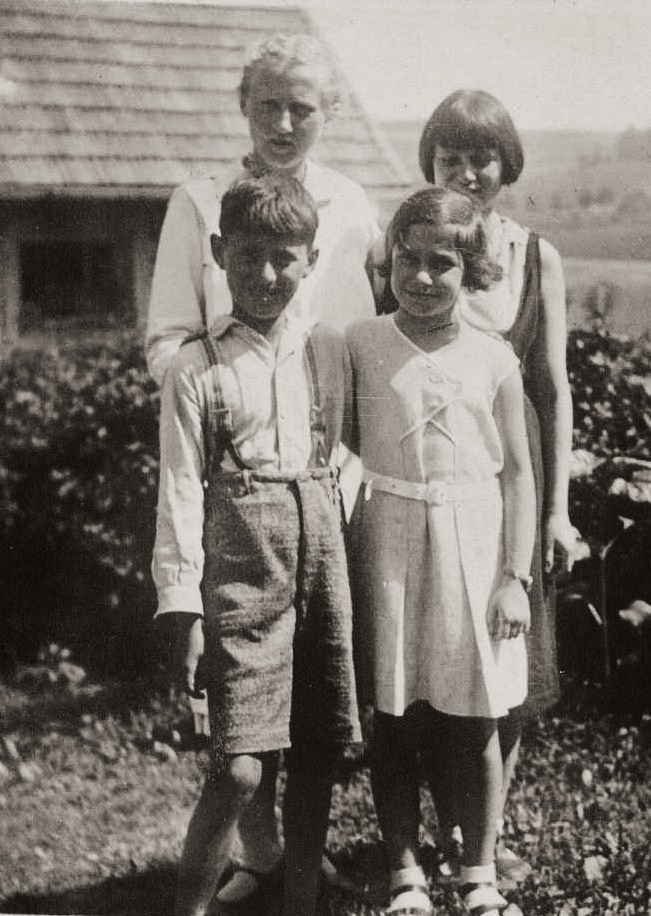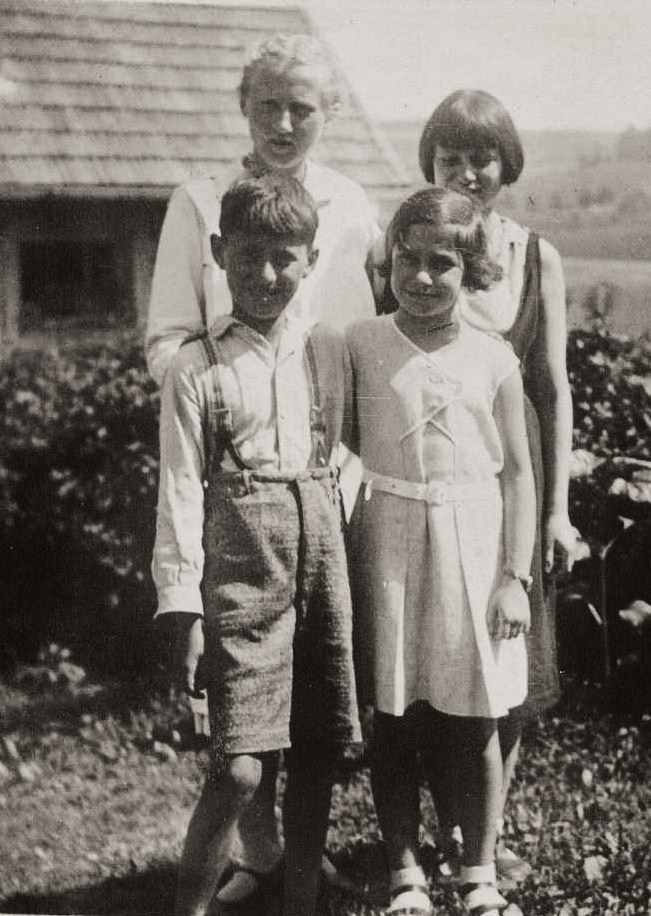 Arthur Fleischer as a Man of Culture
It was not easy for the family to establish themselves in France. Without the financial base from the sale of the property in Gőppingen, they would hardly have been able to survive. For years the Fleischers live in a hotel. Arthur earns some money as a clothing salesman and as a translator.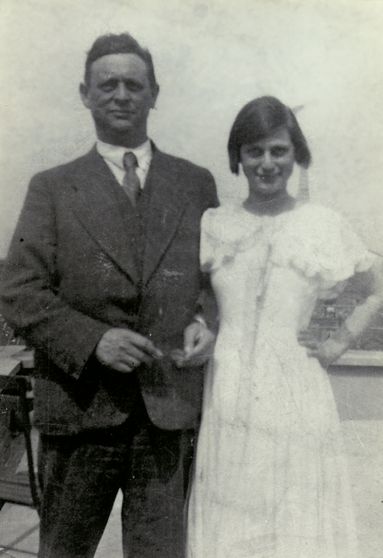 However, in May 1931 there is already some evidence of Arthur's cultural involvement in France. Art historian Dr. Dorothee Hoppe found a letter dated May 6 written by Arthur to John Elsas, a Frankfurt artist and art collector. In it Arthur Fleischer offered his assistance in organizing an art exhibit in Paris. Arthur also wrote a document on the subject of John Elsas' artwork which already shows his talent as a writer (that had not previously been evident?). Together with Frenchman Etienne Gril he authors two novels in French, additional books were being planned. Arthur's writing was also noted in Gőppingen. On January 16, 1936, the 'Israelite Weekly Paper' reports:
"The novel 'La Solitude à Paris' was recently published in Paris. The authors are Etienne Gril and Arthur Fleischer (Editions Pierre Gara) and takes place in Stuttgart as well as in Paris. Written in an entertaining style, it describes the fate of a young woman from Stuttgart who finally gets used to living in Paris after some initial mishaps. Arthur Fleischer was born in Göppingen, and his many friends living there may still have very good memories of him."
Etienne's son Jacques later marries Arthur's daughter Eva. The oldest daughter, Hanna, also contributes to the family's income by working in childcare and later as a saleswoman, both jobs always dependent on receiving work permits. A few years later even young Erwin becomes the main wage earner for a time.
An 'Enemy Foreigner'?
In 1940, at the beginning of the war with France, the family's situation worsens. As Germans they are automatically considered to be "enemy foreigners" and that is why Paula, Hanna and Eva are interned in a camp in Gurs for three months. Erwin, at the young age of 17, is the only one able to avoid this fate and can later even complete vocational training. Arthur Fleischer is also detained twice but later is accepted into a "Compagnie des Travailleurs Etranger". Foreigners who were too old to serve in the French army could join this state-run organization. There were many German Jews in Arthur's division, which was stationed near Montauban in southern France, southwest of Toulouse. The other family members also moved there after their internment. Arthur Fleischer finds a new job as a history teacher in a home for Jewish children.
Under the Vichy Government, the family had to have the word 'Jew' stamped in red letters on their identity cards. Over the years the Nazis put increasing pressure on the Vichy regime, and the French are more and more willing to hand over German refugees. For this reason Hanna, Eva and Erwin try (successfully) to get fake identity papers. During this dangerous time, in the year 1942, Paula Fleischer gets sick and has to be admitted to a sanatorium for a lung condition.
Betrayal and Desperation
In August 1943, Arthur Fleischer is in the meantime living in a neighboring town and goes to the police station in Montauban to make a inquiry about questions related to their residency. Erwin Fleischer remembers that his father knew the Chief of Police personally and could trust him and his protective hand. However, to Arthur's dismay he learns that his acquaintance had been replaced. The successor as the new Chief of Police turns out to be a willing executor of Nazis orders. Arthur Fleischer is arrested and taken to the camp in Drancy north of Paris. Etienne Gril tries to save his friend. As a representative of the writers' association he tries to secure a residence permit and the appropriate papers from the authorities – in vain! Arthur Fleischer is deported from Drancy to occupied Poland and is probably murdered in Majdanek.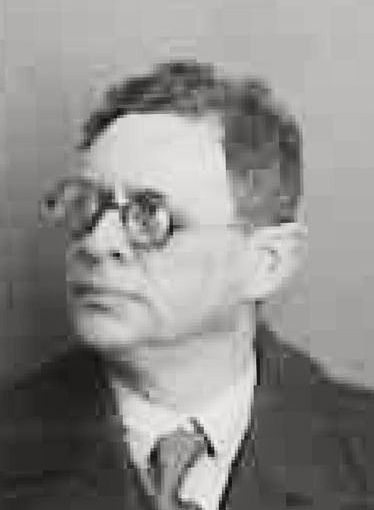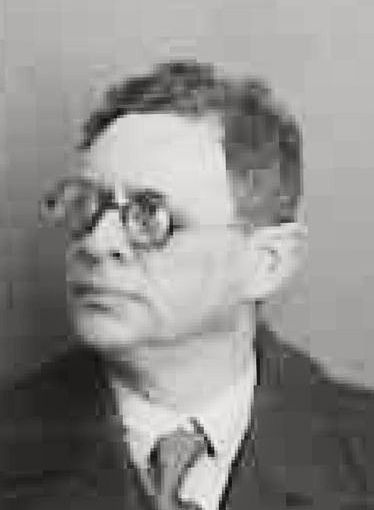 Paula Fleischer must also fear being handed over to the Nazis. For her own safety, she is moved to a second sanatorium under a false name. Here she lives to witness the end of the Nazi era. Ms. Herschbaum writes about the fate of her mother: "She died on July 7, 1945, in a hospital near Lyon as a result of TBC (tuberculosis) and because she was depressed about her husband's fate."
Resistance and Escape
Thanks to good luck and courage the children survive this dangerous time. Erwin, who could even complete his training as a technician, was motivated by the massacre in Oradur to join the resistance group "Armee Juive" in May 1944. With his comrades-in-arms he flees to Spain aboard a Portuguese ship that was arranged for by a Jewish refugee organisation. 500 Jewish refugees board the ship, including 80 children for whose care Erwin is responsible. Their destination is Palestine where Erwin Fleischer arrives in November 1944. In Haifa he and his fellow passengers are greeted by Golda Meir and David Ben Gurion.
Erwin's sister Eva was active in the Résistance movement, her codename was Jacqueline Brusset. As mentioned earlier, she married Jacques Gril, son of the author colleague of her father. Eva Gril, who died several years ago, remained in France where her three sons are living today. In Montauban Hanna, the older sister, met Max Herschbaum, a Jewish man from Ukraine. The couple lived in France until Max Herschbaum's death. As a widow, Hanna moved to Israel, where her brother Erwin (Ehud) and his three daughters lived.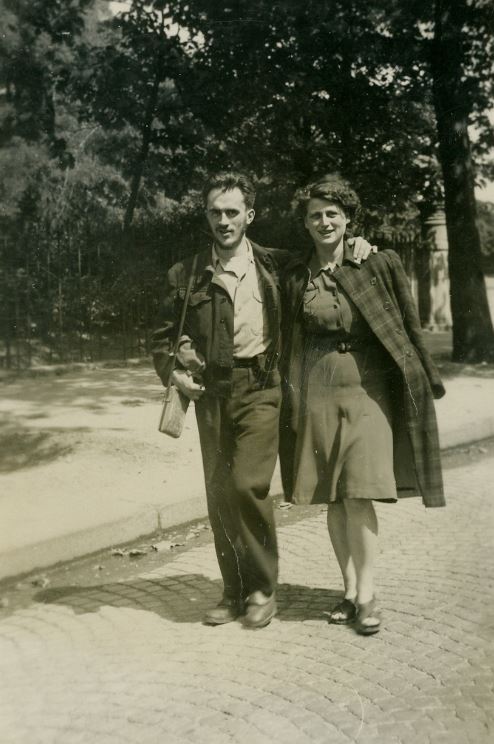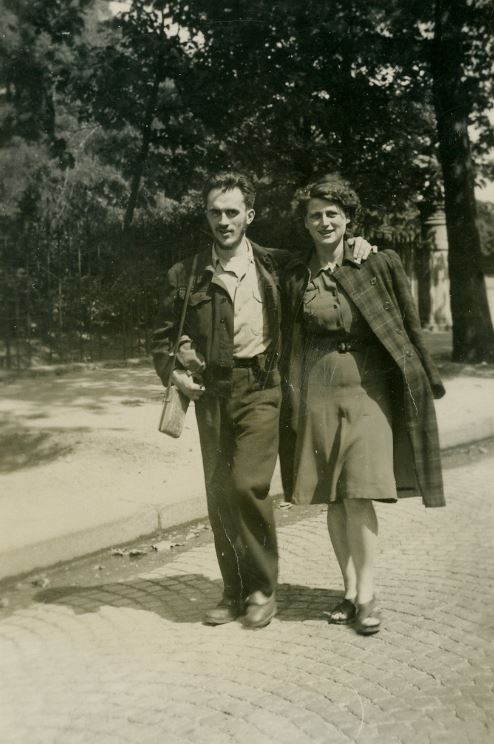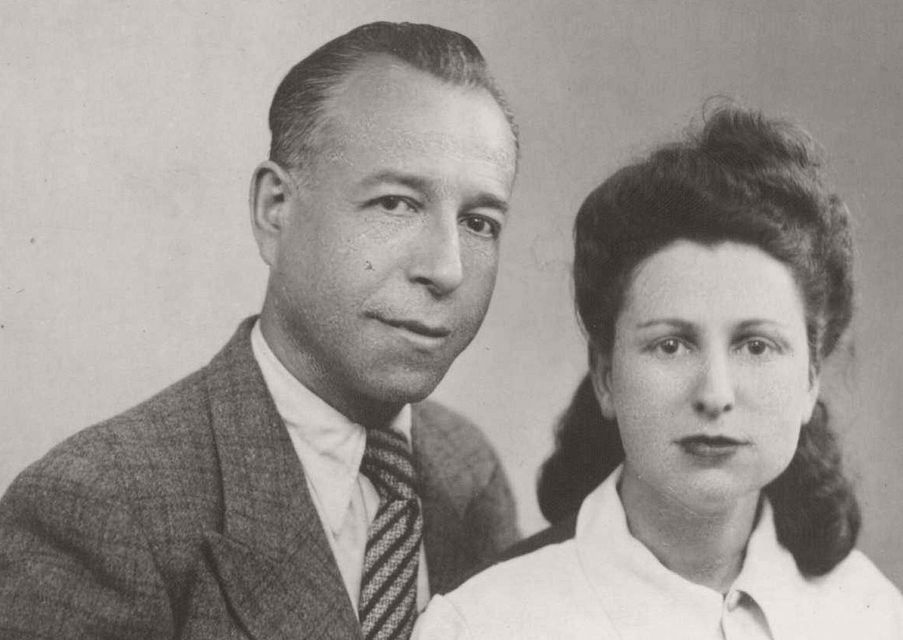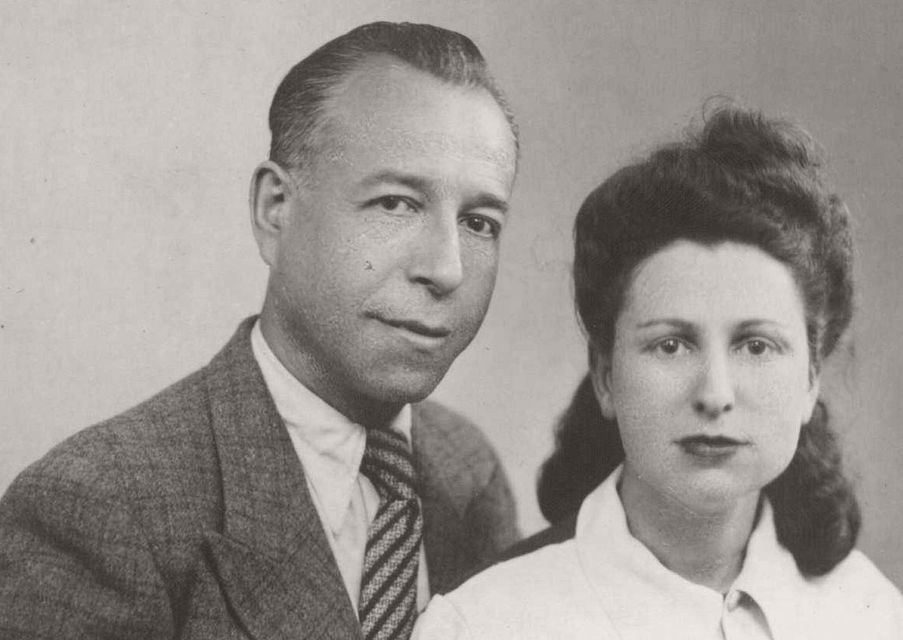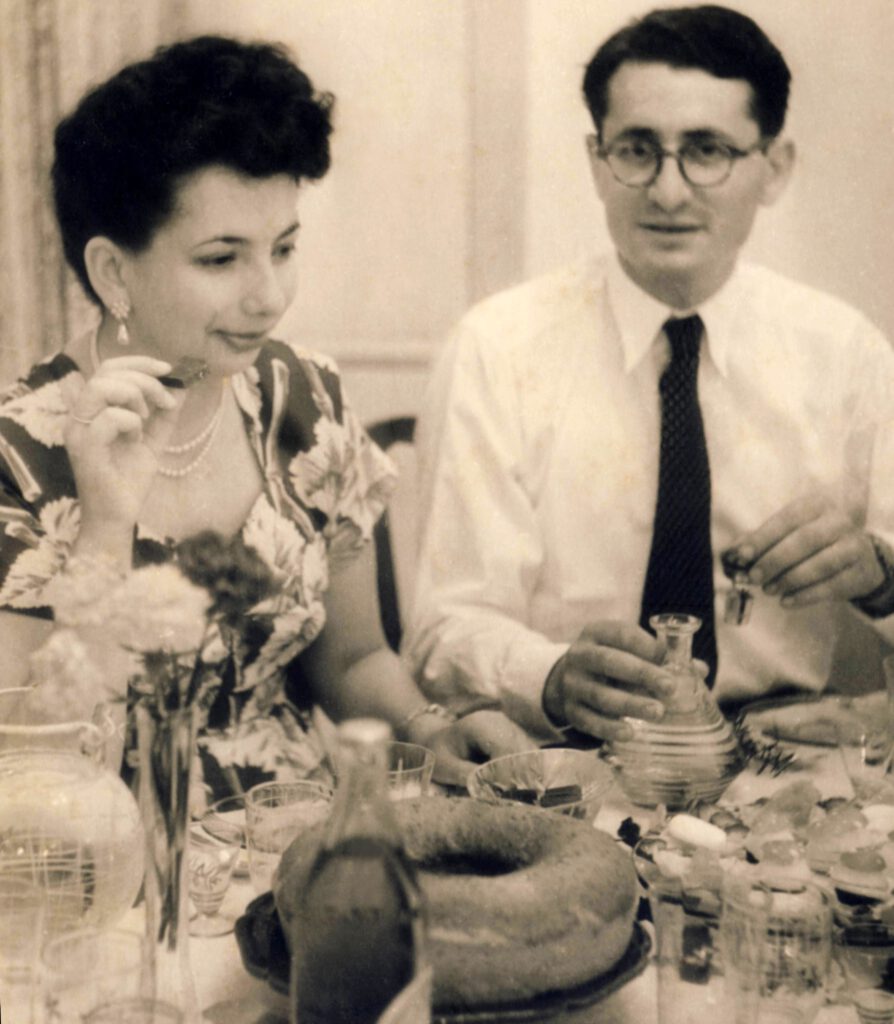 Other murder victims in the family
Back to the photo from 1910: All three Fleischer brothers were murdered by the Nazis, as well as Julius' wife Irma, and Stumbling Stones were laid for Irma and Julius in Göppingen. Arthur's cousins Rosa Fleischer, Emilie Goldstein and Pauline Guggenheim also become victims of the German Nazis.
No Stolperstein has yet been laid for Arthur's eldest brother Bernhard, who lived and worked as a lawyer in Stuttgart. He was sent to Buchenwald concentration camp in July 1942 and murdered there on September 17 of that year.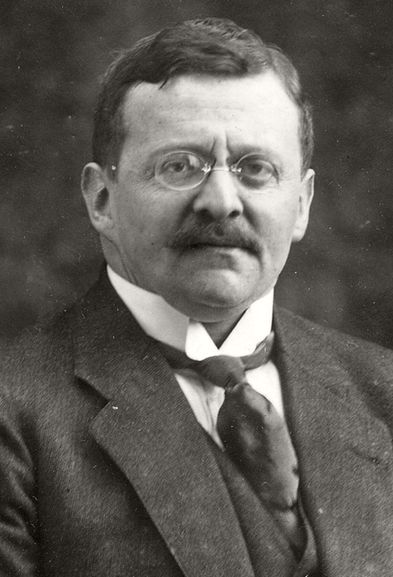 Paula Fleischer's sister Martha Albert, née Hammel, had initially moved from Saarbrűcken to the vicinity of Paris with her daughter Friederike Jeannette, who was born in 1925, and her husband Julius. In July 1942, the family is at first interned in the Parisian cycling arena 'Velodrome d'hiver'. From the transit camp of Drancy near Paris, the family is deported to Auschwitz and murdered there.
In memory of Arthur and Paula Fleischer, Gunter Demnig laid two Stumbling Stones in front of the house at Nordring 33 on May 1, 2010. Their son Erwin (Ehud) Fleischer and his daughter Yael Noiman, their niece Erela Tamri, née Erika Ries other family members were present.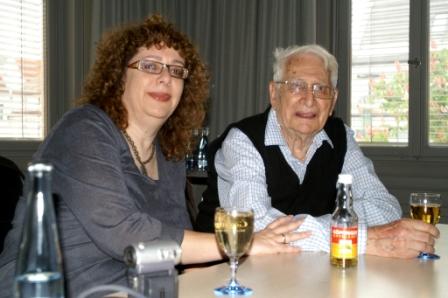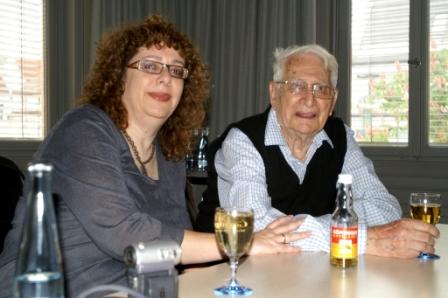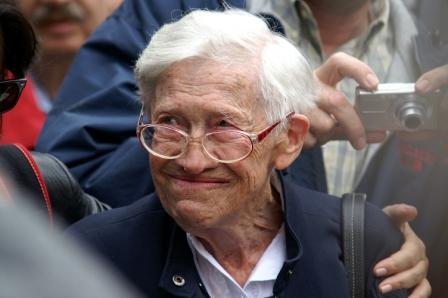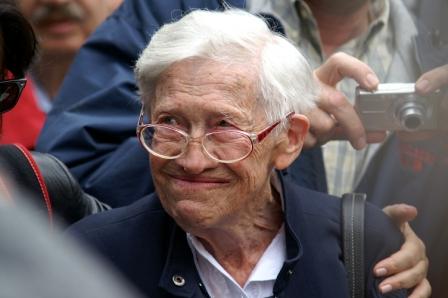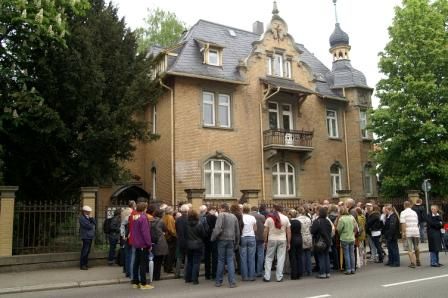 (18.08.2018 kmr/ir)